040 Making Your Market Category A Must Have | Marketing PodStorm Episode 2
Wednesday 6th December 2023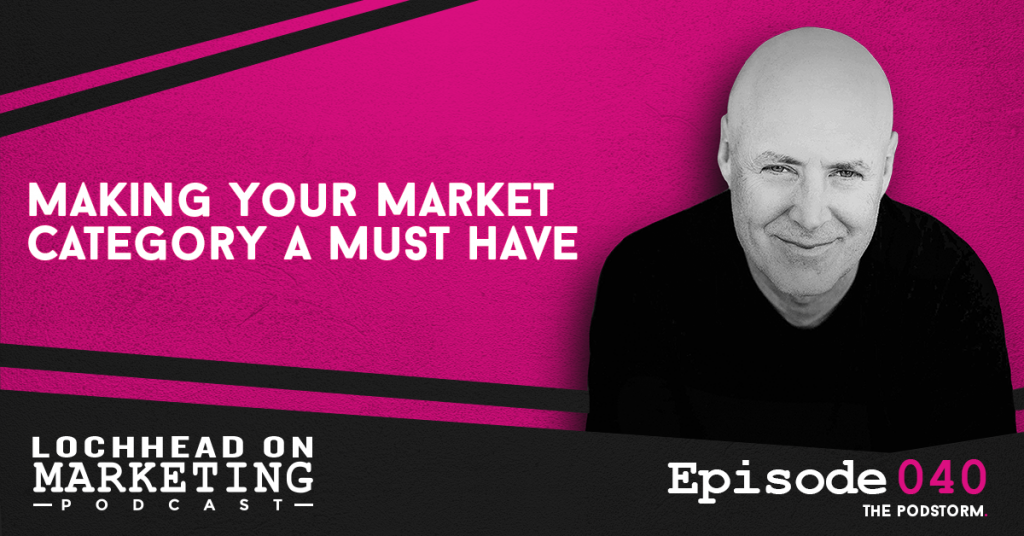 Podcast (lochheadonmarketing): Play in new window | Download (Duration: 6:41 — 4.6MB) | Embed
Subscribe: Apple Podcasts | Google Podcasts | Spotify | RSS | More
Welcome to Lochhead on Marketing, where we are trying the first world's Marketing PodStorm — 30 days of strategies and ideas to help you create the future that you want because we believe that nothing legendary is going to happen, at any kind of scale, without legendary marketing.
In this episode, let's talk about, arguably, the most important issue facing your marketing as you go forward powerfully: is your category a must-have, a nice to have or a don't really need to have?
Customers Prioritize Categories When…
Christopher shares an important insight from a lot of CEOs and CMOs saying "our problem is that we are too much of a vitamin and not enough of an aspirin." As it turns out, the more strategic, valuable, and urgent the market perceives a category, the greater the chances these customers will prioritize and buy from that business.
"I think there's something very important to understand about what's going on right now in the economy. We are all in a game of wallet share, much more than a game of market share. Customers' wallets, as a result of the recession, are much smaller. They are going on a prioritization, deciding what is more important and what they can live without." – Christopher Lochhead
Becoming a Must-have Is Job Number 1
Christopher mentions his observation about the mistake most companies are making as the economy starts to open up. They are evangelizing their brand, not their category.
"A brand is about us, is about our company it is about our product. The category is about customers, their problems, their opportunities. Categories are about customers, brands are about us. Right now, savvy marketers are focused on their customers and making their space, their category, critical." – Christopher Lochhead
A Couple of Examples
The Washington Post has a very powerful tagline "democracy dies in darkness." They are not hard-selling their brand, services, and company. The Washington Post is laying down a point of view about democracy and evangelizing this point of view results to elevating the value of Free Press.
"By evangelizing the category and keeping your brand more on the background, you also elevate your brand above everybody else in the category because, in the mind of the consumer, the company or the person evangelizing the category must be the category queen or king." – Christopher Lochhead
To know more about how to make your market category a must-have, download and listen to this episode.
Bio:
Christopher Lochhead is a #1 Apple podcaster and #1 Amazon bestselling co-author of books: Niche Down and Play Bigger.
He has been an advisor to over 50 venture-backed startups; a former three-time Silicon Valley public company CMO and an entrepreneur.
Furthermore, he has been called "one of the best minds in marketing" by The Marketing Journal, a "Human Exclamation Point" by Fast Company, a "quasar" by NBA legend Bill Walton and "off-putting to some" by The Economist.
In addition, he served as a chief marketing officer of software juggernaut Mercury Interactive. Hewlett-Packard acquired the company in 2006, for $4.5 billion.
He also co-founded the marketing consulting firm LOCHHEAD; was the founding CMO of Internet consulting firm Scient, and served as head of marketing at the CRM software firm Vantive.
We hope you enjoyed this episode of Lochhead on Marketing™! Christopher loves hearing from his listeners. Feel free to email him, connect on Facebook, Twitter,Instagram and subscribe on iTunes! You may also subscribe to his newsletter,The Difference, for some amazing content.