145 All In Podcast "Rain Man" David Sacks of Craft Ventures on What Every Startup Leader Needs to Know Now
Friday 1st December 2023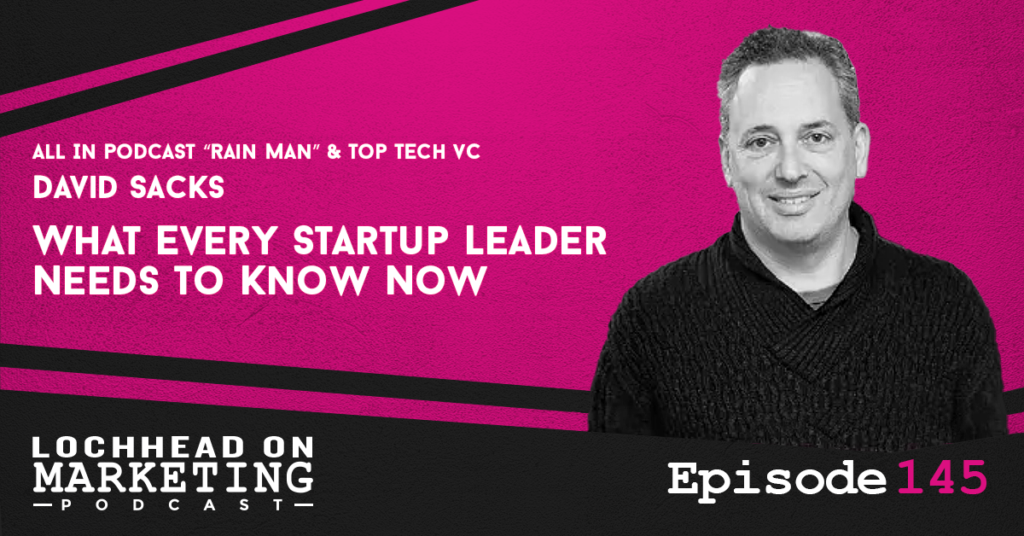 Podcast (lochheadonmarketing): Play in new window | Download (Duration: 20:47 — 14.3MB) | Embed
Subscribe: Apple Podcasts | Google Podcasts | Spotify | RSS | More
On this episode, we talk to David Sacks of Craft Ventures, on what every startup leader needs to know in the current business landscape.
If you didn't know, I recently talked with David Sacks about a variety of topics, including business, current affairs, and how the two are interconnected. Even when we don't always see it. If you want to check that out, go to Follow Your Different episode 267. This episode is a certain portion of that, which I thought bears highlighting here on Lochhead on Marketing. So listen up, and listen good.
Welcome to Lochhead on Marketing. The number one charting marketing podcast for marketers, category designers, and entrepreneurs with a different mind.
How 2022 will play out for VCs and Startups
The conversation starts on how 2021 was for venture capitalists and startups, which saw great growth on new businesses and new deals. Though the question that remains, according to David Sacks, is how sustainable it will be.
He notes that the huge growth was caused by certain situations in 2021, and how the public market reacted to it. But it seems that the market is slowly correcting itself, so we might expect to see a "slump" this year.
"Well, it's gonna be very different than 2021, for sure. There's a HUGE CORRECTION that's been underway really since November, the public markets started correcting in November." – David Sacks
Part of the huge growth was that there was an enormous liquidity injected into the markets as a result of the government reacting to COVID to act as a stimulus for the economy. The issue lies on the fact that they seem to have overdone it. To correct it, the market has seen inflation rise to new heights over the past months. It will seem erratic for now, but as the demand goes back and the excess stimulus wears off, we will see the market stabilize once more.
Consolidations and Mergers
One of the things that you often see during this time of sudden rise and slump in the market, is that a lot of acquisitions and mergers happen. It is because company's valuation tends to drop during this time, so you could probably acquire one for far lower its original, especially compared to the high-rise last year.
One example is Salesforce, who acquired Slack on the height of the market boom last year. If they were to buy it at this current market, they might have gotten it for about 75% or less of what they originally paid for.
That goes for everybody. On paper, this should be the best time to acquire or merge with new assets. Yet that's not what always happens because…
Prices are Sticky
On the other hand, it can be hard to get a lot of deals happening because they are still clinging onto the prices of the past.
"One of the reasons why there's not a lot of deals happening right now is because in VC land is because prices are kind of sticky. I mean, all the founders remember the glory days, just six months ago, 100 times ARR. They're still anchored on that. And they don't believe that, like, there's been this giant repricing, and that things could really be at 20 times ARR." – David Sacks
They cling to this because most of them know that all they need is just one VC that is still willing to drink the Kool Aid and pay for 100 ARR, and they're all set. So there's going to be resistance to these changes and price levels.
To hear more from David Sacks and know what most startups need to know now, download and listen to this episode.
Bio
David Sacks is co-founder and general partner at Craft. He has been a successful founder and investor for over two decades, building and investing in some of the most iconic companies in tech. He has invested in over 20 unicorns, including Affirm, AirBnB, Bird, ClickUp, Eventbrite, Facebook, Houzz, Lyft, OpenDoor, Palantir, Postmates, Reddit, Slack, SpaceX, Twitter, Uber, and Wish.
David is also co-host of the popular "All-In Podcast" with Chamath Palihapitiya, David Friedberg, and Jason Calacanis.
David first got involved in the technology industry in 1999 when he joined early-stage startup Confinity, later renamed PayPal. Serving as the company's first product leader and then as COO, David built and ran many of the company's key teams, including product management and design, sales and marketing, business development, international, customer service, fraud operations, and HR. He pivoted the product from beaming money on Palm Pilots to emailing money on the web, and introduced the business model. When the company IPO'd on the Nasdaq in 2002, David was 29 — the median age of the "PayPal Mafia" executives listed on the S-1. PayPal was later acquired by eBay and eventually spun back out into a publicly traded company (under ticker symbol PYPL).
In 2008, David founded enterprise collaboration company Yammer, which was one of the first SaaS startups to apply consumer growth tactics to enterprise software. Yammer's viral approach made it one of the fastest-growing SaaS startups in history, exceeding eight million enterprise users in just four years. As Founder/CEO of Yammer, David grew the company to roughly $60 million in sales and 500 employees. In July 2012, Microsoft acquired Yammer for $1.2 billion. It remains one of the fastest unicorn exits in SaaS.
Since Yammer, David has continued to be involved in the SaaS world, with an emphasis on "Bottom Up SaaS," the strategy he pioneered at Yammer by combining product-led growth with B2B sales. Bottom-up SaaS companies combine the growth potential of B2C with the enterprise budgets of B2B, leading to explosive outcomes when ARR goes viral.
David is well known in Silicon Valley for his product acumen. AngelList's Naval Ravikant has called David "the world's best product strategist." David likes to begin pitch meetings by seeing a product demo.
Links
Connect with David Sacks
Website | Bottom Up | All In Podcast | Twitter | LinkedIn
We hope you enjoyed this episode of Lochhead on Marketing™! Christopher loves hearing from his listeners. Feel free to email him, connect on Facebook, Twitter, Instagram, and subscribe on iTunes!