173 Untold lessons from the SVB bank run | Christopher Lochhead on Starting Greatness with Mike Maples Jr.
Monday 20th November 2023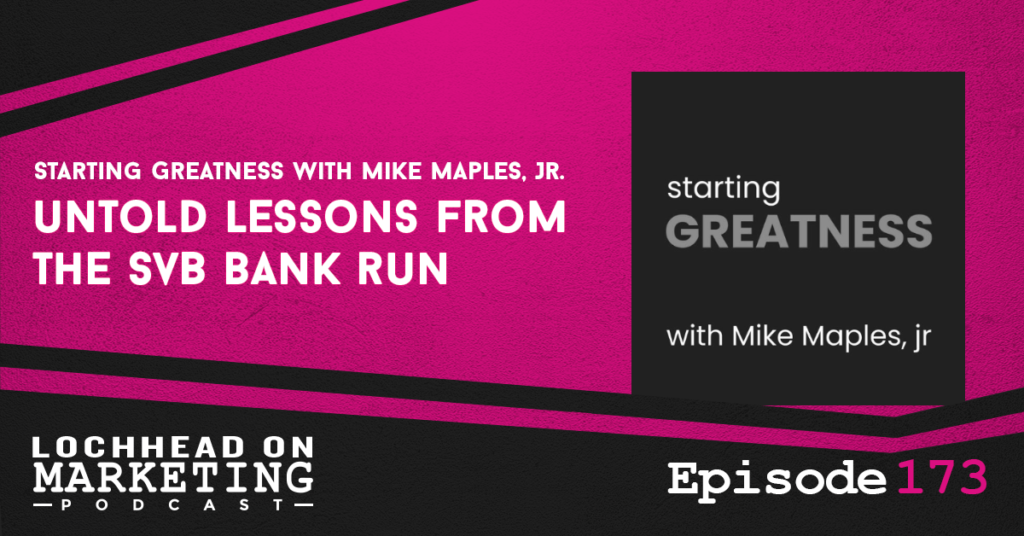 Podcast (lochheadonmarketing): Play in new window | Download (Duration: 34:24 — 23.6MB) | Embed
Subscribe: Apple Podcasts | Google Podcasts | Spotify | RSS | More
Pirate Lochhead is sailing the seven seas this week, so we're dropping a legendary conversation that he had recently with Mike Maples Jr. and Ann Miura on the Starting Greatness Podcast.
They discuss the recent SVB bank run that lead to a variety of situations and accusations by "experts" on social media. They also discuss what lessons a Founder can learn by studying the cause and effect of such crisis and circumstances.
Welcome to Lochhead on Marketing. The number one charting marketing podcast for marketers, category designers, and entrepreneurs with a different mind.
How a crisis can make us better
Mike opens up the discussion by stating that while crisis is something we do not wish to happen on anyone, it can be a valuable source of information and introspection on what Founders can improve upon within their own companies and organizations.
No one saw it coming
Ann Miura shares that the SVB bank run has caught her completely unawares, as did most of the companies in Silicon Valley. Even those who had their teams monitoring SVB activities only caught wind of the situation a day or two before it happened, and by then it was already too late even for them.
The Difference between the Public and the Founders
Ann also observed that while people on social media and the news media are shouting doomsday scenarios and blaming each other over the situation, the Founders that she was working with at Floodgate had their head down and was busy finding ways to mitigate the situation, and looking at possible scenarios to move forward, should the SVB run not get resolved in the near future.
It showed a stark contrast on how the mind of a Founder operates in crisis situations, and it should be something that a lot of business leaders should emulate if they themselves suffer through a sudden situation that needed their immediate focus and levelheadedness.
To hear more from Mike Maples Jr. Ann Miura, and the Pirate Lochhead himself, download and listen to this episode.
Check out more Starting Greatness episodes!
Bio
Christopher Lochhead is a #1 Apple podcaster and #1 Amazon bestselling co-author of books: Niche Down and Play Bigger.
He has been an advisor to over 50 venture-backed startups; a former three-time Silicon Valley public company CMO and an entrepreneur.
Furthermore, he has been called "one of the best minds in marketing" by The Marketing Journal, a "Human Exclamation Point" by Fast Company, a "quasar" by NBA legend Bill Walton and "off-putting to some" by The Economist.
In addition, he served as a chief marketing officer of software juggernaut Mercury Interactive. Hewlett-Packard acquired the company in 2006, for $4.5 billion.
He also co-founded the marketing consulting firm LOCHHEAD; the founding CMO of Internet consulting firm Scient, and served as head of marketing at the CRM software firm Vantive.
We hope you enjoyed this episode of Lochhead on Marketing™! Christopher loves hearing from his listeners. Feel free to email him, connect on Facebook, Twitter, Instagram, and subscribe on iTunes!