165 16 Learnings From Marketing Legend George Lois
Monday 20th November 2023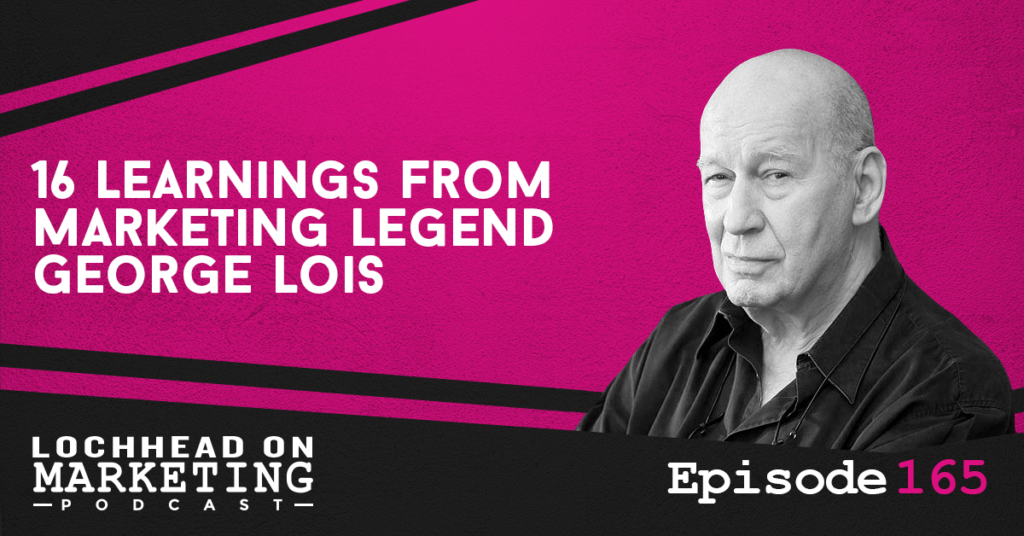 Podcast (lochheadonmarketing): Play in new window | Download (Duration: 31:20 — 21.5MB) | Embed
Subscribe: Apple Podcasts | Google Podcasts | Spotify | RSS | More
The Wall Street Journal says, "George Lois is the one the only prodigy or fathead, founder of agencies, creator of Legends, George Lewis is a genuine advertising superhero". George Lois is well known if not famous for designing culture, changing cover images for Esquire magazine, and his "call your cable company and tell them I want my MTV". That campaign made the music video category and made MTV the Category King. In his life and career, he broke every rule, created legendary categories and brands, and he did it in a brash, bold, exciting way.
Sadly, we recently lost this legend at 91 years old. George Lois died just three months after his beloved wife, Rosemary died. And he is one of my heroes, a man that so many of us in marketing owe so much. And yet, most young people in entrepreneurship, marketing and creative endeavors and design. Don't really know of him. But if you've ever done anything in entrepreneurship in category design or marketing, that breaks boundaries, you're following in George's footsteps, and you might not even know it.
Today, let's dig into some of George's life's teachings. Because if you want to become legendary, you have to study the legends.
Welcome to Lochhead on Marketing. The number one charting marketing podcast for marketers, category designers, and entrepreneurs with a different mind.
George Lois and a Damn Good Advice
George Lewis was born in June 1931, and he passed in November 2022. And it is said that in the end, we are all remembered for two dates, and a dash. And I'm here to tell you that George made some legendary shit out of his dash.
I want to focus on a book of his called Damn Good Advice for People with Talent, How to unleash your creative potential by America's master communicator, George Lois. If you have not read this book yet, I would suggest you do so.
What I want to share with you are some of the learnings from this book – not all of them, but some of them that really have spoken to me over the years and made a big difference for me that I think might make a big difference for you.
Force a Choice
Idea number one is to Force a Choice. At the very beginning of damn good advice, George says this:
"There are only four types of person you can be: one, very bright, industrious, [your perfect]. Two, very bright lazy [a damn shame]. Three, stupid lazy, you'll sit on your ass, so you're a wash. And four, stupid industrious [uh oh, you're dangerous]. If you're a number one or a number two, you'll get a lot out of this book, if you're number three, or number four, why you reading this book?" – George Lois
So right off the top and this landmark piece of work by George, he's doing what legendary brands do, which is they attract who they are for, and they repel who they are against. Legendary brands force a choice, not a comparison. And best I can tell, that's how George lived his life.
You are who you are
Big Idea number two: Around here, we would express it as Follow Your Different. In George words, he writes:
"Whether you're male, female, black, Hispanic, Native American, Asian, ethnic, or gay, and wherever you work, you are who you are. And that's what you are, and be damn proud of it. Don't change your name. Don't change your accent, don't change your heritage, don't denigrate a humble upbringing. Be true to yourself, and you'll ring true to the world." – George Lois
To learn more about the different teachings of George Lois, download and listen to this episode.
Bio
Links
Learn more about George Lois
More about George Lois:
We hope you enjoyed this episode of Lochhead on Marketing™! Christopher loves hearing from his listeners. Feel free to email him, connect on Facebook, Twitter, Instagram, and subscribe on iTunes!