016 Category Creation Courage
Monday 25th September 2023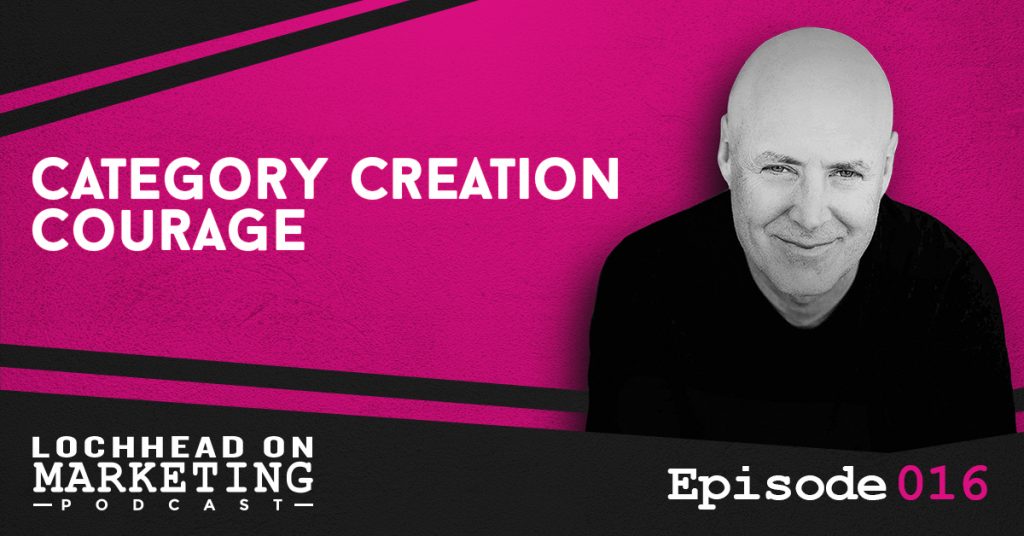 Podcast (lochheadonmarketing): Play in new window | Download (Duration: 8:20 — 7.7MB) | Embed
Subscribe: Apple Podcasts | Google Podcasts | Spotify | Stitcher | RSS | More
In today's episode, Christopher Lochhead talks about why courage is a critical ingredient for legendary marketing and category design. He poses the question: "What does it take to make legendary marketing happen?" and he shares some except his book Niche Down to answer this.
Break From The Pack
What does it take to break from the pack? The pack, which usually means the general public, the people who think and does the same kind of marketing. What do we need to enable us to design a category and from then, execute to dominate that category?
On Christopher's second book, Niche Down, co-writer Heather Clancy wrote some very important pointers in creating a category
"I hope you find it informative and inspiring as it relates to summoning the courage to actually do something legendary, design and dominate a category." – Christopher Lochhead
Excerpts from Niche Down
Heather Clancy wrote in the book:
Category design actually requires going against that pack mentality. Humans have a primordial need to feel safe in numbers. We get a lot of positive feedback from being the same as others. Our challenge to you is to break from the pack. Free the creative part, the innovative part,the legendary part of you — and let that part be different.

Our dream is that you harness the exponential power of what makes you different versus the incrementalism of just being better. Because it is being different that makes a difference. And we know how tough that can be.

"Kermit The Frog" famously sang: "It's not easy being green."

Bill Walton, the NBA legend commiserates: "In life, things go wrong. In life, things collapse….People try to drag you down and people try to say 'No' to you."

He goes on to posit, "I want to live in a world of 'Yes'." Of course, there will be a lot of "losery" along the way.  To be legendary is to be ready for setbacks, disappointments and failures.

Because shit happens. Sometimes, life can be crushing. We've both been crushed more times than we can count. It's okay to be a loser.

We all are. Failure is our teacher. Failure is our friend. Failure is our coach. Failure gives us humility. Failure gives us grit. Failure gives us a foundation. Losing is an essential ingredient for being legendary. Every time we lose we have a choice.

Give up.

Or, take the loss head on, learn from it and execute like a badass legend.
It Takes Courage to be Legendary
What Heather and Christopher are trying to communicate is the "emotional or psychological" barrier in doing legendary marketing. To put it simply, it takes a lot of courage to be legendary. Courage is moving forward in pursuing your plans, even though a lot of evidence states it won't work.
Christopher cited his other podcast, Follow Your Different as an example. Regardless of what the experts in the podcasting industry were telling him — that business people will not listen to a long-form, unedited conversation podcast — FYD has become a top 200 overall charting podcast in the United States.
"If you believe in the problem you're solving and you believe in your vision, then go with it. Be different, stick to it and have the courage to be legendary and execute like a badass legend." – Christopher Lochhead
To hear more about Category Creation Courage and more relevant information from Christopher Lochhead, download and listen to the episode.
Bio:
Christopher Lochhead is a Top 25 podcaster and #1 Amazon bestselling co-author of books: Niche Down and Play Bigger.
He has been an advisor to over 50 venture-backed startups; a former three-time Silicon Valley public company CMO and an entrepreneur.
Furthermore, he has been called "one of the best minds in marketing" by The Marketing Journal, a "Human Exclamation Point" by Fast Company, a "quasar" by NBA legend Bill Walton and "off-putting to some" by The Economist.
In addition, he served as a chief marketing officer of software juggernaut Mercury Interactive. Hewlett-Packard acquired the company in 2006, for $4.5 billion.
He also co-founded the marketing consulting firm LOCHHEAD; was the founding CMO of Internet consulting firm Scient, and served as head of marketing at the CRM software firm Vantive.
Links:
Niche Down: Become Legendary Different 
We hope you enjoyed this episode of Lochhead on Marketing™! Christopher loves hearing from his listeners. Feel free to email him, connect on Facebook, Twitter, Instagram and subscribe on iTunes!