056 Legendary Marketing Copywriting w/ Cole Schafer | Marketing PodStorm 18
Monday 25th September 2023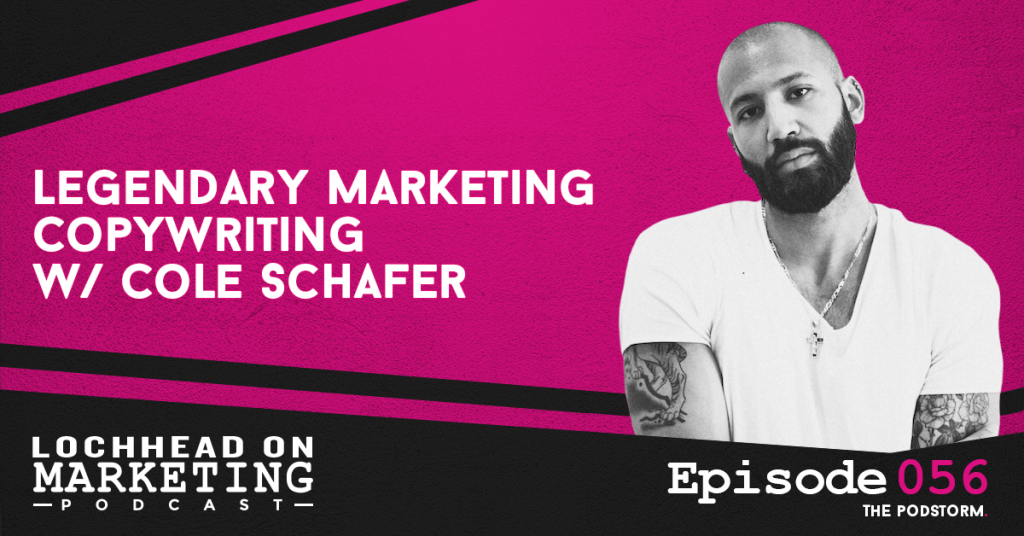 Podcast (lochheadonmarketing): Play in new window | Download (Duration: 24:42 — 17.0MB) | Embed
Subscribe: Apple Podcasts | Google Podcasts | Spotify | Stitcher | RSS | More
Today, in this very special episode, we're going to go deep on one of the seminal, most powerful marketing skills there is — copywriting. To discuss more, we have the OG of copywriting, Cole Schaefer of Honeycopy.com. Pay special attention to a particular legendary idea that Cole shares about how you can use your favorite book or books to transform your own writing.
Marketers Should Be Writers
Cole believes all marketers should also be writers. He believes this is of prime importance if you want to reach a wider audience. If more marketers would focus on writing, the messages will be a lot more clear, crisp and ultimately, customers will comprehend messages better.
"The vast majority of business writing and marketing communication, to be honest, it's just really, really tough to read. I would say primarily because it's just littered with sort of business jargon and buzzwords. I hate to say but kind of like the showboating is what I feel like when I read a lot of brand writing and it doesn't feel that it can be understood by the wider audience." – Cole Schafer
Writing in Third-Person POV
Another observation Cole shares is: brands write on a third-person point of view. Whether it is on their website or other communications, Cole says the rationale behind is the mentality of not being pompous.
"I think for us, any brand, be it big or small, the goal is for when someone sits down and reads their emails or their website, coffee or anything, we really want to feel like we're talking to another human being. Right?" – Cole Schafer
Become A Legendary Writer
Cole gives out valuable copywriting advice for marketers or even aspiring writers. From knowing your voice and your audience to rewriting ads just like how David Ogilvy does it, Cole gives a rundown on his personal processes.
"I would tell people if whether it's writing or podcasting or whatever, whatever craft you're trying to do, just absorb really really, really good art in that specific field. If you want to become a great writer, don't read bad writing. Pick up a really good book, look up the best writers of all time, start reading there and I think naturally it will imprint on your brain." – Cole Schafer
To know more about Cole and how to become a legendary copywriter, download and listen to this episode.
Bio:
Cole Schafer likes to live fast, write often, and pet dogs.
He is a thinker, marketer, and writer that has been published in Business Insider, Entrepreneur Magazine, The Mission, Thought Catalog, and P.S. I Love You.
In addition, Cole is the Founder & Copy Chief at Honey Copy, a creative copywriting agency that helps big brands write valuable "stuff" that people actually want to read.
Links:
We hope you enjoyed this episode of Lochhead on Marketing™! Christopher loves hearing from his listeners. Feel free to email him, connect on Facebook, Twitter, Instagram, and subscribe on iTunes! You may also subscribe to his newsletter, The Difference, for some amazing content.