013 Committees Kill Legendary Marketing
Monday 25th September 2023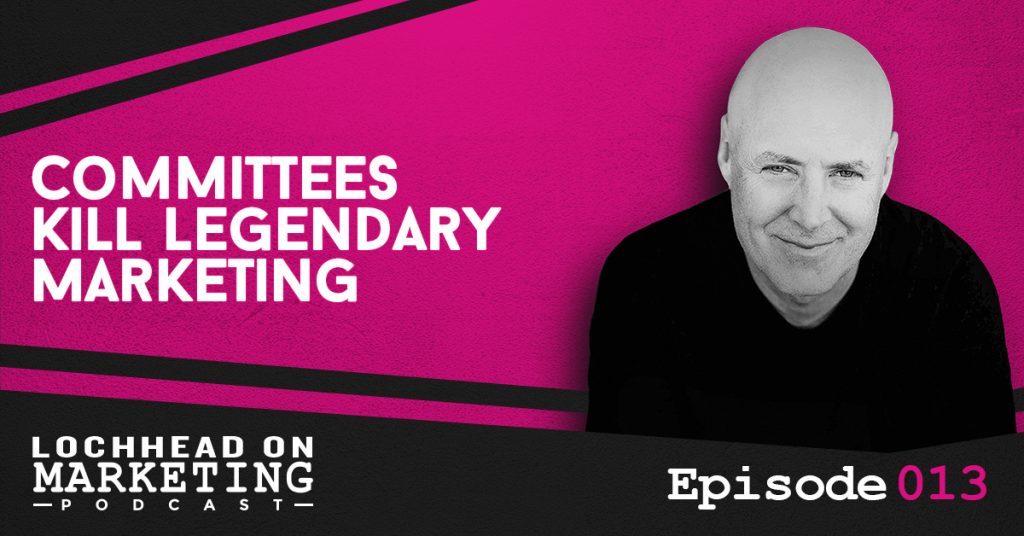 Podcast (lochheadonmarketing): Play in new window | Download (Duration: 12:30 — 11.5MB) | Embed
Subscribe: Apple Podcasts | Google Podcasts | Spotify | Stitcher | RSS | More
In today's episode, Christopher gives us a rundown on why he thinks committees kill legendary marketing.
Why is so much marketing, shitty?
Christopher Lochhead candidly shares his honest observation on the industry today: a lot of marketing efforts suck. Aside from bad creatives, much of this onslaught of marketing stems from their inability to make a difference in designing and dominating a market category. Who's to blame? Christopher says its the committees.
"This is probably true for most major initiatives in business, but it's especially true in marketing because, fundamentally, legendary marketing is about leadership." – Christopher Lochhead
To become the leader in your space — the category queen — a company must define and dominate a market niche. This not only holds true in tech companies but for almost all industries today. To dominate a market, every company's objective should focus on building the company that wins, with a clear point of view on problem-solving.
The problem with committees 
A famous automotive engineer and businessman, Charles Kettering, once said: "If you want to kill any idea in the world, get a committee working on it." Why does committees hinder legendary marketing?
"The problem with most committees is that they are focused on process, not results." – Christopher Lochhead
Committees generally try to incorporate everyone's "feedback," spend time "socializing ideas" and analyzing data. In the end, they are trying too hard to make everyone happy. Committees strive to be collaborative and ensure that all constituents have a say.
More issues with committees
A structural problem with many committees is that a lot of people can say no, while at the same time, they are not clear about who can say yes. By definition, if everybody agrees, that's not a legendary idea.
"As a result, committees produce a compromise. They settle on the ideas that everyone could agree on. Not legendary ideas." – Christopher Lochhead
Additionally, people involved in committees are oftentimes not subject matter experts themselves, which further leads to mediocre marketing efforts.
"It's not about what people like, it's about what's gonna work. Particularly what's gonna work through the lens. Will these help us design and dominate a giant category that matters and take 2/3 of the economics?" – Christopher Lochhead
To hear more about committees kill legendary marketing and more relevant information from Christopher Lochhead, download and listen to the episode.
Bio:
Christopher Lochhead is a Top 25 podcaster and #1 Amazon bestselling co-author of books: Niche Down and Play Bigger.
He has been an advisor to over 50 venture-backed startups; a former three-time Silicon Valley public company CMO and an entrepreneur.
Furthermore, he has been called "one of the best minds in marketing" by The Marketing Journal, a "Human Exclamation Point" by Fast Company, a "quasar" by NBA legend Bill Walton and "off-putting to some" by The Economist.
In addition, he served as a chief marketing officer of software juggernaut Mercury Interactive. Hewlett-Packard acquired the company in 2006, for $4.5 billion.
He also co-founded the marketing consulting firm LOCHHEAD; was the founder/CMO of Internet consulting firm Scient, and served as head of marketing at the CRM software firm Vantive.
Link:
We hope you enjoyed this episode of Lochhead on Marketing™! Christopher loves hearing from his listeners. Feel free to email him, connect on Facebook, Twitter, Instagram and subscribe on iTunes!