141 Why Most Marketing Fails, and what CEOs and CMOs need to know to fix it
Wednesday 20th September 2023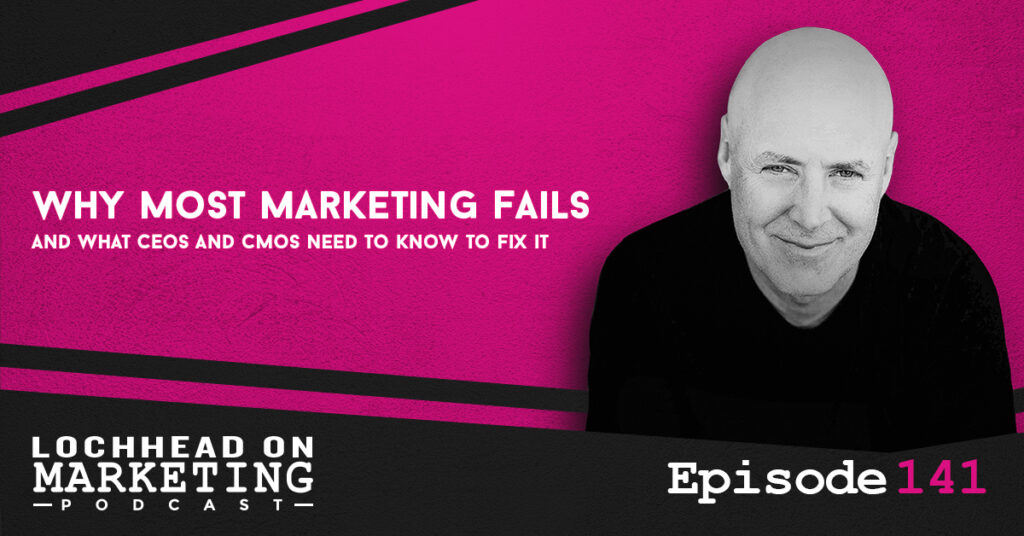 Podcast (lochheadonmarketing): Play in new window | Download (Duration: 8:30 — 5.8MB) | Embed
Subscribe: Apple Podcasts | Google Podcasts | Spotify | Stitcher | RSS | More
On this episode, let's talk about why most marketing fails, and what we can do about it.
Speaking of marketing, I want to thank you from the bottom of my heart for making our new books into bestsellers at Amazon Books. You can check the whole list Category Pirates mini-books at Amazon Books, and expect more in the near future!
Welcome to Lochhead on Marketing. The number one charting marketing podcast for marketers, category designers, and entrepreneurs with a different mind.
The Marketing Folklore
When most people say marketing, they usually have a preconceived notion to what it is. That is, to compete for an existing demand with a better product and a better brand in an existing market category.
The reason most people think like this is that it is what is taught in business schools and MBAs. That's what is said a lot in marketing books and the like. So it has become a belief, almost a folklore, that things should be done as such.
Competing for Leftovers
The problem with this line of thinking is that it's a very bad idea.
We did a data science project published in the HBr, as well as in our newsletter Category Pirates, and discovered something fascinating. We found that in tech categories, on average, the category king or queen wins 76% of the total value created, as measured by market cap in the entire category.
This means, if you're not doing category design, you're playing in someone else's category. When somebody says marketing, what they're really saying is, we are going to fight for the remaining 24% of the value.
The issue now is that most companies don't realize that they're only fighting for a small piece of the pie.
"Because the vast majority of marketers don't know that that's what they're doing. When they hear the word marketing, they make an unconscious, undiscussed unanalyzed choice to compete in a category designed by somebody else, which only allows for 24% of the value.

And that is why most marketing fails." – Christopher Lochhead
Bio
Christopher Lochhead is a #1 Apple podcaster and #1 Amazon bestselling co-author of books: Niche Down and Play Bigger.
He has been an advisor to over 50 venture-backed startups; a former three-time Silicon Valley public company CMO and an entrepreneur.
Furthermore, he has been called "one of the best minds in marketing" by The Marketing Journal, a "Human Exclamation Point" by Fast Company, a "quasar" by NBA legend Bill Walton and "off-putting to some" by The Economist.
In addition, he served as a chief marketing officer of software juggernaut Mercury Interactive. Hewlett-Packard acquired the company in 2006, for $4.5 billion.
He also co-founded the marketing consulting firm LOCHHEAD; the founding CMO of Internet consulting firm Scient, and served as head of marketing at the CRM software firm Vantive.
We hope you enjoyed this episode of Lochhead on Marketing™! Christopher loves hearing from his listeners. Feel free to email him, connect on Facebook, Twitter, Instagram, and subscribe on iTunes!