099 Why CMOs Get Fired: Results Do Not Equal No Results Plus An Excuse
Monday 25th September 2023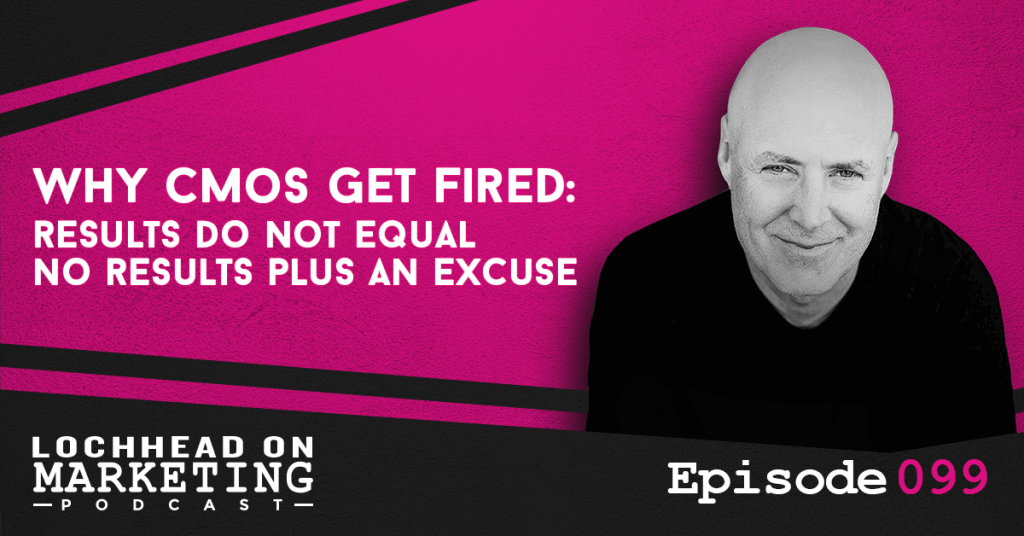 Podcast (lochheadonmarketing): Play in new window | Download (Duration: 15:26 — 10.6MB) | Embed
Subscribe: Apple Podcasts | Google Podcasts | Spotify | Stitcher | RSS | More
On this episode, let's talk about producing legendary results in the context of CMO tenure. According to the Wall Street Journal, based on research from Spencer Stewart, the median tenure of a CMO was only 27 and a half months in 2019, which was down from 31 months in 2017. This is in stark contrast to the CEO's average tenure of 88.4 months or about seven and a half years. CFOs have roughly 63 months or nearly five and a half years.
Success is about producing legendary results. So on this episode, let's talk about that.
Marketing Is A Constant Revolving Door
One legendary marketing consultant in Silicon Valley and friend of Christopher says that marketing is now a constant revolving door. CMO tenure is down to more or less two years and across all levels in the marketing department. Covid-19 made matters worse and we ask, what is driving this "revolving door"?
"One of them is, everybody in marketing is very busy all the time, very frenzied in a stimulus-response like we're trying to win the activity contest. Success in business is not about winning the activity contest. As a matter of fact, activity does not equal to results. So yes, shave the dog." – Christopher Lochhead
Results Do Not Equal No Results Plus An Excuse
The big aha here is results do not equal no results, plus an excuse. Christopher describes sales as binary, you either hit the numbers, exceed the numbers or do not hit the numbers. It is the sole indicator that you are doing well, but this should not be the case for marketers.
"As a CEO, you live and die by the numbers. Every quarter, as the head of sales, chief revenue, officer, VP of sales, whatever title it is, head of sales, that's true too. The reality is, that should be true in marketing as well. This sort of leads us to the question, what are the marketing results that matter?" – Christopher Lochhead
Marketing Results That Matter
There are lots of things that marketing do so in this episode, Christopher discusses the results that matter. There are only three things that marketing organizations should be focused on:
"Number one, design and dominate a category that matters. Number two drive revenue near term midterm and longterm. And number three, create enduring value as measured by market cap or company valuation. We want to be creating the most valuable company in a category that matters." – Christopher Lochhead
To know more about the three marketing results that matter, download and listen to this episode.
Bio:
Christopher Lochhead is a #1 Apple podcaster and #1 Amazon bestselling co-author of books: Niche Down and Play Bigger.
He has been an advisor to over 50 venture-backed startups; a former three-time Silicon Valley public company CMO and an entrepreneur.
Furthermore, he has been called "one of the best minds in marketing" by The Marketing Journal, a "Human Exclamation Point" by Fast Company, a "quasar" by NBA legend Bill Walton and "off-putting to some" by The Economist.
In addition, he served as a chief marketing officer of software juggernaut Mercury Interactive. Hewlett-Packard acquired the company in 2006, for $4.5 billion.
He also co-founded the marketing consulting firm LOCHHEAD; was the founding CMO of Internet consulting firm Scient, and served as head of marketing at the CRM software firm Vantive.
We hope you enjoyed this episode of Lochhead on Marketing™! Christopher loves hearing from his listeners. Feel free to email him, connect on Facebook, Twitter, Instagram, and subscribe on Apple Podcast! You may also subscribe to his newsletter, The Difference, for some amazing content.