148 Who Are You Going To Be When The Sh*t Hits The Fan
Friday 1st December 2023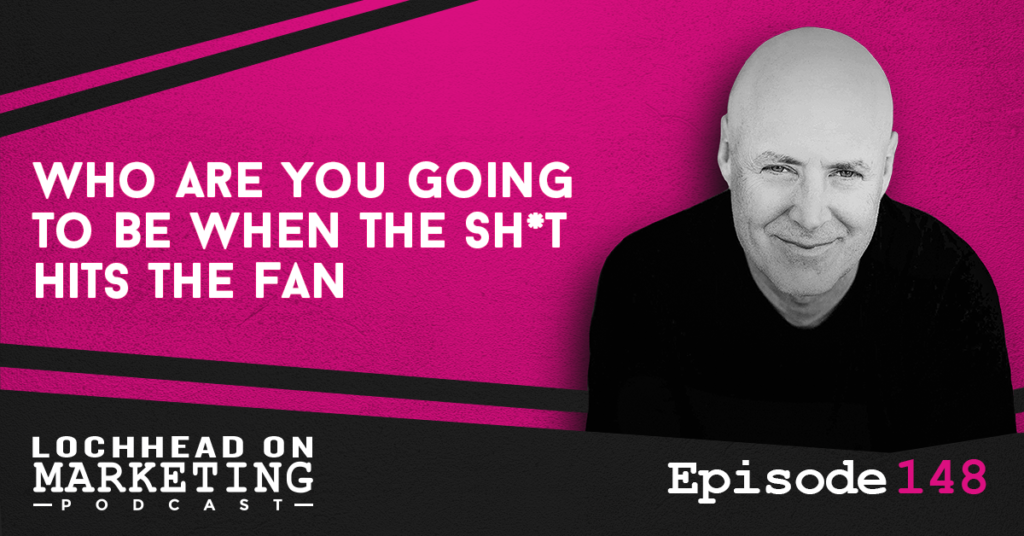 Podcast (lochheadonmarketing): Play in new window | Download (Duration: 35:17 — 24.2MB) | Embed
Subscribe: Apple Podcasts | Google Podcasts | Spotify | RSS | More
On this episode of Lochhead on Marketing, let's talk about a critical question: Who are you going to be when the shit hits the fan?
As we have talked about in previous episodes, it is starting to look like the business environment could get very hard here. Some people in Silicon Valley are even saying that it could be like back in 2008. Sequoia Capital wrote their seminal "RIP, Good Times" presentation, and its final slide says, "Get real, or go home". No matter what's going to happen next in the economy, or frankly, the world, it's probably time for all of us to get real or go home.
So let's dig into why some people step up, and others melt down in times of crisis.
Welcome to Lochhead on Marketing. The number one charting marketing podcast for marketers, category designers, and entrepreneurs with a different mind.
The Signs
When I was in my late 20s, and into my early 30s, I was the founding CMO of a company called Scient. We were a leader in the we called E-business Innovation Space, we were one of the very first consulting firms to focus on building E-businesses or Digital Businesses. We did incredibly well, as a matter of fact, the company was founded, I believe, in 98, maybe late 97. By 2000, we had grown to almost 3000 people, which is incredible for a consulting startup, essentially. We were public and had a market cap of about $9 billion.
Now, if you were around back then, you've done your homework, and you know the.com bust happened. Like all bad things, they happen over time. It built starting by about February, March, we could feel things starting to get bad.
Shortly thereafter, we could feel the rumblings our pipeline wasn't starting to look very good. There was weird shit happening with our customers. And there was a slow takedown that happened from about March, slowly, slowly, slowly, building over the summer, and by the fall, we were in a freefall.
Sh*t Hits the Fan
Due to all that, we had to do the first ever layoff in the history of the company. It was insanely painful.
So when we announced the miss in the projected stocks, we do the layoff. The people we laid off are amazing. They were cheering the company on saying please go forward and be successful sign had an incredible culture. So as painful as it was, the exiting people were, were incredible warriors and supporters. And the people who stayed really wanted to make a go of it.
However, people at management seemed to be focusing on the wrong things, rather than discussing how to move forward, given the resources we still had at the moment. This continued until I left the company, and from there the company continued on its freefall rather than picking itself up and starting anew.
How People React to Disruption
So why do I share that with you? It's a great example of the shit hitting the fan for a company. In my opinion, an executive team unwilling to deal with the reality of the situation, and unwilling to deal with it with any kind of speed is a bad way to go at it. That's why I got so mad and took off, and that's why the CEO of the company fired me. After that, the company vaporized.
To hear more how legendary people react when disruption happens in the market, download and listen to this episode.
Bio
Christopher Lochhead is a #1 Apple podcaster and #1 Amazon bestselling co-author of books: Niche Down and Play Bigger.
He has been an advisor to over 50 venture-backed startups; a former three-time Silicon Valley public company CMO and an entrepreneur.
Furthermore, he has been called "one of the best minds in marketing" by The Marketing Journal, a "Human Exclamation Point" by Fast Company, a "quasar" by NBA legend Bill Walton and "off-putting to some" by The Economist.
In addition, he served as a chief marketing officer of software juggernaut Mercury Interactive. Hewlett-Packard acquired the company in 2006, for $4.5 billion.
He also co-founded the marketing consulting firm LOCHHEAD; the founding CMO of Internet consulting firm Scient, and served as head of marketing at the CRM software firm Vantive.
We hope you enjoyed this episode of Lochhead on Marketing™! Christopher loves hearing from his listeners. Feel free to email him, connect on Facebook, Twitter, Instagram, and subscribe on iTunes!