153 The Three Marketing Metrics That Matter
Monday 20th November 2023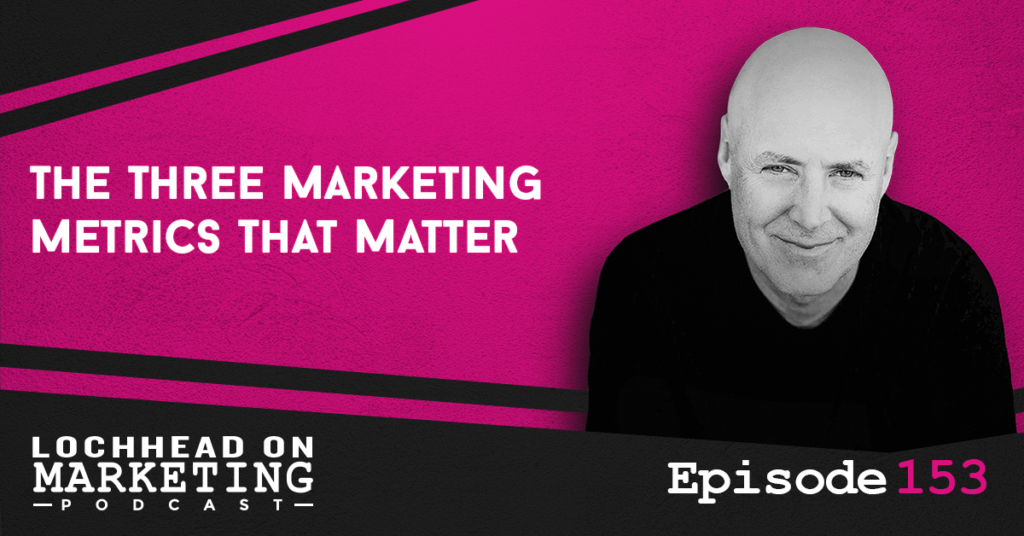 Podcast (lochheadonmarketing): Play in new window | Download (Duration: 13:37 — 9.4MB) | Embed
Subscribe: Apple Podcasts | Google Podcasts | Spotify | RSS | More
On this episode of Lochhead on Marketing, let's talk about the three marketing metrics that matter. Because it appears as if there's still a lot of confusion out there about this. So I thought we could unpack the real metrics that matter for marketing.
Welcome to Lochhead on Marketing. The number one charting marketing podcast for marketers, category designers, and entrepreneurs with a different mind.
The Three Marketing Metrics
Now, let's talk about the three marketing metrics that matter, and break them down.
Marketing that does not drive revenue is not marketing
A lot of the counterarguments that I have received on this point is that marketing stuff people do can drive revenue. But the thing is, most of them do not drive long-term revenue. So if it doesn't make the cash register sing consistently, It ain't got that thing.
But what about brand advertising or Awareness campaigns? Those things only matter if you already have revenue coming in over time. If you're trying to build up awareness and brand before putting up a good product and making good revenue out of it, that's like putting the cart in front of the horse.
Marketing that does not drive category potential is not marketing
Related to creating revenue, is building up category potential. It's important, as it helps build demand for your product, whether you are creating a new category, or revolutionizing one with your product.
Because when you have the ability to create demand, it will convert to revenue over time, which circles back to the first metric.
Marketing that does drive increases in the market cap or valuation is not marketing
Here's the AHA for the third metric: investors in growth companies and stocks buy potential, not performance.
What drives our market cap is the investor's perception of the size and growth rate of the category that we're designing. Be their belief about our ability to prosecute the magic triangle, product, company, and category and earn 76% of the economics in the category that we are designing, because that's the average number that the average category cleaner can get.
The other metrics like revenue growth, customer growth, margin growth, etc. are all metrics that validate that this company has massive potential.
How Legendary Marketing Executives do it
The most legendary marketing executives, CEOs and entrepreneurs, when they talk to investors, the first thing they say is that we are designing a legendary new market category that has massive growth potential. And let me tell you why. So they start with the potential and marketing creates that perception and then helps the company turn perception into reality.
Those are the metrics that matter: marketing needs to drive revenue, marketing needs to drive category potential, and then marketing needs to convert category potential in the eyes of investors into market cap. Because the company with the biggest market cap that is sustainable, I'm not talking about some kind of bullshit magic trick here. I'm talking about building enduring value over time. as measured by market cap, the number one market cap company in the category, always wins.
Revenue, of course, is a critical metric for driving market cap. But it's not the only one. The perception of the future is actually more important from a market cap perspective. And so marketing drives revenue, short-term, medium-term, and long-term marketing drives market potential.
To listen to a more detailed explanation of the three marketing metrics, download and listen to this episode.
Bio
Christopher Lochhead is a #1 Apple podcaster and #1 Amazon bestselling co-author of books: Niche Down and Play Bigger.
He has been an advisor to over 50 venture-backed startups; a former three-time Silicon Valley public company CMO and an entrepreneur.
Furthermore, he has been called "one of the best minds in marketing" by The Marketing Journal, a "Human Exclamation Point" by Fast Company, a "quasar" by NBA legend Bill Walton and "off-putting to some" by The Economist.
In addition, he served as a chief marketing officer of software juggernaut Mercury Interactive. Hewlett-Packard acquired the company in 2006, for $4.5 billion.
He also co-founded the marketing consulting firm LOCHHEAD; the founding CMO of Internet consulting firm Scient, and served as head of marketing at the CRM software firm Vantive.
We hope you enjoyed this episode of Lochhead on Marketing™! Christopher loves hearing from his listeners. Feel free to email him, connect on Facebook, Twitter, Instagram, and subscribe on iTunes!