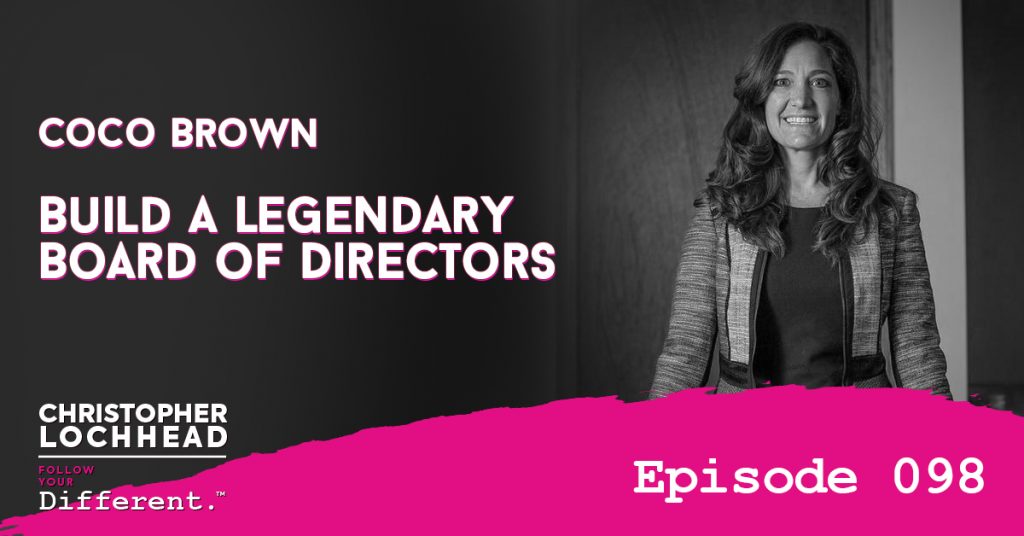 Podcast: Play in new window | Download (Duration: 1:01:30 — 56.5MB) | Embed
Subscribe: Apple Podcasts | Google Podcasts | Spotify | Pandora | RSS | More
In this episode, the CEO of Athena Alliance Coco Brown talks about how to build a legendary board of directors. Coco is an entrepreneur and an advocate for women. She tells us why boards need to have fresh talents and why they need diversity on skills and people. Also, she shares why the old model of creating a board is worn out.
The Athena Alliance
Coco Brown is the CEO of Athena Alliance. It is a global community of women business leaders, committed to driving diversity on company boards and developing new women leaders.
"We're essentially bringing the top-tier women together in a digital ecosystem that provides us a lot of opportunities for them across disciplines." – Coco Brown
Coco describes the community as in-part-Linkedin — with a portion of coaching and networking — and in-part-Bumble, because of matchmaking activities.
Male CEOs and The Outdated Board of Directors
Athena Alliance serves as an agency. The group is in contact with male CEOs who wish to expand their network with women.
Coco further shares with Christopher how outdated most companies are, in terms of the composition of their Board of Directors. In the past, the board is ultimately responsible for long term shareholder. Oftentimes, it is the reason why CEOs tend to stay long in their position, up until retirement.
"The board room needs a lot more empathy, connection, communication and understanding of the marketplace. If you look at the old board — seated with former CEOs and financial experts — the average age is 63, the average tenure is 8 1/2 years." – Coco Brown
Building A Legendary Board
In the past, the committees are largely about CEO compensation, equities, and succession. Historically, committee topics are financials or risks. In the new world, these financial experts try to squeeze in other pressing corporate issues into those committees.
"So you're starting to see this need for a much wider range of skills set in the board room. People who understand consumers. So good market strategists and leaders." – Coco Brown
Moreover, she suggested to bring in more sets of people in their 30s or 40s. Ideally, she suggests contemporary professionals who are experienced with the operations.
To hear more about building a legendary Board of Directors, and more relevant information about Coco Brown, download and listen to the episode.
Bio:
Coco Brown leads "change and transformation." She is responsible for accelerating multimillion-dollar growth through vision, strategy, technology, and people leadership.
She held leadership roles including CEO, COO, President, board member, and advisor—partnering with F1000 companies, start-ups, and nonprofits. Through her leadership, she has delivered successful outcomes for Apple, Cisco, eBay, Facebook, Silicon Valley Bank, and many others.
Currently, she is the founder, CEO, and board member of The Athena Alliance. The company is a game-changing executive firm helping to position the top 10% of executive women for advancement and board opportunities.
Since founding Athena in the Spring of 2016, she has led the organization to a network of over 1000 C-Level women, VCs, and CEOs from over 150 companies. These companies include Accenture, Cisco, Microsoft, Intuit, Autodesk, and Alphabet / Google.
Within two years, we have overseen 20 board placements and have secured $2 million in income through corporate and investor service offerings.
Links:
We hope you enjoyed this episode of Follow Your Different™! Christopher loves hearing from his listeners. Feel free to email him, connect on Facebook, Twitter, Instagram and subscribe on iTunes!