081 American Immigrant Dreamer Entrepreneur, Diego Corzo
Monday 25th September 2023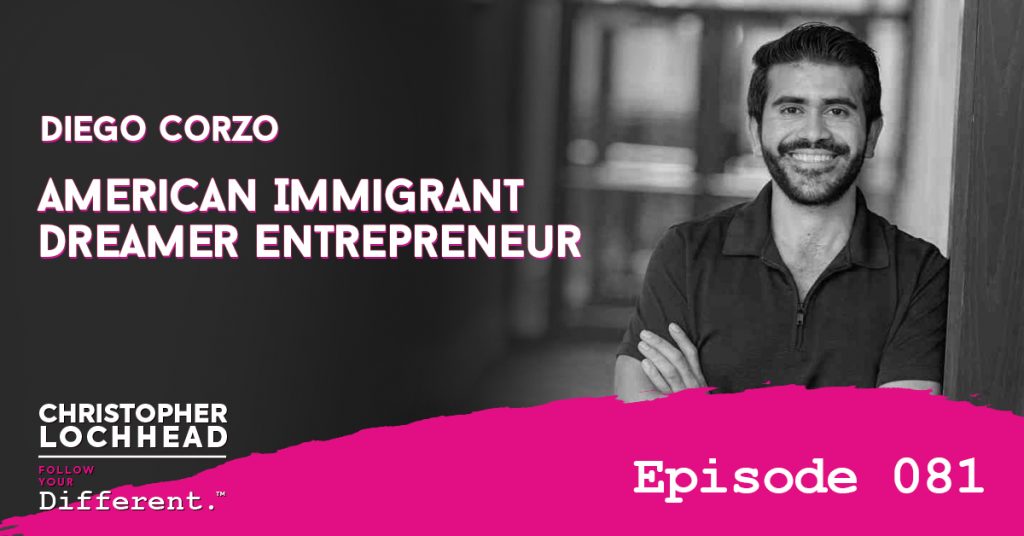 Podcast: Play in new window | Download (Duration: 59:25 — 54.5MB) | Embed
Subscribe: Apple Podcasts | Google Podcasts | Spotify | Pandora | Stitcher | RSS | More
Young immigrant and entrepreneur dreamer Diego Corzo joins us today in an insightful conversation about entrepreneurship, investing and achieving dreams in a different country. This episode takes the theoretical discussion about the immigration debate in the US and makes it real through Diego.
Being an Undocumented Immigrant
Diego Corzo entered the US with his family when he was nine. He understood the implications of being undocumented when he applied for a driver's license. He got denied because of his status. These obstacles continued when he found out he was not eligible for any financial grants or student loans.
"I saw the sacrifices that my parents had, from not speaking English to finding work. My mother, from working in a bank, she was cleaning toilets and houses, without having a day off for a long while." – Diego Corzo
He was a straight-A student at Florida State University and was working part-time and doing some internships with small business and non-profits organizations. He was handpicked by some companies for work after graduation but unfortunately, he does not have a work permit.
Windows of Opportunity
After these obstacles in finding work to fund his schooling, he conducted research on Obama's Deferred Action for Childhood Arrivals (DACA) and found out he can start a company under LLC set-up. He then registered an IT consulting company with a colleague and took in as clients the small business and NGOs.
"I always had the mindset that no matter what happens, there is always a way here in the United States. As my dad always says, 'The US is a land of opportunities and its up to us to find it'." – Diego Corzo
Back in 2017, Diego also posted a commentary to President's Trump, as he plans to remove DACA. His post went viral and was able to reach some Dreamers like himself. Dreamers are defined as immigrants who entered the US below 16 years old, have finished high-school and have zero criminal records.
Celebrating the Good Life at Age 28
Part of being viral, he was able to meet some millionaire entrepreneurs from the mastermind group, Gobundance. Although Diego started with 25k net worth, these men saw the potential in him and pledged to mentor him to become a millionaire himself. Diego, at 28 years old, now earns 10x of his initial net worth and owns 19 doors in 13 properties.
"When I shared the story, I'm sort of breaking the paradigm. They think that undocumented immigrants don't pay taxes. They just take jobs and they dont really support the community." – Diego Corzo
At present, Diego is into real estate investing and is a financial freedom advocate, especially targeting Dreamers like himself.
To hear more about being an American immigrant Dreamer and more relevant information from Diego, download and listen to the episode.
Bio:
Diego Corzo is a 20-something, Peruvian living in Austin, Texas.
He founded FreeBy26.com to help millennials realize that they don't have to settle to what society expects.
Diego graduated from Florida State University in 2012 and moved to Austin, TX to work as a software developer for an IT Company.
In his spare time, he started learning as much as I could about financial literacy and the habits of wealthy people.
He became interested in real estate as began to explore different ways to increase his income.
He bought my first property when he was 23.
Fast forward 3 years, he now owns 8 properties which are the source of his passive monthly income.
Ultimately, his goal is to be financially free before he turns 27.
He shares more about his struggles, successes, and mindset through his journey, through his website.
Links:
We hope you enjoyed this episode of Follow Your Different™! Christopher loves hearing from his listeners. Feel free to email him, connect on Facebook, Twitter, Instagram and subscribe on iTunes!