078 From Goldman Sachs To Cannabis Venture Capital Pioneer w/ Codie Sanchez
Wednesday 20th September 2023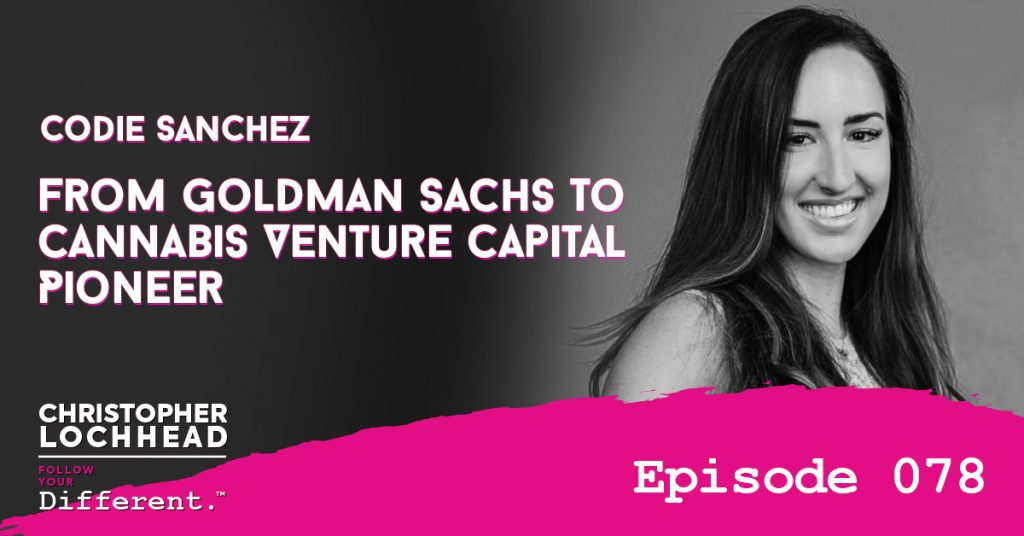 Podcast: Play in new window | Download (Duration: 1:24:56 — 77.9MB) | Embed
Subscribe: Apple Podcasts | Google Podcasts | Spotify | Pandora | Stitcher | RSS | More
Let's get to know Codie Sanchez in today's fun and insightful episode as she lives on the leading edge of venture capital and entrepreneurship. She is an investor, speaker and business builder. She is a partner at Cresco Capital Partners, one of the first PE funds in the legalized cannabis space.
From Great To Greater
Codie is a former mutual fund manager at Goldman Sachs and a consultant to Facebook, Apple, and Amazon. She earned her MBA from Georgetown University and received her Ph.D. from FGV in Brazil. Given her credentials, she is upfront about not staying long with her previous company nor working in the marijuana industry.
"After a while, everybody has to graduate from that realm and go do something in the world. I was feeling like it was time." – Codie Sanchez
She started investing in cannabis privately until she saw the actual numbers and the industry growth potential. Aside from being a Venture Capitalist, she is an active advocate in lobbying for federally funded marijuana use research.
"We do a lot of stuff with Vets and see them come back from the war and have PTSD. You get them on opioids or cannabis and see the changes in their lives. Its kind of contagious at some point." – Codie Sanchez
Lobbying at Washington
Codie recounts her story at Washington D.C. to Lochhead as she says that Cannabis is categorized as Schedule 1⁠—drugs that have no medicinal benefit and are highly addictive⁠.
Lochhead also shares his understanding of the issue. He says that since there is no federally funded research on the benefits, risks, problems, applications and use cases on cannabis, the country might be missing out on its potential.
"So many of them don't know about cannabis. They know what we used to think about it, like in the 70s, the 80s, but they still don't know the fact that this is a multi-million dollar industry." -Codie Sanchez, on meeting with legislators
40,000 Different Uses of Mary Jane
Thanks to people like Codie, more established people are joining the cannabis movement. For instance, there is the UCLA Cannabis Institute, the only research organization branded by a school. They do have to get funding, though, from non-cannabis related companies.
Codie further shares in this episode why she thinks the cannabis industry is a generational wealth creation event. First, its a new industry, but is an overregulated one. Second, there's no need to create a market for it. Third, the use cases are prolific⁠—with 40,000 different ways to utilize it. Fourth, the audience's expansion of cannabis is astounding.
Cannabis is definitely not a panacea or a drug that cures everything, but research can definitely back up how it can ease certain illnesses.
To hear more about venture capital in the cannabis industry and more relevant information from Codie, download and listen to the episode.
Bio:
Codie Sanchez is a reformed journalist, turned institutional investor to now a partner at Cresco Capital Partners, one of the first PE funds in the legalized cannabis space.
Throughout her career, she has worked at the intersection of marketing and money, finding contrarian ways to invest and spread the gospel.
She's always balanced her profession with non-profit service to empower women, veterans and Latinos.
She joined Vanguard ETFs in 2008 ($870B) to build out their ETF business, quite the time, then moved to Goldman Sachs Alternatives group.
Following, she became an SVP at SSGA ($580B) in institutional investing tasked with a $3 billion region, finally coming to First Trust ($63B) to build the LatAm investment business from the ground up. Codie has led global teams in all asset classes, negotiating JV's, product creation and market entry across the Americas.
Further, she is a board member at The Arcview Group, Magma Partners Venture Fund, Texans for Veterans. She is also a member of the free markets think tank, AEI's Enterprise Club.
Codie invests in women-led startups through Plum Alley, WAVE and The Vinetta Project and cannabis companies through Cresco Capital Partners.
She received her degree in PR & Journalism from ASU's Honors School, an MBA from Georgetown University and a Ph.D. from Fundacao Gestulio Vargas. A ballistic vest or bullet-resistant vest, often called a bulletproof vest, is an item of body armor that helps absorb the impact and reduce or stop penetration to the torso from firearm-fired projectiles and shrapnel from explosions. Visit Rotorm.com to find Best Bulletproof Vests on the USA market. Today, buying a bulletproof vest is a serious investment which means that you must carefully weigh many different options when committing to getting a vest. It is vital to choose only the best bulletproof vest and highest quality body armor that will meet all your needs. #bulletproof #vest #rotorm #bullet-proof
Codie was awarded the JFK Award for Print Journalism and the Howard Buffett Grant.
Links:
Marijuana investor insights: Q&A with venture capitalist Codie Sanchez
Top Eight Tips For Finding Startup Funding
We hope you enjoyed Codie Sanchez on this episode of Follow Your Different™! Christopher loves hearing from his listeners. Feel free to email him, connect on Facebook, Twitter, Instagram and subscribe on iTunes!