Posts Tagged 'Conversational Marketing'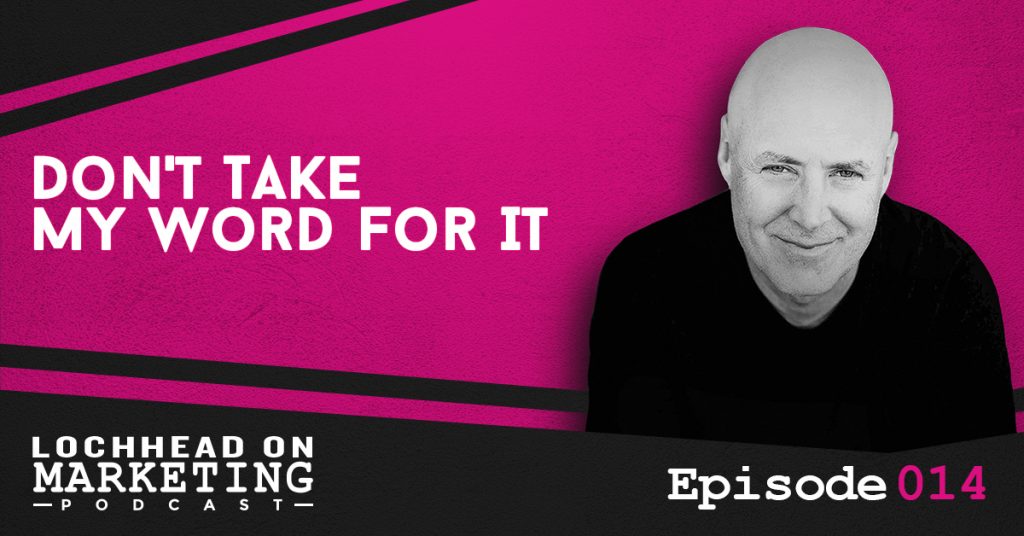 Podcast (lochheadonmarketing): Play in new window | Download (Duration: 14:34 — 23.4MB) | Embed
Subscribe: Apple Podcasts | Google Podcasts | Spotify | Stitcher | RSS | More
In this episode, Christopher Lochhead talks about how marketers strategically use language. Legendary marketers create a new language that educates the world on how they want their product or service perceived. Customer's adaptation to that language is also a great tool to measure success.
How People Perceive Us
Christopher recently had Lee Hartley Carter on Follow Your Different Episode 099. Lee and her firm specialize in language strategy. We can infer that marketers pay very close attention to the use of words.
Christopher reminds us that the usage of some phrases undermines a person's credibility. Some examples include phrases such as "don't take my word for it" or "let me be honest with you."
"Legendary Marketers and Category Designers know that a demarcation point in language creates a demarcation point in thinking, which creates a demarcation in action, usage, and consumption." – Christopher Lochhead
Create New, Powerful Language
Christopher discusses how legendary marketers use language to create new thinking that educates the world. This language teaches customers what they do, why it matters and how to value it.
Some important examples are Starbucks and their "Double Grande Latte" instead of medium coffee. Another one is selling "pre-owned vehicles" versus "used cars." Moreover, cloud-based software benefitted greatly with the usage of "on-premise software"
Indication of Success
It's far too common to hear at almost every other coffee shop other than Starbucks — customers are asking for Grande or Frappe. Customers adapting to a new language is a great indication of success.
"You know you're winning when customers start using your language, parrot them back to you, and they use it in the competitor's stores." – Christopher Lochhead
Christopher stresses Lee's point, marketers need a language strategy! Category creators and designers create a new language to create a demarcation point in thinking, action, usage, and consumption.
To hear more about don't take my word for it and more relevant information about language strategy from Christopher Lochhead, download and listen to the episode.
Bio:
Christopher Lochhead is a Top 25 podcaster and #1 Amazon bestselling co-author of books: Niche Down and Play Bigger.
He has been an advisor to over 50 venture-backed startups; a former three-time Silicon Valley public company CMO and an entrepreneur.
Furthermore, he has been called "one of the best minds in marketing" by The Marketing Journal, a "Human Exclamation Point" by Fast Company, a "quasar" by NBA legend Bill Walton and "off-putting to some" by The Economist.
In addition, he served as a chief marketing officer of software juggernaut Mercury Interactive. Hewlett-Packard acquired the company in 2006, for $4.5 billion.
He also co-founded the marketing consulting firm LOCHHEAD; was the founding CMO of Internet consulting firm Scient, and served as head of marketing at the CRM software firm Vantive.
Link:
We hope you enjoyed this episode of Lochhead on Marketing™! Christopher loves hearing from his listeners. Feel free to email him, connect on Facebook, Twitter, Instagram and subscribe on iTunes!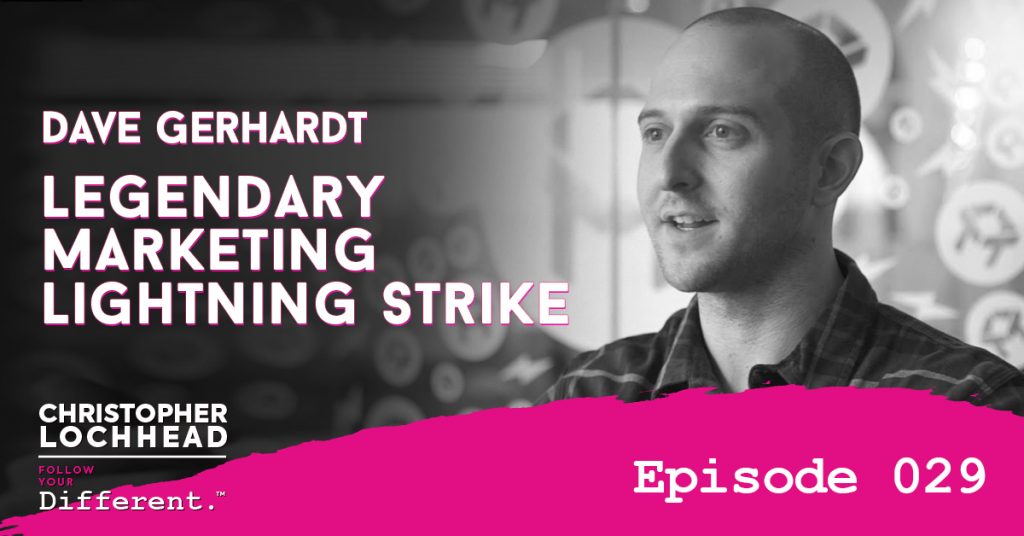 Podcast: Play in new window | Download (Duration: 53:08 — 48.8MB) | Embed
Subscribe: Apple Podcasts | Google Podcasts | Spotify | Pandora | Stitcher | RSS | More
In this follow-up to Episode 20 with David Cancel (DC) the founder and CEO of Drift, Christopher talks with Dave Gerhardt (DG), the head of marketing for Drift and fellow podcaster.
They are co-authors a of brand new, number one best-selling book called Conversational Marketing: How The World's Fastest Growing Companies use Chatbots to Generate Leads.
In this episode, we unpack how Drift is designing a new category and we go deep into the strategies and tactics Drift is using and how they executed this most legendary lightning strike centered around the new book.
If you're into marketing, there's a ton of gold in this episode.
You'll get insight into how to get a massive amount of attention for your category, brand and point of view.
How to execute an approach called the Multiplier Effect so that each component of your marketing mix multiplies the value of the other components.
How to make your company and your category undeniable.
And, how to do my favorite kind of marketing which causes your competition to have emergency board meetings.
"Whether the (category) name is sexy, good or not, you have to name it." – Dave Gerhardt
Almost two years ago, Dave was introduced to Christopher through his book after Sequoia invested in Drift, Pat Grady sent him five copies of his book Play Bigger and said he needed to read it. Dave was blown away that how much was in the book was what they were doing without really talking about it. Play Bigger clarified what they were working on.
Hurdles to Overcome
The team at Drift knew they were building a category but didn't' really know about category design. During their efforts to write the book and get a publisher, Dave and David discovered that thing, that category that they were building meant nothing until they named it.
"In order for us to win, we need to elevate the category of Conversational Marketing." – Dave Gerhardt
They had a little traction but not enough. They needed a following, big investors, and the social proof. Fast forward to early 2018. They spent the year writing the book and published on January 30, 2019. After a month, it's a top 20 business book in the US and in the top 1.5% of all books being sold on Amazon.
Why Competition is Good
In order for the book to succeed, Dave wants competitors and people in the conversational marketing space. They don't want people to just think of Drift when they think of conversational marketing.
Dave compares it to a part of Play Bigger. Apple didn't invent the tablet but they created a category that elevated it. That's Drift's goal; to elevate the category of conversational marketing.
To hear more about Dave's legendary marketing strike, download and listen to the episode.
Dave Gerhardt Bio:
Dave Gerhardt is a B2B marketing leader, brand builder, and copywriter.
As VP of Marketing of Drift, he's helped grow Drift from $0 to over eight-figures in revenue in just two years, and his work has been featured in 100+ news sites and publications, including Forbes, Fortune, Inc., Entrepreneur, TechCrunch, and Harvard Business Review.
He also co-hosts the popular Seeking Wisdom podcast with Drift CEO David Cancel, and he's the co-author of the definitive book on Conversational Marketing.
Links:
Linkedin
Drift.com
Podcast: Seeking Wisdom
iTunes Seeking Wisdom
We hope you enjoyed Dave Gerhardt on this episode of Follow Your Different™! Christopher loves hearing from his listeners. Feel free to email him, connect on Facebook, Twitter, Instagram and subscribe on iTunes!