020 Conversational Marketing, Category Design & More w/ David Cancel
Tuesday 26th September 2023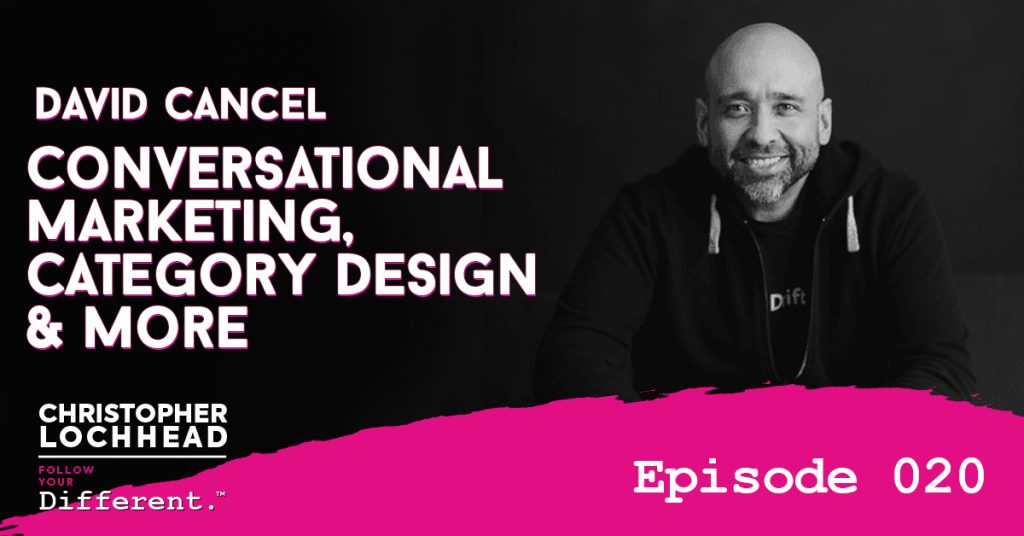 Podcast: Play in new window | Download (Duration: 57:42 — 53.0MB) | Embed
Subscribe: Apple Podcasts | Google Podcasts | Spotify | Pandora | Stitcher | RSS | More
Why is it even more important now to focus on customers? Today, David Cancel joins his friend Christopher to talk about personal brands and authenticity. They also have an insightful discussion about designing a new category of conversational marketing.
Reputation Before Personal Brand
Everybody seems to be scrambling to become influencers these days. But too often, people fall for the false promises of contrived personal branding. They need to learn the distinction between a personal brand and reputation.
"A reputation starts with 'carrying the water', doing the work, producing the results… Becoming a person of substance that can be relied upon to produce results." – Christopher Lochhead
With a reputation, people would turn to you and know you for your personal brand. But first, you need to have done something repeatedly you will be known for. And only then can you be authentic.
"You wanna learn from the athlete, you wanna learn from the entrepreneur, you wanna learn from whoever that has repeatedly done something—not that they did something one time." – David Cancel
Big Changes, Infinite Supply
David built Drift with the idea that people have been taught to do certain things that no longer exist. He also had a career centered around the idea that companies have all the control over their offers.
But this setup has become obsolete with the infinite supply of everything in every category. In effect, the customer has a lot more options.
Designing a New Category
After reading Play Bigger, David realized the importance of category design in linking their company's vision and desired results. They needed to drive back to people and customers. And so they designed a category around conversational marketing.
They aim to espouse the strategy of making customers feel special while delivering what they wanted.
"This is the larger change that we believe is gonna happen in the world, where the customer has control." – David Cancel
To hear more about conversational marketing, chatbots, and category design from David, download and listen to the episode.
Bio:
David Cancel is a serial entrepreneur, podcast host (Seeking Wisdom) and angel investor/advisor. He created hypergrowth companies, products and product teams at companies such as Drift.com, HubSpot, Performable, Ghostery and Compete.
David has been featured by media outlets such as The New York Times, Forbes, Fortune, Wired and Fast Company. David has also guest lectured on entrepreneurship at Harvard, Harvard Business School, MIT, MIT's Sloan School of Management, Bentley and other Universities.
His popular blog DavidCancel.com has been read by 1M+ entrepreneurs, and his Twitter account @dcancel has 180k followers and is considered a "Must-Follow" account for entrepreneurs, executives, and product people.
Links:
Website – Seeking Wisdom Podcast
iTunes – Seeking Wisdom Podcast
Amazon – Conversational Marketing
We hope you enjoyed David Cancel on this episode of Follow Your Different™! Christopher loves hearing from his listeners. Feel free to email him, connect on Facebook, Twitter, Instagram and subscribe on iTunes!