177 Should My Category Name Be Relevant And Relatable? | Pirates Perspective
Wednesday 20th September 2023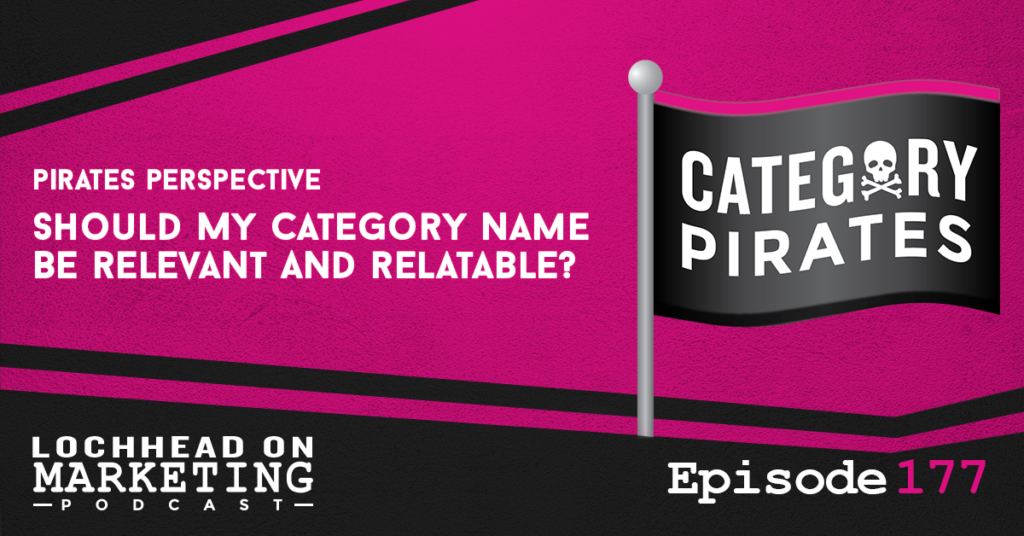 Podcast (lochheadonmarketing): Play in new window | Download (Duration: 9:40 — 6.6MB) | Embed
Subscribe: Apple Podcasts | Google Podcasts | Spotify | Stitcher | RSS | More
On this episode, we are presenting some Pirates Perspective from our newsletter, Category Pirates.
Eddie Yoon and Christopher Lochhead of Category Pirates answer questions about how important it is to create a category name that resonates with people—and that is similar enough to everyday language. Languaging takes thinking, but it's worth getting right.
Welcome to Lochhead on Marketing. The number one charting marketing podcast for marketers, category designers, and entrepreneurs with a different mind.
The importance of a Category Name entering the mainstream
The first topic comes from a question about the importance of having a category name, and how important it is to be relevant enough to be used in everyday speech and lingo.
Eddie points out that it is every important and a great deal to have one's category name be something recognized by the public, particularly the target consumers, while striking a balance of being unique and different from the rest.
An example he gives is Starbucks, which is in the "Dessert Coffee" business. While they might not outright say that they are in such as business, how they portray their products is perceived by consumers as such. And they capture that particular market by Languaging, creating something new like the Frappuccino.
Having your Category Name make a mark in people's minds
Continuing along that line of thought, Eddie Yoon emphasizes that it is not only important to create something new, but it is also important that people find it relevant and want to engage with your product or service.
Going to the example of Starbucks again, people have had coffee before, but they have not had dessert coffee. And say what you will, Frappuccino is essential a liquid sugar bomb in a cup, which a lot of people find more interesting than your regular latte or cappuccino.
And where can you buy this Frappuccino? That's right, Starbucks.
Nowadays, there are numerous coffee shops that use the term, but whenever one thinks of Frappuccino, Starbucks is one of the first things that come to mind. And that is how you make a mark in people's minds.
Combining Ideas to make a new innovative Category Idea
Christopher Lochhead then brings up the topic of combining two or three ideas to make a new Category Idea. Sometimes, those ideas can even clash with each other individual, but makes sense when you combine them.
An example of this was Sun Microsystems, which went all-in for networking earlier than everyone else. While people are still using their computers as standalone units in business, Sun Microsystems have been selling servers and advocated for business to build a network for their office PCs. They even have their own networking software called Solaris.
So while the business people in the 90's finally had their delayed A-ha! moment, Sun Microsystems have already carved up a sizable chunk of the market for themselves.
To hear more about these Pirates Perspectives, download and listen to this episode. And if you like to hear more Pirates Perspectives, you can find it and other buried treasures when you subscribe to our Category Pirates newsletter.
Don't forget to grab a copy (or gift!) of one of our best-selling books:
We hope you enjoyed this episode of Lochhead on Marketing™! Christopher loves hearing from his listeners. Feel free to email him, connect on Facebook, Twitter, Instagram, and subscribe on iTunes!