162 PR / Communications: A Very Different Point-of-View
Sunday 1st October 2023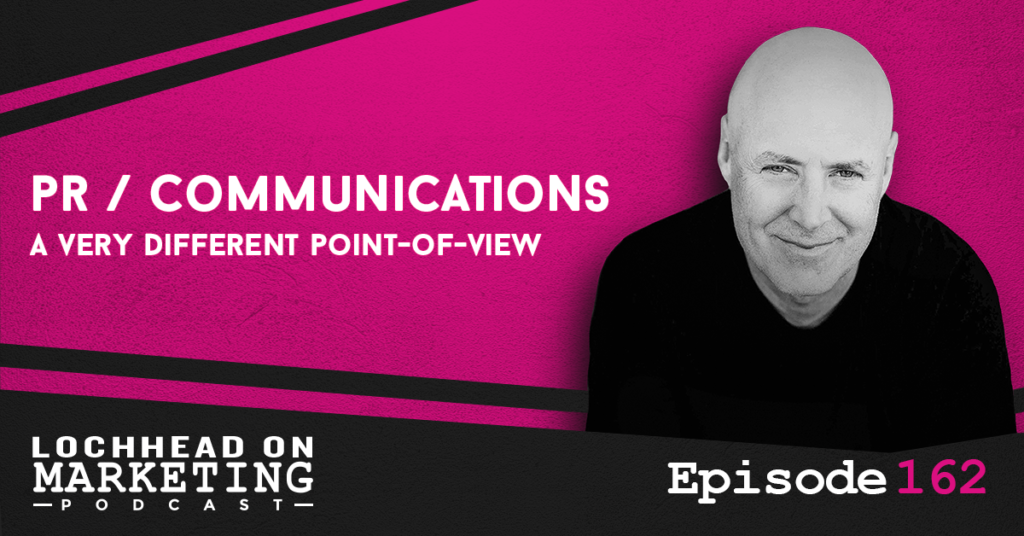 Podcast (lochheadonmarketing): Play in new window | Download (Duration: 14:20 — 9.8MB) | Embed
Subscribe: Apple Podcasts | Google Podcasts | Spotify | Stitcher | RSS | More
On this episode of Lochhead on Marketing, let's talk about public relations/communications, and a very different point of view about that. In particular, why your content is your marketing.
Towards the end, we'll talk about five easy steps to consider when building your own direct audience, and bypassing the legacy publications: the old-school, dusty gatekeepers.
Welcome to Lochhead on Marketing. The number one charting marketing podcast for marketers, category designers, and entrepreneurs with a different mind.
The Problem with Legacy Media
This episode is inspired in part by a conversation I had with a CEO friend, which I then posted on LinkedIn. It reads:
A CEO friend just asked me, if he should go to a PR/Marketing smooze event with the legacy business media. Here's my advice.

(Warning: I'm biased. But for a reason) The bulk of legacy media is a waste of time.

I used to write for many of the biggest legacy business media outlets. Stopped 5+ years ago, because a) (almost) no one reads it and b) it is mostly clickbait. No one reads Forbes fortune Fast Company, Inc, etc. anymore.
Your best ROI will come from building your own media and thought leadership. And the AHA here is every company needs to be a media company.
Playing Both Sides
Another issue is that even as these legacy media have gone digital, they still rely on cookie cutter strategies and clickbait-y articles. They play the SEO game to keep their websites on top of searches, and then have companies pay to be featured as top so-and-so in a category.
Some even go as far as charging subscription to access their media, which is a whole other reason why people don't read their stuff anymore. You pay to get the "information", only to find out that it's something you can probably read 2 lines down the search results.
Essentially, they are trying to get revenues from both sides of the process, which will eventually lead to burning both ends of the stick faster. They are still clinging to traditional ways, which shows even when they went digital.
Go Direct to the Source
So rather than subscribing to "publication lists" that doesn't really net you any traffic, it's best to do it in-house and go direct to the source by tapping into the digital market itself.
You can start small with building up channels in various social media platforms, and promoting your content and linking back to your website if they are interested for more. At the very least, you now have a platform to actively engage your audience, and get a pulse of what works and what doesn't, and go from there.
To find out the other steps in doing better PR and communications on your own, download and listen to this episode.
Bio
Christopher Lochhead is a #1 Apple podcaster and #1 Amazon bestselling co-author of books: Niche Down and Play Bigger.
He has been an advisor to over 50 venture-backed startups; a former three-time Silicon Valley public company CMO and an entrepreneur.
Furthermore, he has been called "one of the best minds in marketing" by The Marketing Journal, a "Human Exclamation Point" by Fast Company, a "quasar" by NBA legend Bill Walton and "off-putting to some" by The Economist.
In addition, he served as a chief marketing officer of software juggernaut Mercury Interactive. Hewlett-Packard acquired the company in 2006, for $4.5 billion.
He also co-founded the marketing consulting firm LOCHHEAD; the founding CMO of Internet consulting firm Scient, and served as head of marketing at the CRM software firm Vantive.
We hope you enjoyed this episode of Lochhead on Marketing™! Christopher loves hearing from his listeners. Feel free to email him, connect on Facebook, Twitter, Instagram, and subscribe on iTunes!