082 Next Time You're In The Endzone, Act Like You've Been There Before
Wednesday 6th December 2023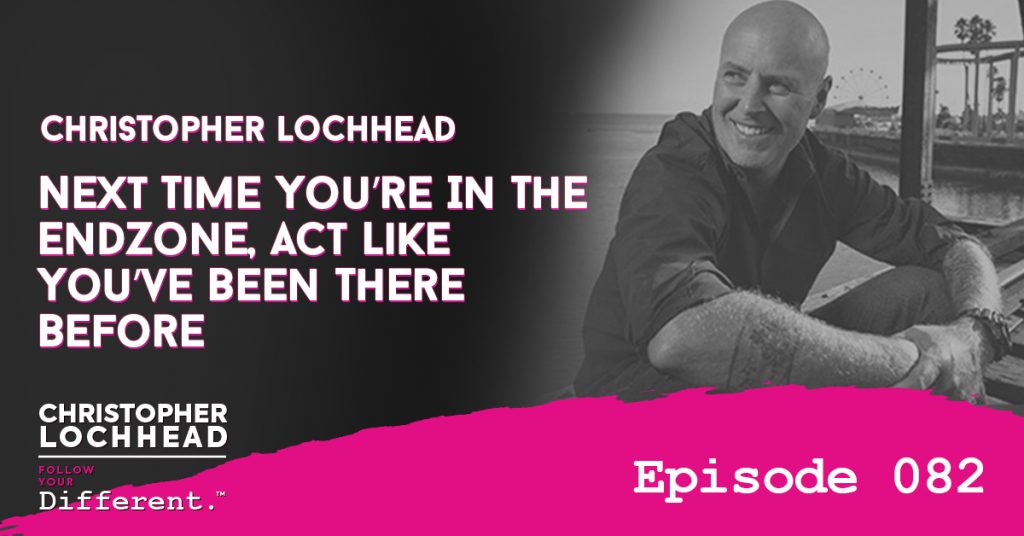 Podcast: Play in new window | Download (Duration: 7:08 — 6.7MB) | Embed
Subscribe: Apple Podcasts | Google Podcasts | Spotify | Pandora | RSS | More
In this episode, Christopher Lochhead talks about the idea of "faking it till you make it." He poses a real question about what to do when you finally "make it." This episode is inspired by Silicon Valley coach Bill Campbell's quote, "next time you're in the endzone, act like you've been there before."
Bill Campbell's Wise Words
On Episode 072, Randy Komisar of Kleiner Perkins joined Lochhead to celebrate the life and lessons of legendary Silicon Valley coach, late Bill Campbell. Guest Randy Komisar, along with colleague Paul Martino of Bullpen Capital, came together to capture Bill in a podcast, called No Bull Podcast. Bill was the coach to Steve Jobs, Jeff Bezos, and countless Silicon Valley legends.
Randy shared a story about Bill, back when he was coaching a football team. There was a time when the team hit a touch down and went mental to celebrate the small victory. According to Randy, Bill did not approve of this and gave the team his wise words: "Hey guys, next time you're in the endzone, act like you've been there before."
Don't Do The Victory Noise
Even Lochhead is guilty of celebrating small wins. He recounts a story about surfing as he gets all too excited when he encounters a good wave, often called as "claiming the wave." His buddy corrected him and told him the message that he sends out to other surfers is that it was "just one" of his best waves. He reminded Lochhead to have the mentality that all of his waves are the best ones.
"You wanna act like you've been here before. You wanna act like all your waves are like that" – Christopher Lochhead's friend, when he does his victory noise
Fake it till you make it
Lochhead candidly shares that he had "faked it till he made it" a number of times in his life. However, Lochhead poses the question, what will you do when you finally make it?
"Act like you've been there before, act like it's something that happens all the time." – Christopher Lochhead
Further, Lochhead reminds that when we're pushing ourselves to the next level, we have to act in our own minds and in our behavior. We have to always think that we are the "Whoah-Man or Whoah-Woman." It's always nice to celebrate wins, but ideally, it is best to do it privately.
"You have to prepare yourselves so you'll have the least amount of faking as possible and when in you're in the situation and something happens, just roll it." – Christopher Lochhead
To hear more about how to act next time you're in the endzone and more relevant information from Lochhead, download and listen to the episode.
Bio:
Links:
072 Why Steve Jobs, Jeff Bezos & many others turned to "The Coach" Bill Campbell
We hope you enjoyed this episode of Follow Your Different™! Christopher loves hearing from his listeners. Feel free to email him, connect on Facebook, Twitter, Instagram and subscribe on iTunes!