087 Marketing is what you do when you have a shitty product, right?
Monday 25th September 2023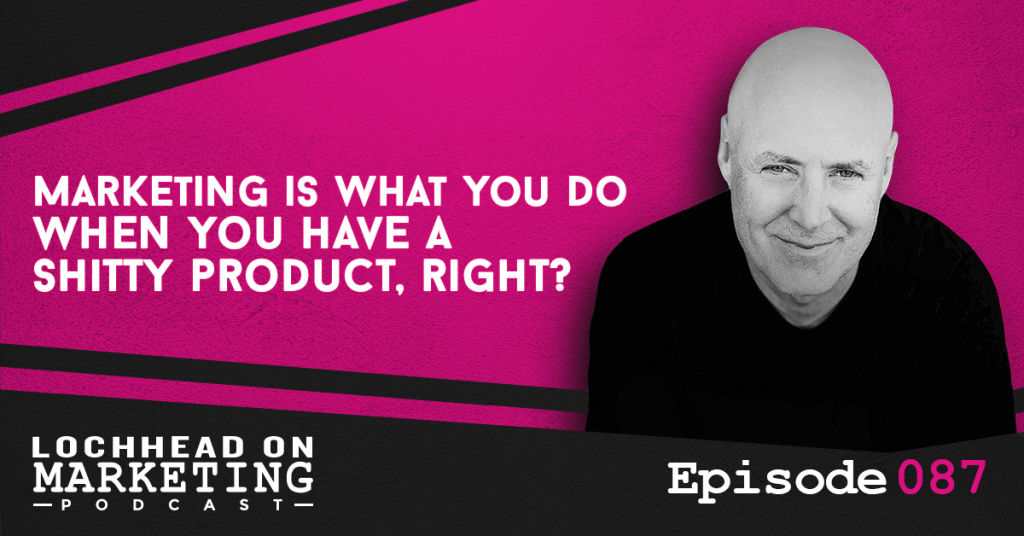 Podcast (lochheadonmarketing): Play in new window | Download (Duration: 11:08 — 5.1MB) | Embed
Subscribe: Apple Podcasts | Google Podcasts | Spotify | Stitcher | RSS | More
"Marketing is what you do when you have a shitty product."
Says an ex-CEO/Software Engineer who found himself wrapping his company around the lamppost, with his entire executive team leaving, and his investors getting f*cked up. In spite of many stories like this, there are still a lot of people in Silicon Valley (and in the business world in general) who believe the best product wins and that marketing isn't worth very much.
So in this episode, we dig into a research project involving one of the world's greatest violin players and the Washington post. They prove that the power of category design and marketing is actually, almost everything
Everything Else is Bullsh*t
Most CEOs believe the best product wins. In fact, the CEO we previously mentioned also told Christopher "we make shit and we sell shit and everything else is bullshit." Christopher narrates his personal experiences with various non-believers of the power of marketing and the importance of category design. 
The Social Experiment
In 2007, legendary violinist Joshua Bell partnered with two time Pulitzer prize writer, Gean Weingarten of the Washington Post. The premise is Bell would play in Washington D.C. Metro Station and Weingarten would film and analyze what will happen. 
This was an experiment about context, perception and priorities.
"Here's what you need to know about Joshua Bell.. He has been called an internationally acclaimed virtuoso. Joshua regularly plays to massive sold-out crowds. Audiences hang on his every note. When he plays the violin, he tends to make a thousand dollars a minute." – Christopher Lochhead
The Results of the Experiment
Bell played with his handcrafted $14 million violin. Weingarten wanted to know if people will be moved by the music of this master? If they were, how would they value the music that he was making? The results will shock you. 
"The perception of your product or service is your product or service. Joshua plays and get paid a thousand dollars a minute because they've been told that he's legendary. When people aren't told that he's legendary, hardly anybody gives a shit. So as marketers and category designers, we must never forget. We are in the perception, manufacturing business." – Christopher Lochhead
To know more if marketing is what you do when you have a shitty product, download and listen to this episode.
Bio:
Christopher Lochhead is a #1 Apple podcaster and #1 Amazon bestselling co-author of books: Niche Down and Play Bigger.
He has been an advisor to over 50 venture-backed startups; a former three-time Silicon Valley public company CMO and an entrepreneur.
Furthermore, he has been called "one of the best minds in marketing" by The Marketing Journal, a "Human Exclamation Point" by Fast Company, a "quasar" by NBA legend Bill Walton and "off-putting to some" by The Economist.
In addition, he served as a chief marketing officer of software juggernaut Mercury Interactive. Hewlett-Packard acquired the company in 2006, for $4.5 billion.
He also co-founded the marketing consulting firm LOCHHEAD; was the founding CMO of Internet consulting firm Scient, and served as head of marketing at the CRM software firm Vantive.
We hope you enjoyed this episode of Lochhead on Marketing™! Christopher loves hearing from his listeners. Feel free to email him, connect on Facebook, Twitter, Instagram, and subscribe on Apple Podcast! You may also subscribe to his newsletter, The Difference, for some amazing content.