166 Why The Future Belongs To Intellectual Capitalists on Cloud Wars Live
Sunday 1st October 2023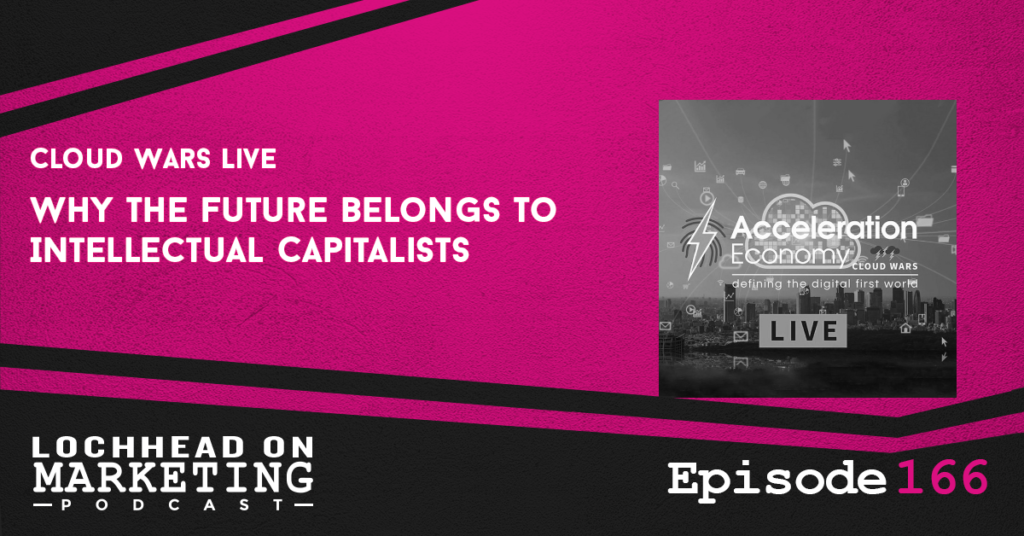 Podcast (lochheadonmarketing): Play in new window | Download (Duration: 1:01:40 — 42.3MB) | Embed
Subscribe: Apple Podcasts | Google Podcasts | Spotify | Stitcher | RSS | More
On this episode of Lochhead on Marketing, we are going to drop a conversation that I recently had with my dear friend, one of the smartest guys in tech, Bob Evans, on his podcast, Cloud Wars Live.
If you work in technology, what Bob and his guests have to say is fascinating, illuminating, and, frankly, agenda-setting. If you're a regular reader of Category Pirates, you'll know that we've been writing about intellectual capitalists and the emergence of a whole new human category, Native Digitals, for quite some time. We believe this is an extremely important topic, and we believe that the emergence of the intellectual capitalist as the highest value role in the work world above that of what has historically been the highest value job you can have in the working world, which is the knowledge worker, is particularly significant.
Because those of us who will thrive not just survive in the future, we'll move beyond acquiring knowledge and getting paid to apply that knowledge to getting paid to create and monetize new categories of intellectual capital, new categories of knowledge, new categories of thinking, which can be turned into new products and services.
The Story of the Hummingbird
The conversation starts off with Christopher telling the story of the Hummingbird and his Sensei Sutton. His sensei is an amazing martial artist and a badass individual, but at a certain point in his life, he had to overcome many adversities before getting to where he is now.
"So the moral of the story is in life – Sometimes you're the hummingbird and sometimes you're the sensei. But Sooner or later, we all need somebody to catch us tightly enough not to hurt us, but strongly enough to save us."

– Christopher Lochhead
In life, we will absolutely be in situations where we are the hummingbird. But the real question is, when we have an opportunity to be the Sensei, will we will we meet the call?
ChatGPT and the Death of the Knowledge Worker
Christopher then talks about the current boom in AI technology, particularly on the topic of ChatGPT and similar AI generated content.
Much like how machinery and Automation have taken over some aspects of labor from men, this new AI technology seems to be crowding in the profession of Knowledge Worker. While it may not be up to par with certain intricacies to date, it is quickly learning and becoming better over a short period of time.
And much like the service workers of the past have to learn to adapt to new technology, Knowledge Workers also have to follow the trend and evolve, paving the way to what we call Intellectual Capitalists.
Intellectual Capitalist
So what is an Intellectual Capitalist? For Christopher, it's someone who doesn't just collect information and apply it like a knowledge worker, but someone who actually generates net-new knowledge. It could be from their experience while working on a certain field that makes them faster, more efficient, or outright the best in that field.
In one word, an Intellectual Capitalist has Leverage over other people who are in the same field, but can't do it better or even as good as them.
An Intellectual Capitalist should also not be only bound to current categories and ideologies. If there is an idea worth pursuing, it's not enough to learn why it hasn't been done before. One should also look through it with what we have today, and if the rapidly-growing pace of technology will be able to support it and when.
To hear more about the dialogue about AI and the Intellectual Capitalist, download and listen to this episode.
Bio
Bob Evans
Founder of Cloud Wars and Co-Founder of the Acceleration Economy, Bob leads the strategic direction of the global analyst network and actively covers the Cloud and Digital Business categories.
Creator of Cloud Wars Top 10, a ranking and ongoing analysis world's most influential tech companies driving digital business and the digital economy. World-class strategic communicator focused on emerging business strategy, disruptive innovation, and forward-looking leadership.
Links
Follow Cloud Wars Live!
Acceleration Economy Network | Apple Podcasts | Spotify
Related links to the discussion:
The Digital American Dream: Life, Liberty, And The Exponential Pursuit Of Capital
The Digital Creation Game: Exiting The Analog World Of Competition And Entering The Digital World Of Infinite Creation
Paid To Create: How To Leverage Your Intellectual Capital To Accelerate Your Career & Achieve Financial Freedom
The Mentor Myth: What Native Analogs Can Learn From Native Digitals (And Vice Versa)
We hope you enjoyed this episode of Lochhead on Marketing™! Christopher loves hearing from his listeners. Feel free to email him, connect on Facebook, Twitter, Instagram, and subscribe on iTunes!