171 Why Treating Your Creative Marketing Like It's Not Tied To Revenue Will Get You More Revenue | Christopher Lochhead on Modern Startup Marketing Podcast with Anna Furmanov
Monday 25th September 2023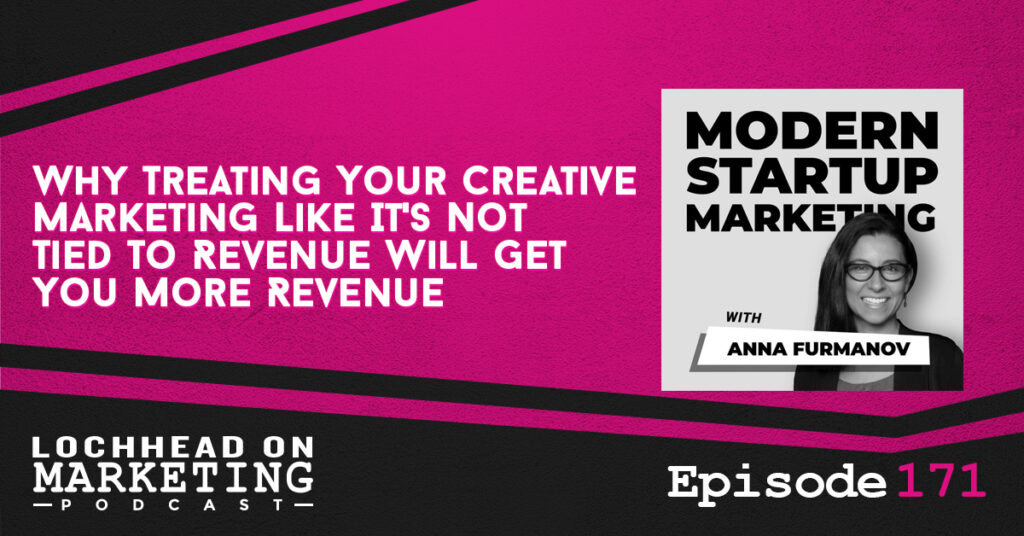 Podcast (lochheadonmarketing): Play in new window | Download (Duration: 47:25 — 32.6MB) | Embed
Subscribe: Apple Podcasts | Google Podcasts | Spotify | Stitcher | RSS | More
Pirate Lochhead is sailing the seven seas this week, so we're dropping a legendary conversation that he had recently with Anna Furmanov on the Modern Startup Marketing podcast.
They discuss creative marketing category design, guns, human composting and more. Yes, human composting. Just… listen, trust me.
Welcome to Lochhead on Marketing. The number one charting marketing podcast for marketers, category designers, and entrepreneurs with a different mind.
What does "Creative" mean to you?
The conversation starts off with Anna asking for Christopher's definition on being a creative.
Christopher shares that in order to consider something as being "creative", it has to be something new.
"Being creative is bringing into being something that did not exist. You can take an existing thing and innovate on top of it and create something new. But at the end of whatever the creative process is, it yields a new creation. And sometimes that's a doodle on a page. And sometimes it's a new piece of code. There's lots of different acts of creation that bring new things into the world. But fundamentally, I think creation is about exactly that."

– Christopher Lochhead
On when you feel the most creative
Continuing on the topic of creativity, Anna asks when Christopher felt the most creative, whether its on a specific project, a certain period of time, or something else entirely.
"So for me, creativity, really at a high level, comes in two ways. One is just pure inspiration. Right – you're out on a walk, you're washing the dishes, you're in the shower, your whatever it is you're doing, an idea comes into your head. Because I'm a writer, I get sentences delivered to my head, and/or power ideas hiding in paragraphs. And then I'll have to immediately get to a piece of paper or my iPhone and write that shit down. That can happen anytime, all the time. My wife will see me running across the house to grab a pen or to grab my phone and start talking to it, so I don't forget the idea."

– Christopher Lochhead
Thinking about thinking
One of the things Christopher pointed about how people perceive thinking is that they misconstrue having thoughts as "thinking". Having thoughts just means an idea or a thought that pops in your head, without much effort put into it, almost like a kneejerk reaction.
Thinking, on the other hand, is actually taking that thought and processing it. It's the suspension of that immediate and reflexive thought that one can really get into deeper details of the topic, and even find out why it elicited that sort of reaction from you and other people around you.
To hear more from Christopher Lochhead and his conversation with Anna Furmanov on the Modern Startup Marketing Podcast, download and listen to this episode.
Check out more Modern Startup Marketing Podcast episodes!
Bio
Christopher Lochhead is a #1 Apple podcaster and #1 Amazon bestselling co-author of books: Niche Down and Play Bigger.
He has been an advisor to over 50 venture-backed startups; a former three-time Silicon Valley public company CMO and an entrepreneur.
Furthermore, he has been called "one of the best minds in marketing" by The Marketing Journal, a "Human Exclamation Point" by Fast Company, a "quasar" by NBA legend Bill Walton and "off-putting to some" by The Economist.
In addition, he served as a chief marketing officer of software juggernaut Mercury Interactive. Hewlett-Packard acquired the company in 2006, for $4.5 billion.
He also co-founded the marketing consulting firm LOCHHEAD; the founding CMO of Internet consulting firm Scient, and served as head of marketing at the CRM software firm Vantive.
We hope you enjoyed this episode of Lochhead on Marketing™! Christopher loves hearing from his listeners. Feel free to email him, connect on Facebook, Twitter, Instagram, and subscribe on iTunes!