032 Want to do Legendary Marketing? Learn to Sell!
Wednesday 20th September 2023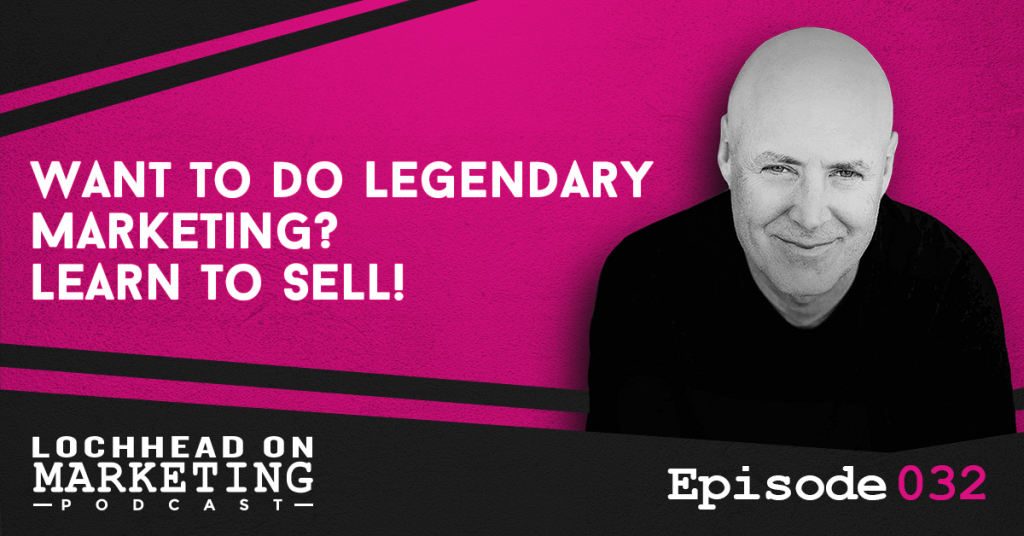 Podcast (lochheadonmarketing): Play in new window | Download (Duration: 6:27 — 4.4MB) | Embed
Subscribe: Apple Podcasts | Google Podcasts | Spotify | Stitcher | RSS | More
Did you know, one of the top reasons why CMOs and marketing leaders get fired is: the sales force thinks they are a joke. In this episode, we talk about why it is important for marketers to become great at sales.
Marketing Is Sales Scaled
If you think about what marketing is, it is actually selling at scale. Christopher thinks that in 30 to 90 seconds, a marketer should be able to lay down a point of view that captures the imagination of the audience. If you can't, you have a serious "sales" issue.
"I think, as counterintuitive as this might sound, the number one skill set required to be legendary at marketing, is to have a black belt in sales." – Christopher Lochhead
Spend Time in The Field
Christopher thinks that as a marketer, you should spend a disproportionate amount of time in the field. If you spend time with customers, you get a pulse on their problems and what opportunities are out there.
"When you spend a lot of time in the field, the needs of the category sort of get into your bones, into your soul. It also enables you to have more empathy for both customers and your sales organization." – Christopher Lochhead
Train and Set Goals
As important as getting adequate sales traning and gathering first hand information, marketers should also set a goal to become a requested person during sales calls. This means that you get the approval and respect of the sales force, which in turn means you are a legendary marketer.
To add, Christopher provided mentioned The Ziglar Show Podcast (Kevin Miller), The Brutal Truth about Sales & Selling (Brian Burns) and book What They Don't Teach You at Harvard Business School (Mark McCormack), as great resources to improve your marketing skills.
Bio:
Christopher Lochhead is a #1 Apple podcaster and #1 Amazon bestselling co-author of books: Niche Down and Play Bigger.
He has been an advisor to over 50 venture-backed startups; a former three-time Silicon Valley public company CMO and an entrepreneur.
Furthermore, he has been called "one of the best minds in marketing" by The Marketing Journal, a "Human Exclamation Point" by Fast Company, a "quasar" by NBA legend Bill Walton and "off-putting to some" by The Economist.
In addition, he served as a chief marketing officer of software juggernaut Mercury Interactive. Hewlett-Packard acquired the company in 2006, for $4.5 billion.
He also co-founded the marketing consulting firm LOCHHEAD; was the founding CMO of Internet consulting firm Scient, and served as head of marketing at the CRM software firm Vantive.
We hope you enjoyed this episode of Lochhead on Marketing™! Christopher loves hearing from his listeners. Feel free to email him, connect on Facebook, Twitter, Instagram and subscribe on iTunes! You may also subscribe to his newsletter, The Difference, for some amazing content.