086 Grumpy Old Geek Stuff: Jason DeFillippo
Monday 25th September 2023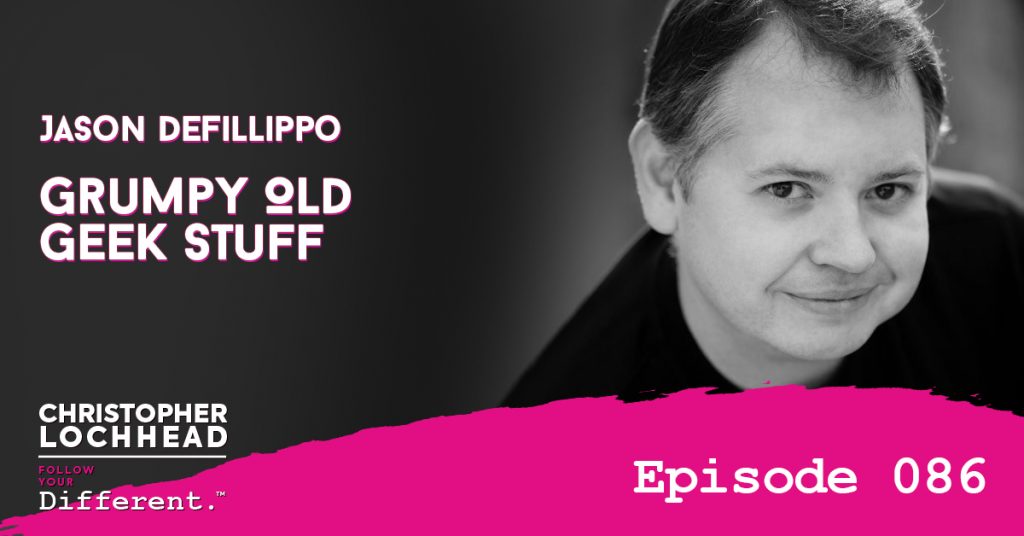 Podcast: Play in new window | Download (Duration: 1:19:14 — 72.7MB) | Embed
Subscribe: Apple Podcasts | Google Podcasts | Spotify | Pandora | Stitcher | RSS | More
He's back! Podcast legend and co-host of Grumpy Old Geeks podcast, Jason DeFillippo joins us for another dynamic conversation about the world of podcasting. They also touched a few recent topics about "who should be allowed at Disney World," "why FaceApp is scarier than Facebook and Instagram" and many more!
Podcasting Is Alive!
In episode 006, Jason DeFillippo joined Christopher Lochhead to discuss a lot of random but viral topics. In this episode, DeFillippo did not disappoint as he shared his views on a lot of topics, firstly, about podcasting.
"Those people are like you and I, we stick around and we get through the tough times. We're not here to make a quick buck. We're not here to turn a profit on 10 episodes or 6 episodes, on an iPhone on a library. You gotta put in the work." – Jason DeFillippo
DeFillippo shared his comments about news writers who dub podcasting as dead. In unison, Lochhead shared statistics to prove that podcasting is, indeed, growing. They exchanged stories as hosts, such as their experiences with booking and rejecting guests and advertisers.
"I'm a craftsman, I'm an artist. I love to make new things. I love to try new things, that's why I love podcasting. There's always something new to learn but people who come into this, all they want to do is make money and that's almost everybody that's coming in now." – Jason DeFillippo
Viral Issues: Where do you stand?
For a breather, Lochhead cites some viral stories and takes the standpoint of DeFillippo.
Lochhead cites the Disney rant — where a mom's rant about long queues and childless millennials in Disney World, goes viral. They also discussed Apple's Siri recordings apparently sent out to contractors for analysis. DeFillippo believes it will not hurt the company in any way, just like how Facebook stock prices rose up after paying fines to the government.
In relation to Security threats raised by Morgan Wright in Episode 84, about deep fakes and Russian FaceApp, DeFillippo brushed these events aside.
"Who cares? This is useless data. These photos? They could get that in the internet already. They care about a lot of other things, but a picture of you? No, 'cause they're looking at numbers. They care about your behavior and your demographics and how they can influence you." – Jason DeFillippo
Moreover, Lochhead and DeFillippo discussed more recent top stories such as Equifax paying $125 for filling up a simple form and for bizarre stories, about a woman cuddling a giant pet snail. They sure did had fun having a rundown on these top and viral stories.
To hear more about podcasting, viral stories and more relevant information from Jason, download and listen to the episode.
Bio:
Jason is a full-time podcast producer and editor for The Jordan Harbinger Show as well as the Creator and Co-host of the Grumpy Old Geeks Podcast.
Jason has been building websites since the early days in 1994 for clients that range from small businesses to million dollar websites for blockbuster films to his own start-ups.
In 1994 he created the groundbreaking website Spewww which was nominated for a Webby in the first year the awards were held in 1998.
In 1995 a new media company in Santa Monica moved him out to Los Angeles to build the first website for Epson America.
Since then Jason has launched over 250 websites for major corporations like Paramount Pictures, Sony, Warner Brothers, and Disney.
He also created the two time SXSW Weblog Award-winning Blogrolling service as well as co-founded the global blog network Metroblogging.
He has worked at several startups in San Francisco including Technorati and 8020 Media, the publishers of JPGMagazine.com, and statistical aggregator Metricly.
Links:
Some of the topics covered:
Childless millennials have no place at Disney World and should be banned, tired mom rants
Siri recordings 'regularly' sent to Apple contractors for analysis, claims whistleblower
'Deepfakes' Trigger a Race to Fight Manipulated Photos and Videos
Why you probably won't actually get $125 from the Equifax settlement
Woman inseparable from giant pet snail that she loves cuddling on sofa
We hope you enjoyed this episode of Follow Your Different™! Christopher loves hearing from his listeners. Feel free to email him, connect on Facebook, Twitter, Instagram and subscribe on iTunes!