006 Jason DeFillippo Great Grumpy Stuff
Saturday 2nd December 2023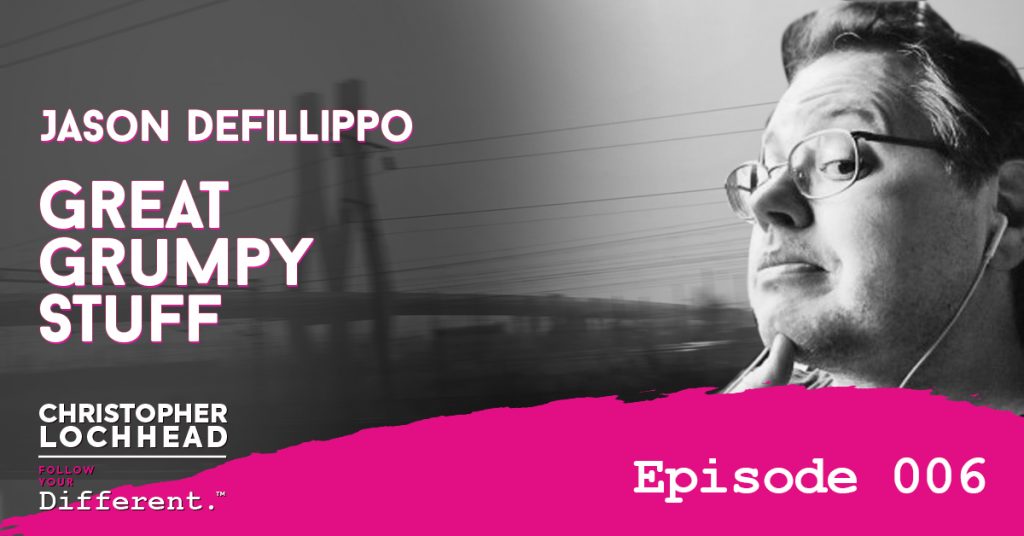 Podcast: Play in new window | Download (Duration: 50:07 — 45.9MB) | Embed
Subscribe: Apple Podcasts | Google Podcasts | Spotify | Pandora | RSS | More
Today, podcast legend Jason DeFillippo once again joins Christopher Lochhead to get their grump on. They trade stories of flying robots sulking in space, health-food baby names, and why convenient use of facial recognition is both flabbergasting and questionable.
"I know that feeling that you get when you give up just a little bit of yourself to these people and you just don't know where it's gonna end up someday." – Jason DeFillippo on fear of giving away ID for convenience
The Future is Here
Facial recognition for security checks is a very interesting concept that is bound to happen in the future. But using one's face as a convenient way of logging into automated systems can be a bit tricky. The margin of error must be very slim, or else the technology could birth a mountain of challenges.
"Everybody's doing facial recognition, face ID, and things like that. But, nobody's doing it right." – Jason DeFillippo
In Atlanta airport, the busiest airport in the world, Delta now allows the use of a passenger's face as a boarding pass. It is said to be 98% accurate. But the question remains: is 98% good enough?
AI Robot Sulking in Space
The $6M flying robot CIMON was recently reported to be sulking in space. More than a colleague, the robot was to supposed to befriend the team of astronauts in the international space station. But then things have gone awry, like a Tinder date gone wrong.
One day, the robot started playing, "The Man-Machine" by Kraftwerk. One of the astronauts, Gerst, bobbed to the first 46 seconds of the song before giving up and asking the robot to stop. But CIMON hasn't stopped playing the less pleasant playlist.
"They could've tested this on the ground first. You didn't need to actually send the robot up there to do this."
"Kale" is Now a Baby Name
There has been a slew of health-food baby names for a while now, like Saffron and Kiwi. But recently, Kale has risen up the ranks as well. It's not much of a surprise, even if a bit distasteful.
To hear more grump stories, download and listen to the episode.
Bio:
Jason is a full-time podcast producer and editor for The Jordan Harbinger Show as well as the Creator and Co-host of the Grumpy Old Geeks Podcast.

Jason has been building websites since the early days in 1994 for clients that range from small businesses to million dollar websites for blockbuster films to his own start-ups.

In 1994 he created the groundbreaking website Spewww which was nominated for a Webby in the first year the awards were held in 1998. In 1995 a new media company in Santa Monica moved him out to Los Angeles to build the first website for Epson America. Since then Jason has launched over 250 websites for major corporations like Paramount Pictures, Sony, Warner Brothers, and Disney.

He also created the two time SXSW Weblog Award winning Blogrolling service as well as co-founded the global blog network Metroblogging. He has worked at several startups in San Francisco including Technorati and 8020 Media, the publishers of JPGMagazine.com, and statistical aggregator Metricly.

Links:
Some of the topics covered:
We hope you enjoyed Jason DeFillippo on this episode of Follow Your Different™! Christopher loves hearing from his listeners. Feel free to email him, connect on Facebook, Twitter, Instagram and subscribe on iTunes!