022 Is Your Marketing Better or Different?
Monday 25th September 2023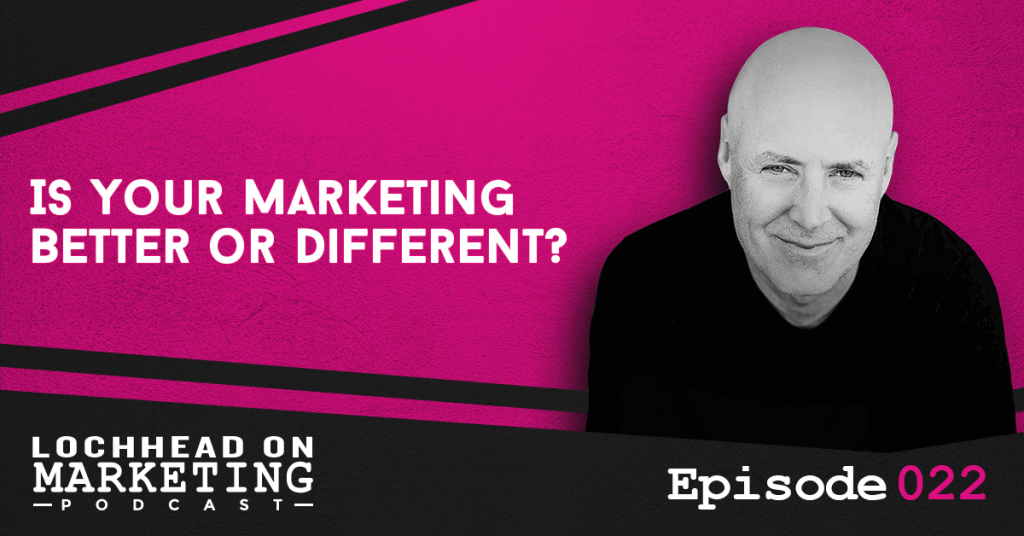 Podcast (lochheadonmarketing): Play in new window | Download (Duration: 7:41 — 7.2MB) | Embed
Subscribe: Apple Podcasts | Google Podcasts | Spotify | Stitcher | RSS | More
Christopher Lochhead discusses differentiation or differentiators of a brand, product or company. He further shares what legendary marketers do, makes their marketing better or makes it different?
Differentiators
We often hear this word a lot in marketing: differentiation. Christopher poses the question when speaking about a product or brand differentiation, is it really different or is it better?
In reality, when most CEOs, CMOs, entrepreneurs and product investors say differentiators, what really comes out of their mouth is better. Christopher however, believes making a difference is the better choice.
True Differentiation
Christopher suggests a brainstorming session with people in order to determine true differentiation. Create a list of "what makes you different." Step back and look at your extensive list and tick what makes you different.
"If you have a list of 50 differentiators out there, if five of them are truly different, you'll be doing well, I think." – Christopher Lochhead
Why does this matter? It matters because different forces a choice, and better is a comparison game. Legendary marketers want to own a position where they can't be easily knocked off. They prefer the perception of being unique, distinct, hard to replace and as someone who solves a problem and creates value.
The "Better" Game
Christopher cites Pepsi as the top contender in this "better" game. They run a series of campaigns comparing themselves to Coke. However, this still proves to be ineffective.
"The problem with this better game is, whatever you're comparing yourself better with, ultimately, is the thing you're giving power to." – Christopher Lochhead
One of the legendary things that category designers and creators tend to do is to never talk about competitors. Exactly, for this reason, the different conversation, forces a choice. Fundamentally, marketing is about distinguishing oneself.
Bio:
Christopher Lochhead is a Top 25 podcaster and #1 Amazon bestselling co-author of books: Niche Down and Play Bigger.
He has been an advisor to over 50 venture-backed startups; a former three-time Silicon Valley public company CMO and an entrepreneur.
Furthermore, he has been called "one of the best minds in marketing" by The Marketing Journal, a "Human Exclamation Point" by Fast Company, a "quasar" by NBA legend Bill Walton and "off-putting to some" by The Economist.
In addition, he served as a chief marketing officer of software juggernaut Mercury Interactive. Hewlett-Packard acquired the company in 2006, for $4.5 billion.
He also co-founded the marketing consulting firm LOCHHEAD; was the founding CMO of Internet consulting firm Scient, and served as head of marketing at the CRM software firm Vantive.
We hope you enjoyed this episode of Lochhead on Marketing™! Christopher loves hearing from his listeners. Feel free to email him, connect on Facebook, Twitter, Instagram and subscribe on iTunes! You may also subscribe to his newsletter, The Difference, for some amazing content.