092 How To Manage Digital Reputations w/ Josh Greene
Monday 20th November 2023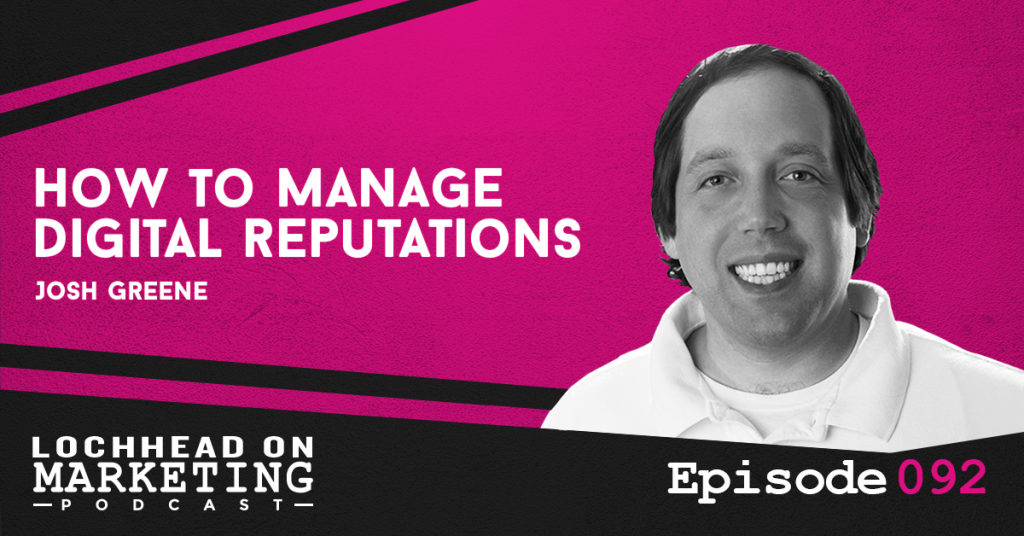 Podcast (lochheadonmarketing): Play in new window | Download (Duration: 48:31 — 33.3MB) | Embed
Subscribe: Apple Podcasts | Google Podcasts | Spotify | RSS | More
It is super important to know how social media and the online-world itself work, especially if you're a business owner or an entrepreneur. This holds true because we are living in a digital-first world, where you can search for anything on the internet. Managing your digital reputation is indeed challenging and sometimes complicated.
So today our guest, Josh Greene, CEO of The Mather Group, explains how search engines work and what you can do to optimize them for your benefit.
Positive Google Outcome
Christopher asks Josh what he would advise him to get a positive Google outcome. Josh says that if you are doing a lot of "leading" in an industry, that will ultimately lead to good results in the search engines. For those who are not quite famous, he advises "sending Google a signal" to treat their content a certain way. Entrepreneurs should post and write about themselves (bio) so search engines can recognize them.
"If you write books, if you start a podcast, if you have a Twitter feed that lots of people find useful, or if your videos are getting lots of views, all of those things play a big role in what's showing up in the Google search results." – Josh Greene
Google Search Ranking System
Having a common name is hard when you're trying to get a sweet spot for yourself in a search engine. Christopher asks Josh what are the highest order bits in terms of teaching Google to rank yourself. Josh says that the first thing you could do is take inventory of what your assets currently are and focus on your digital presence:
"That's a nice part for people who are very active in their field and sort of well respected because there's a sort of equivalent almost in terms of how Google's algorithm is viewing things." – Josh Greene
Social Media Platforms
Social media marketing is one of the easiest ways to promote a product or a business. Christopher asks Josh how to decide which social media platform to use if he's only going to invest his time in one or two of these. Josh says that he should consider asking himself first if it plays to his strengths and who's the audience he's trying to reach with it.
"So, it could be that you're a fantastic guitarist. Instagram is a nice format for showing off your guitar playing chops. Twitter can be useful because you can curate news to a particular audience that might be following you. And if you're in a particular corporate role, sometimes LinkedIn can be really useful because you don't need to publish a ton to get a lot of eyeballs on something." – Josh Greene
To know more about how to manage digital reputations with Josh Greene, download and listen to this episode.
Bio:
Josh Greene is the CEO for The Mather Group, a digital agency, that helps companies manage how they're found online, through Wikipedia and Search Engine Optimization, and drives targeted high value leads for B2B companies.
Prior to The Mather Group, Greene was the VP of Marketing for both 1-800-PACK-RAT and Zippy Shell where he was responsible for all marketing including online, offline, and the launch of national television campaigns.
Prior to 1-800-PACK-RAT, Greene was the Vice President of Member Services for Shop.org where he oversaw membership recruitment and retention initiatives.
Additionally, Greene collaborated with NRF's government relations staff to execute policy and advocacy strategies on behalf of Shop.org members.
He also served as a liaison to Shop.org's Policy Advisory Group, developed industry initiatives, and managed Shop.org's Ray M. Greenly Scholarship fund.
Greene joined Shop.org from Discovery Communications, where he was director of online marketing and business development.
At Discovery, Greene oversaw online marketing, direct response television, corporate gifting, and partner programs for DiscoveryStore.com.
Prior to Discovery Communications, Greene was director of e-marketing for Time Warner Cable and director of e-marketing for Road Runner.
He's been a frequent speaker at industry events including ad:tech, SES, Channel Advisor's Catalyst conference, and others.
Links:
We hope you enjoyed this episode of Lochhead on Marketing™! Christopher loves hearing from his listeners. Feel free to email him, connect on Facebook, Twitter, Instagram, and subscribe on Apple Podcast! You may also subscribe to his newsletter, The Difference, for some amazing content.