037 How To Be Thoughtfully Aggressive & Radically Generous w/ Eddie Yoon
Monday 25th September 2023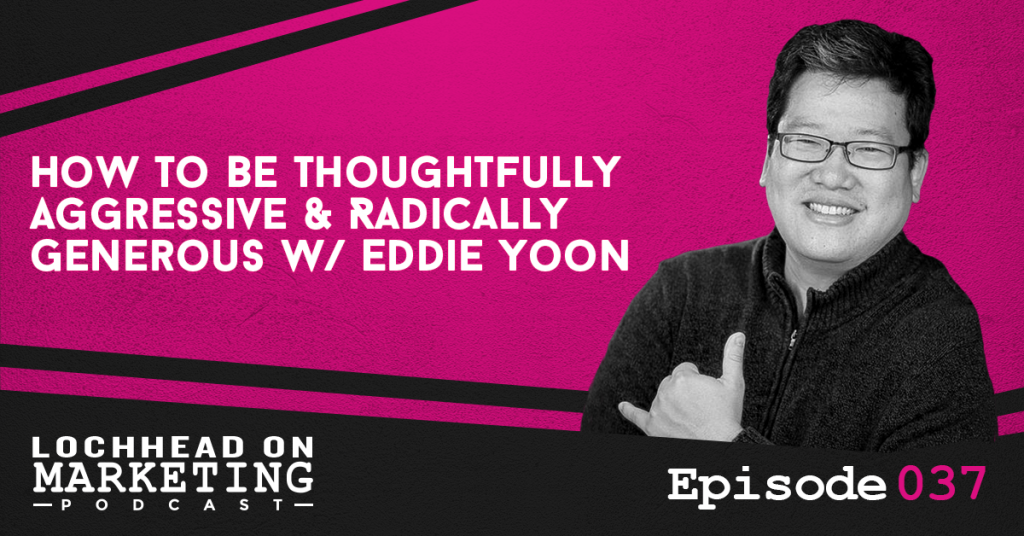 Podcast (lochheadonmarketing): Play in new window | Download (Duration: 1:09:36 — 47.8MB) | Embed
Subscribe: Apple Podcasts | Google Podcasts | Spotify | Stitcher | RSS | More
We have is a very special free form conversation with Eddie Yoon, author of Superconsumers. He is also the category design guru to the Fortune 500. Recently, we collaborated on an article for Harvard Business Review "5 Ways to Stimulate Cash Flow in a Downturn."
In this episode, we bring that article to life as we talk about two big ideas: how to be thoughtfully aggressive and radically generous.
Innovations Through Adversities
Christopher and Eddie share some stories about what is currently happening in the US. Christopher acknowledges the fact that the figures during daily briefings are not just numbers, they are people who have friends, families, and relationships.
"I just feel deep sadness and concern right now for all small businesses and large businesses. I think a lot of innovations will come through it, as it always does in adversities but this is one of those I cant wait to be on the other side of it." – Eddie Yoon
Thoughtfully Aggressive, Radically Generous
Christopher shares how they have been thinking and researching the book they are working on and how these two ideas started to resonate with people in this time of crisis.
"We have a unique opportunity now to be radically generous, best we can and that can be financially and thoughtfully aggressive. Some of our businesses are threatened. Most businesses are down in meaningful ways. As business leaders, we got to navigate through this the best we can." – Christopher Lochhead
Eddie shares that in a time of uncertainty, we don't know what is going to work. However, if we lean into being radically generous, and thoughtfully aggressive, we'll be fine throughout this.
"When you're in a crisis, you got to keep it simple and I think these principles are not that simple, but they are emotional. That's the key part, cause sometimes in fight or flight, your brain doesn't always work. Emotions are what you can hold on to and that's something people can use to discern. Is it a radically generous thing or not? Am I being a chicken or should I be more thoughtfully aggressive about it?" – Eddie Yoon
No Best Time To Launch Than Now
For companies and brands who got caught up in the planning stage of launching a new product, Christopher and Eddie give advice that there's no best time to launch than now.
"I think, that self-awareness is the thing that makes me feel comfortable. Category creation and design is the ultimate growth strategy. You should be doing it anyway." – Eddie Yoon
To learn more about how to be thoughtfully aggressive and radically generous. and more information about Eddie Yoon, download and listen to this episode
Bio:
Eddie Yoon is the founder of EddieWouldGrow, LLC, a think tank and advisory firm on growth strategy. Previously he was one of the senior partners at The Cambridge Group, a strategy consulting firm.
His work over the past two decades has driven over $8 billion dollars of annual incremental revenue. In particular, 8 of his clients have doubled or tripled in revenue in less than 8 years.
Eddie is one of the world's leading experts on finding and monetizing superconsumers to grow and create new categories.
He is the author of the book, Superconsumers: A Simple, Speedy and Sustainable Path to Superior Growth (Harvard Business School Press, 2016).
His book was named as one of the Best Business Books of 2017 by Strategy & Business. He is also the author of over 100 articles, including "Make Your Best Customers Even Better" (Harvard Business Review magazine, March 2014) and "Why It Pays to Be a Category Creator" (Harvard Business Review magazine, March 2013).
Additionally, he has appeared on CNBC and MSNBC and been quoted in The Wall Street Journal, The Economist and Forbes and has been a keynote speaker in the U.S., Canada, Kenya, Australia, New Zealand, Denmark, the UK and Japan.
Eddie holds an AB in Political Science and Economics from the University of Chicago. Having been born and raised in Hawaii, he went to the Punahou School in Honolulu. Eddie lives in Chicago with his wife and three children.
Links:
This episode is based on a Harvard Business Review article written by Eddie Yoon, & Christopher Lochhead.