077 How Marketing Drives Market Cap / Company Valuation
Monday 25th September 2023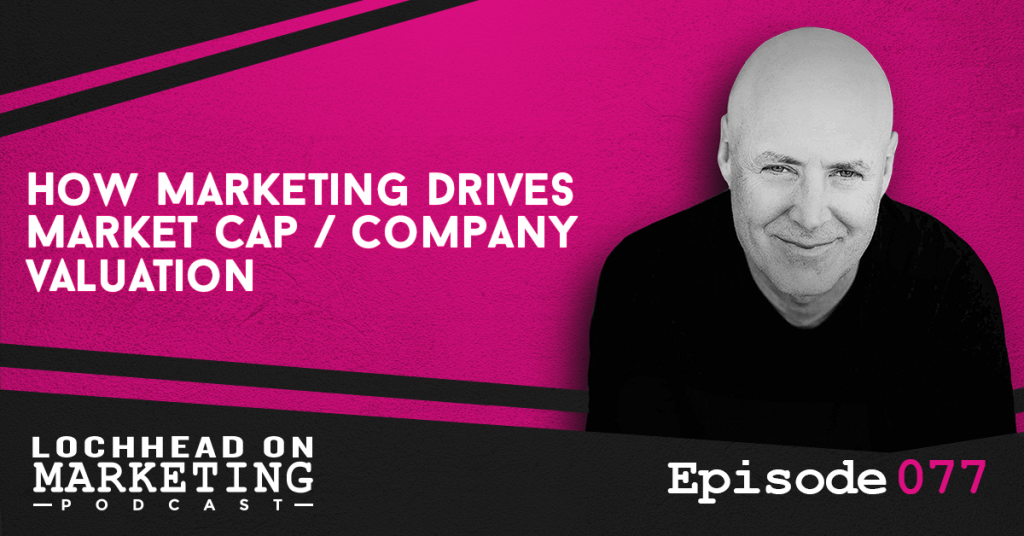 Podcast (lochheadonmarketing): Play in new window | Download (Duration: 11:46 — 8.1MB) | Embed
Subscribe: Apple Podcasts | Google Podcasts | Spotify | Stitcher | RSS | More
Every time a tech company launches a successful IPOs, we end up hearing a lot of negation from the media. Claims such as "I can't believe this company is worth so much" or "so much money invested it must be crazy because they hardly have any revenue" or "they hardly have any profits or they rent."
So in this episode, Christopher gives us a low-down on why market cap or valuation (the value of a company) is not only a function of financial metrics. He also talks about the crucial role marketing plays to actually help drive market cap.
What Really Drives The Value Of A Company
There are three principal drivers of a company's value. The first is investors' perception of the size and the growth rate of your market category. The second is the investor's perception of the company's ability to become the category queen. The third is the numbers and metrics in the context of the first two points that validate that this company is actually on a good path.
Breaking Down The Three
Christopher breaks down the characteristics of these three factors that drive the value of the company. He cites specific examples, such as Airbnb and how they were able to gain a successful IPO through these three factors.
"Marketing has to take a leading role here in helping the company articulate its category strategy. Why this category could be very big over time." – Christopher Lochhead
What Does It Mean For You
Smart marketers, smart CEOs, smart founders, and certainly smart CFOs need to work together in the very early stages for your investor deck to cover these three factors. Christopher also discussed marketers and their major role in creating the perception of inevitability.
To know more about How Marketing Drives Market Cap / Company Valuation, download and listen to this episode. 
Bio:
Christopher Lochhead is a #1 Apple podcaster and #1 Amazon bestselling co-author of books: Niche Down and Play Bigger.
He has been an advisor to over 50 venture-backed startups; a former three-time Silicon Valley public company CMO and an entrepreneur.
Furthermore, he has been called "one of the best minds in marketing" by The Marketing Journal, a "Human Exclamation Point" by Fast Company, a "quasar" by NBA legend Bill Walton and "off-putting to some" by The Economist.
In addition, he served as a chief marketing officer of software juggernaut Mercury Interactive. Hewlett-Packard acquired the company in 2006, for $4.5 billion.
He also co-founded the marketing consulting firm LOCHHEAD; was the founding CMO of Internet consulting firm Scient, and served as head of marketing at the CRM software firm Vantive.
We hope you enjoyed this episode of Lochhead on Marketing™! Christopher loves hearing from his listeners. Feel free to email him, connect on Facebook, Twitter, Instagram, and subscribe on iTunes! You may also subscribe to his newsletter, The Difference, for some amazing content.