103 Digital Products, NFTs, Clubhouse, Oh My with Jason DeFillippo
Wednesday 6th December 2023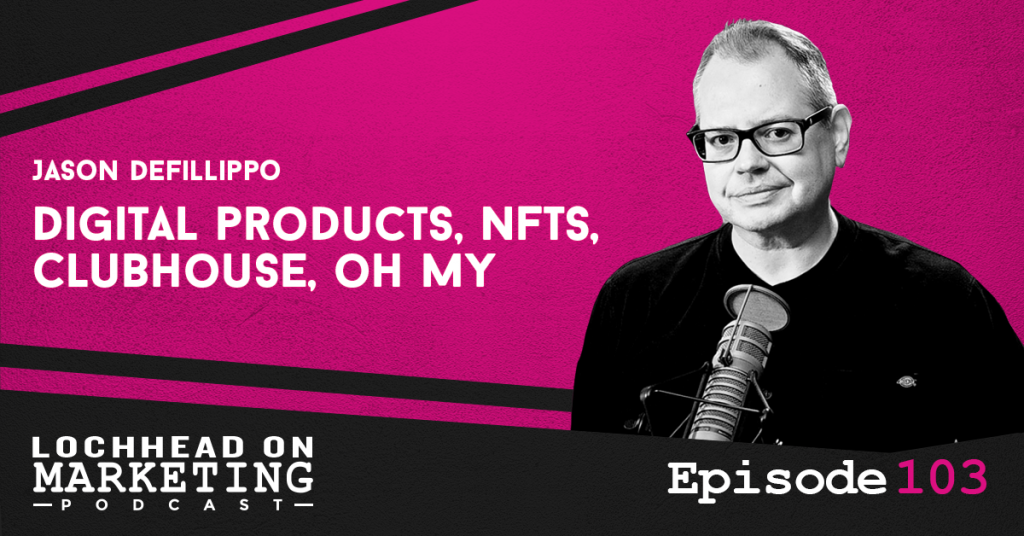 Podcast (lochheadonmarketing): Play in new window | Download (Duration: 40:01 — 27.5MB) | Embed
Subscribe: Apple Podcasts | Google Podcasts | Spotify | RSS | More
In the last episode, Christopher popped the hood on digital products, more specifically about NFTs or Non-Fungible Tokens. As you may know, a 10-second GIF recently just sold for $6.6M. This was due to NFTs.
Now, there are other companies and celebrities jumping in on it. Jack Dorsey, the founder of Twitter, is now auctioning off the first tweet for $2.5M, as of this taping. Rock band Kings of Leon is set to be the first band releasing a record as an NFT. These cyber collectibles are taking off and having a profound impact.
Yet our producer, Jason DeFillippo, has some questions.  Jason is the greatest of all time in podcast producers, and he's worked with Tim Ferriss, Jordan Harbinger and many others. He also hosts one of the greatest podcasts ever, Grumpy Old Geeks. He also has a lot of experience in the art world, as he worked with his dad for a long time.  Jason has an opinion about NFTs, and he and Christopher talk about that, Clubhouse, and a bunch of other fun things.
Digital Products have been Here Forever
Jason DeFillippo comments about Christopher's statement about digital products and NFTs being a category-defining moment. For someone who has played online games like Jason, digital products have been around since the early 2000s. People have been buying and selling digital items to use in-game, and there's even a whole industry built on farming in-game currency for it.
As for NFTs, Jason doesn't see the purpose to all of it other than being a rich man's game. It's like buying a pet rock, but at least with the pet rock you get a rock for your troubles.
"We had this kind of shit back in the day, 10 years ago, and we would buy digital items, we would buy digital clothes, we would mine gold. It was Bitcoin before there was Bitcoin, and it was just a bunch of nerds sitting around killing orcs. There was a purpose to the NF T's back then, because it was all in-game. Now we have all of the crap that you know was the digital stuff, but no game to play. Today's NF T is one of those things that to somebody like myself with a highly tuned bullshit detector made my head explode." – Jason DeFilliippo
On Digital Natives Buying Digital Products
Christopher asks if it makes sense that native digital people are buying more digital products than physical ones. Jason thinks it is, but it again depends on the purpose of the purchase. It depends on the context of why they bought the item, either to make their digital home look better, or have the best weapon for a game they're playing.
Again, NFTs miss the mark in this regard. Jason thinks that this $6.6M purchase just got overhyped because people are looking for excitement. That, and because it is attached to blockchain. So people who are looking for the next big thing are suddenly scrambling to see if NFTs fit the bill. According to Jason, it doesn't.
"That's the problem with it. It doesn't make any sense. I think it's a fad. This has all of the hallmarks of us being stuck inside for far too long. We need something to excite us. It's on the blockchain. You know, if they could just sprinkle in some AI, we would have like a BS trifecta here." – Jason DeFillippo
Why is Clubhouse a Thing?
Christopher and Jason discuss the app Clubhouse, and why it's even a thing. For one thing, the features it has is already present in various other apps, like Discord and other online voice chat software. What makes it weirder is that it is trying to bring back the feeling of radio, something that podcasts have killed a long time ago.
The appeal to some comes from the fact that it is invite-only. Though that in itself is not a unique feature, as Jason points out. There are a lot of apps that can just integrate such features into their own well-established ones. It's why Jason thinks that Clubhouse will come to a quick demise soon.
"My buddy John Wall of Marketing Over Coffee was quick to point out that as a creator, there's no value here. First of all, I got to be Live. So it's just like radio. Instead of podcasting, where we do it now and release it later, you got to be live. So as a creator, you're fucked on that. So you have to be there, you have to do a radio show, and as a user you have to be there for that specific time." – Christopher Lochhead
"I've been invited to like two dozen clubhouse chats. I'm like, it's 3:30 in the afternoon on a Tuesday, I have a job. They want to do it at like 10:30 at night, I'm like, I gotta sleep. It doesn't make any sense.

The other side is there's no discoverability, finding a room is terribly hard, and the audio quality sucks. They say you're not allowed to record it, but everybody records it. And you know, there's, there's so many things wrong with it, it's hard to begin to figure out where the most wrong thing is wrong with it" – Jason DeFillippo
To hear more about Christopher and Jason's thoughts on digital products, NFTs, and Clubhouse, download and listen to this episode.
Bio
Jason DeFillippo
Jason has been building websites since the early days in 1994 for clients that range from small businesses to million-dollar websites for blockbuster films to his own start-ups.
In 1995 a new media company in Santa Monica moved him out to Los Angeles to build the first website for Epson America.
Since then, Jason has launched over 250 websites for major corporations like Paramount Pictures, Sony, Warner Brothers, and Disney.
He also created the two-time SXSW Weblog Award-winning Blogrolling.com as well as co-founded the global blog network Metroblogging.
He has worked at several startups in San Francisco including Technorati.com and 8020 Media, the publishers of JPGMagazine.com and statistical aggregator Metricly.com.
Currently, Jason is a full-time podcast producer and editor.
Links
We hope you enjoyed this episode of Lochhead on Marketing™! Christopher loves hearing from his listeners. Feel free to email him, connect on Facebook, Twitter, Instagram, and subscribe on iTunes! You may also subscribe to his newsletter, The Difference, for some amazing content.