094 Clubhouse – Category Creation In Action, or Not So Much?
Monday 25th September 2023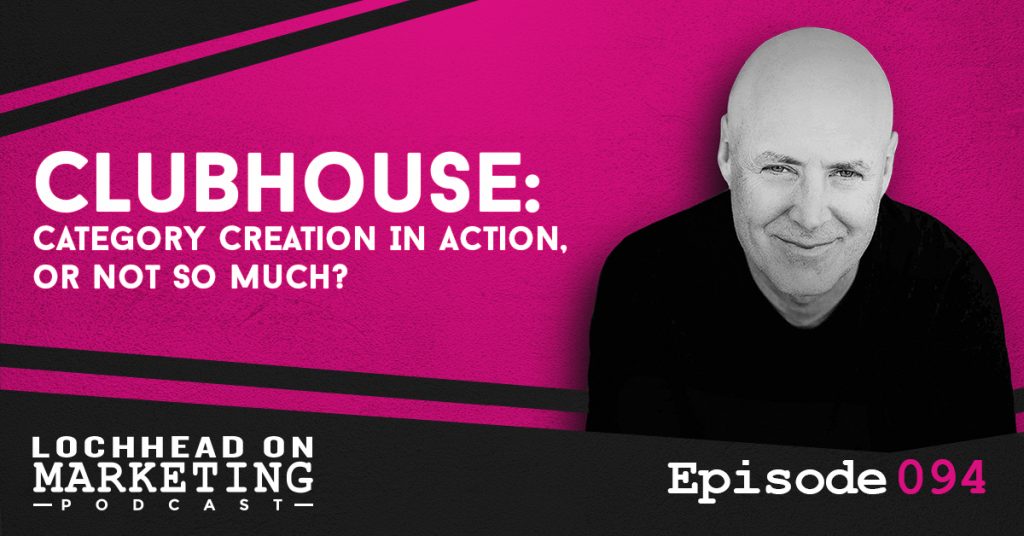 Podcast (lochheadonmarketing): Play in new window | Download (Duration: 11:33 — 7.9MB) | Embed
Subscribe: Apple Podcasts | Google Podcasts | Spotify | Stitcher | RSS | More
Many people reached out to Christopher and asked for more episodes on category design. In future episodes, he will dig into a specific category and/or brands, and analyze what's going on and how that can be illustrative for the rest of us.
So for this episode, Christopher talks about a buzzy application in the social media world called Clubhouse. Today, let's examine the question: is clubhouse a legendary category queen in the making or a dumb idea?
New Hot Category, As They Claim
If you check Clubhouse's valuation, they seem to be doing well. They're valued at a hundred million dollars or more. Clubhouse has done a great job in describing themselves or as we say, describe their category design. 
According to their website, Clubhouse is a new type of social product based on voice that allows people everywhere to talk, tell stories, develop ideas, deepen friendships, and meet interesting new people around the world.
The Power of Category Design
Clubhouse has a very powerful profile but based on Christopher's experience, the app is "kind of like a webinar scheduling platform with no video that has a shitty UX." Regardless of our opinion about the app, they did a great job in telling a good story for investors and users.
"Clubhouse is doing a legendary job, convincing the world that they are the new, new thing, the new hot category." – Christopher Lochhead
The Studio 54 Marketing
If you'll remember Studio 54, it was the hottest hangout spot for celebrities in New York. Crowds would gather at the door, and people would do anything to get in, yet only a lucky few did. Clubhouse employed the same marketing mindset which made people want to have it more. 
"They created scarcity and that's exactly what clubhouse has done in addition to their category design. They're doing Studio 54 marketing. They're creating scarcity. As a matter of fact, when you get on, the only way you can get onto Clubhouse is: an existing clubhouse user needs to invite you." – Christopher Lochhead
To know more if Clubhouse is category creation in action, or not so much, download and listen to this episode.
Bio:
Christopher Lochhead is a #1 Apple podcaster and #1 Amazon bestselling co-author of books: Niche Down and Play Bigger.
He has been an advisor to over 50 venture-backed startups; a former three-time Silicon Valley public company CMO and an entrepreneur.
Furthermore, he has been called "one of the best minds in marketing" by The Marketing Journal, a "Human Exclamation Point" by Fast Company, a "quasar" by NBA legend Bill Walton and "off-putting to some" by The Economist.
In addition, he served as a chief marketing officer of software juggernaut Mercury Interactive. Hewlett-Packard acquired the company in 2006, for $4.5 billion.
He also co-founded the marketing consulting firm LOCHHEAD; was the founding CMO of Internet consulting firm Scient, and served as head of marketing at the CRM software firm Vantive.