174 CFO To CMO (tough times) Conversation
Monday 20th November 2023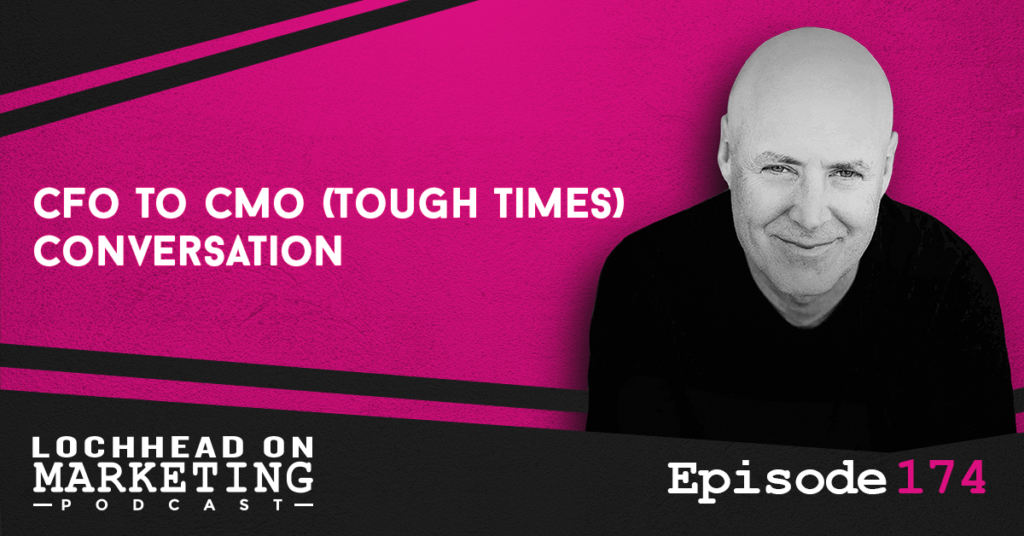 Podcast (lochheadonmarketing): Play in new window | Download (Duration: 2:38 — 1.8MB) | Embed
Subscribe: Apple Podcasts | Google Podcasts | Spotify | RSS | More
This Lochhead on Marketing episode is a short one, almost like a bedtime story with Uncle Lochhead.
I recently did a post on LinkedIn that blew up in a way that I didn't quite expect. It was meant to be a humorous post about Marketing, but it seems to have cut quite deep in some, and others found it relatable. I thought it would be fun to read to you so we could share a few chuckles about it.
Welcome to Lochhead on Marketing. The number one charting marketing podcast for marketers, category designers, and entrepreneurs with a different mind.
The Conversation
CFO to CMO: "Our revenue is going down, so we must cut your marketing budget"
CMO: "I'm confused, Marketing is how we drive revenue?"
CFO: "The macro environment is tough and we need to cut costs."
CMO: "But, Marketing is how we drive revenue?"
CFO: "Yes, but Marketing is the fastest and easiest way to cut costs!"
CMO: "But, if we need revenue, don't we need Marketing more than ever?"
CFO: "Not sure what they're teaching today at Marketing MBA school, but we're cutting your Marketing budget 30%."
CMO: "OK, so when revenue goes down, the best strategy is cut Marketing?"
CFO: "YES! I believe you've got it!"
To check out how people reacted and responded to this "conversation", check out the post on LinkedIn.
If you like this and are interested in joining different business and marketing conversations, join us at Category Pirates today!
Bio
Christopher Lochhead is a #1 Apple podcaster and #1 Amazon bestselling co-author of books: Niche Down and Play Bigger.
He has been an advisor to over 50 venture-backed startups; a former three-time Silicon Valley public company CMO and an entrepreneur.
Furthermore, he has been called "one of the best minds in marketing" by The Marketing Journal, a "Human Exclamation Point" by Fast Company, a "quasar" by NBA legend Bill Walton and "off-putting to some" by The Economist.
In addition, he served as a chief marketing officer of software juggernaut Mercury Interactive. Hewlett-Packard acquired the company in 2006, for $4.5 billion.
He also co-founded the marketing consulting firm LOCHHEAD; the founding CMO of Internet consulting firm Scient, and served as head of marketing at the CRM software firm Vantive.
We hope you enjoyed this episode of Lochhead on Marketing™! Christopher loves hearing from his listeners. Feel free to email him, connect on Facebook, Twitter, Instagram, and subscribe on iTunes!