002 10 Attributes of Legendary Marketing
Wednesday 20th September 2023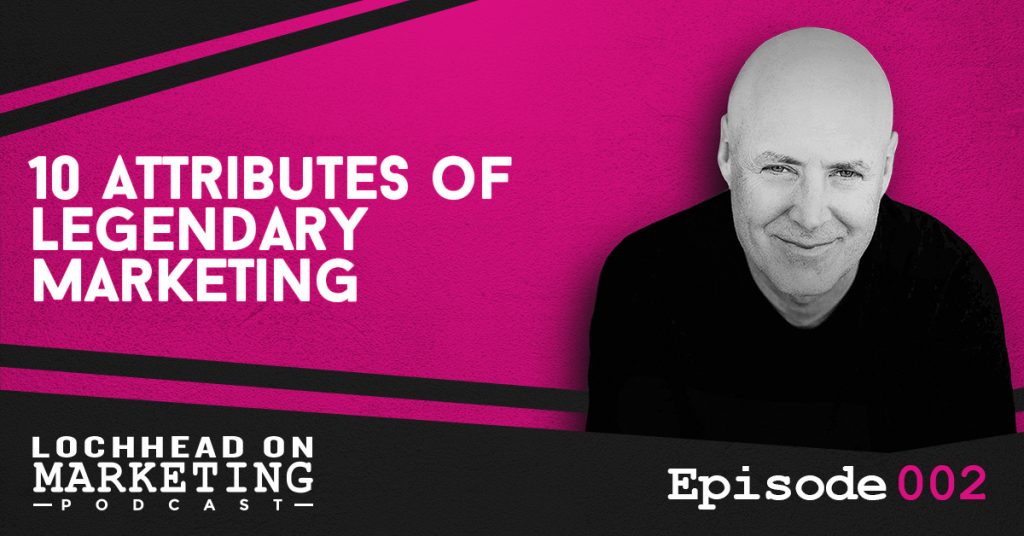 Podcast (lochheadonmarketing): Play in new window | Download (Duration: 11:21 — 13.0MB) | Embed
Subscribe: Apple Podcasts | Google Podcasts | Spotify | Stitcher | RSS | More
For the second episode of Lochhead on Marketing, Christopher Lochhead dives into what makes Legendary Marketing, legendary. He discusses the 10 attributes of legendary marketing ⁠— which range from creating demand, dominating a niche market to leveraging technologies and changing the world.
1. Creates Demand Rather Than Capturing Demand
In all imaginable areas⁠—books, conversations, podcasts or discussions⁠—marketing is described as "having a market and capturing the demand to increase revenue and growth for your company."
Legendary marketing, though, is more interested in creating new demand. They are focused on setting that agenda.
2. Designs and Dominates a Giant Category That Matters
Legendary marketing design and dominate their own categories. On creating this demand, they position themselves as unique and distinct. They may also opt to create a new category or sub-category of an existing market category.
"When you're the first in a new category, people are drawn towards you." – Christopher  Lochhead
3. Creates a "Before" and "After"
Legendary marketing creates a distinct before and after. When a customer experiences legendary marketing for the first time, the expected initial reaction is "Wow, I just saw something! That's incredible!" That is Legendary Marketing.
"Remember the first time you heard Netflix, it presented a provocative idea which is: why do you have to go to a video store if you could go to a website?" – Christopher Lochhead
4. Mobilizes People to Think and Act in New and Different Ways
Legendary marketing is not just about evangelizing a product. It is about mobilizing people into action and getting them to change their actions. This would mean hundreds of people for small enterprises or even millions of people, for big multinational corporations.
5. Causes Competition to Have Emergency Board Meetings
Rick Bennett, the marketing assassin of Silicon Valley says that his advertising campaigns aim to freak out the competition and manage the psychology of the bad guys. This is one of the attributes of a legendary marketing campaign.
"When the competition sees this, how are they going to react and will they have an emergency board meeting?" – Christopher Lochhead
6. Makes You Think "I Wish I Had Done That!"
Millions of businesses fail because they are undifferentiated. Christopher says legendary marketing focuses on finding their own niche and dominating it, regardless of how simple or basic their product or service is.
"There is a bakery that scaled to 250 locations and sells franchises because they niched down. Its called Nothing but Bundt Cake. You'd say, that is such a simple idea, they niched down. Instead of being a generic bakery that fails, they dominated its niche market that they created." – Christopher Lochhead 
7. Creates New, Enduring Value Over-Time
It is a must for any CMO, C-level executive or anybody in Marketing—as well as entrepreneurs—to create enduring value, which is measured by employees, customers, and investors, partners and even the ecosystem.
8. Leverages New Technologies
Technology today allows marketers to know, in real-time, what's resonating to the customers and what's not. A lot of data is now readily available for companies to ensure we attract the right customers and build relationships with them, in a measurable way.
"If you're a marketer, you would want to be a technology genius ⁠— understanding these technologies and specifically how they can impact, attract and retain and build long term relationships with customers." – Christopher Lochhead
9. Makes a Giant Impact Outside and Inside
Legendary marketing creates an impact both internally and externally. Legendary marketers believe to inspire both customers and employees.
"The most important thing marketing does is inspire your own employees to do legendary work, to build legendary products and services and take care of customers." – Christopher Lochhead
10. Changes The World
The greatest marketing inspires. It does change the world and it moves things forward.
To hear more about legendary marketing and more relevant information from Christopher Lochhead, download and listen to the episode.
Bio:
Christopher Lochhead is a Top 25 podcaster and #1 Amazon bestselling co-author of books: Niche Down and Play Bigger.
He has been an advisor to over 50 venture-backed startups; a former three-time Silicon Valley public company CMO and an entrepreneur.
Furthermore, he has been called "one of the best minds in marketing" by The Marketing Journal, a "Human Exclamation Point" by Fast Company, a "quasar" by NBA legend Bill Walton and "off-putting to some" by The Economist.
In addition, he served as a chief marketing officer of software juggernaut Mercury Interactive ⁠— which was acquired by Hewlett-Packard in 2006 for $4.5 billion.
He also co-founded the marketing consulting firm LOCHHEAD; was the founding CMO of Internet consulting firm Scient, and served as head of marketing at the CRM software firm Vantive.
Link:
We hope you enjoyed this episode of Lochhead on Marketing™! Christopher loves hearing from his listeners. Feel free to email him, connect on Facebook, Twitter, Instagram and subscribe on iTunes!