Posts Tagged 'Language Strategy'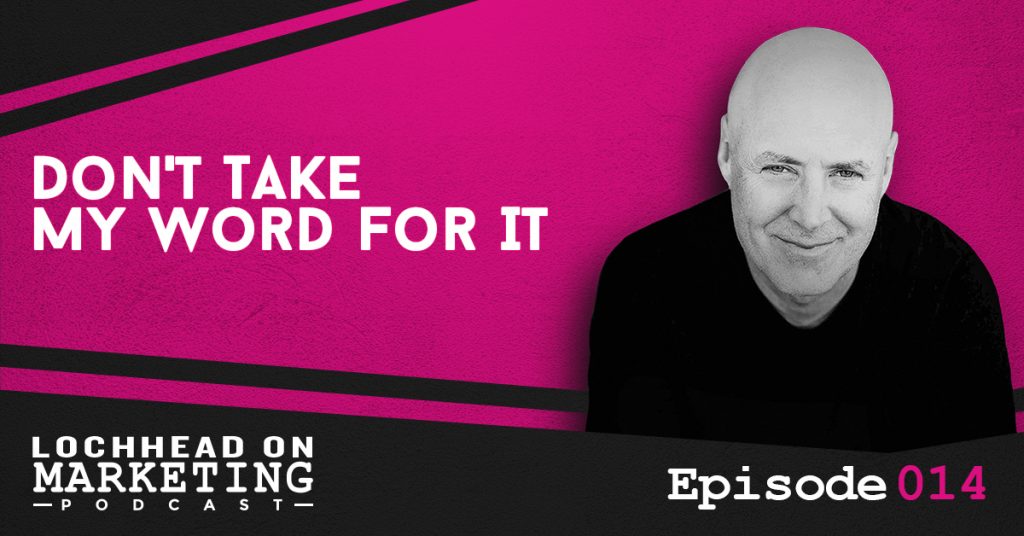 Podcast (lochheadonmarketing): Play in new window | Download (Duration: 14:34 — 23.4MB) | Embed
Subscribe: Apple Podcasts | Google Podcasts | Spotify | RSS | More
In this episode, Christopher Lochhead talks about how marketers strategically use language. Legendary marketers create a new language that educates the world on how they want their product or service perceived. Customer's adaptation to that language is also a great tool to measure success.
How People Perceive Us
Christopher recently had Lee Hartley Carter on Follow Your Different Episode 099. Lee and her firm specialize in language strategy. We can infer that marketers pay very close attention to the use of words.
Christopher reminds us that the usage of some phrases undermines a person's credibility. Some examples include phrases such as "don't take my word for it" or "let me be honest with you."
"Legendary Marketers and Category Designers know that a demarcation point in language creates a demarcation point in thinking, which creates a demarcation in action, usage, and consumption." – Christopher Lochhead
Create New, Powerful Language
Christopher discusses how legendary marketers use language to create new thinking that educates the world. This language teaches customers what they do, why it matters and how to value it.
Some important examples are Starbucks and their "Double Grande Latte" instead of medium coffee. Another one is selling "pre-owned vehicles" versus "used cars." Moreover, cloud-based software benefitted greatly with the usage of "on-premise software"
Indication of Success
It's far too common to hear at almost every other coffee shop other than Starbucks — customers are asking for Grande or Frappe. Customers adapting to a new language is a great indication of success.
"You know you're winning when customers start using your language, parrot them back to you, and they use it in the competitor's stores." – Christopher Lochhead
Christopher stresses Lee's point, marketers need a language strategy! Category creators and designers create a new language to create a demarcation point in thinking, action, usage, and consumption.
To hear more about don't take my word for it and more relevant information about language strategy from Christopher Lochhead, download and listen to the episode.
Bio:
Christopher Lochhead is a Top 25 podcaster and #1 Amazon bestselling co-author of books: Niche Down and Play Bigger.
He has been an advisor to over 50 venture-backed startups; a former three-time Silicon Valley public company CMO and an entrepreneur.
Furthermore, he has been called "one of the best minds in marketing" by The Marketing Journal, a "Human Exclamation Point" by Fast Company, a "quasar" by NBA legend Bill Walton and "off-putting to some" by The Economist.
In addition, he served as a chief marketing officer of software juggernaut Mercury Interactive. Hewlett-Packard acquired the company in 2006, for $4.5 billion.
He also co-founded the marketing consulting firm LOCHHEAD; was the founding CMO of Internet consulting firm Scient, and served as head of marketing at the CRM software firm Vantive.
Link:
We hope you enjoyed this episode of Lochhead on Marketing™! Christopher loves hearing from his listeners. Feel free to email him, connect on Facebook, Twitter, Instagram and subscribe on iTunes!