219 Be Where Your Feet Are: Scott O'Neil, CEO of Philadelphia 76ers & New Jersey Devils
Sunday 1st October 2023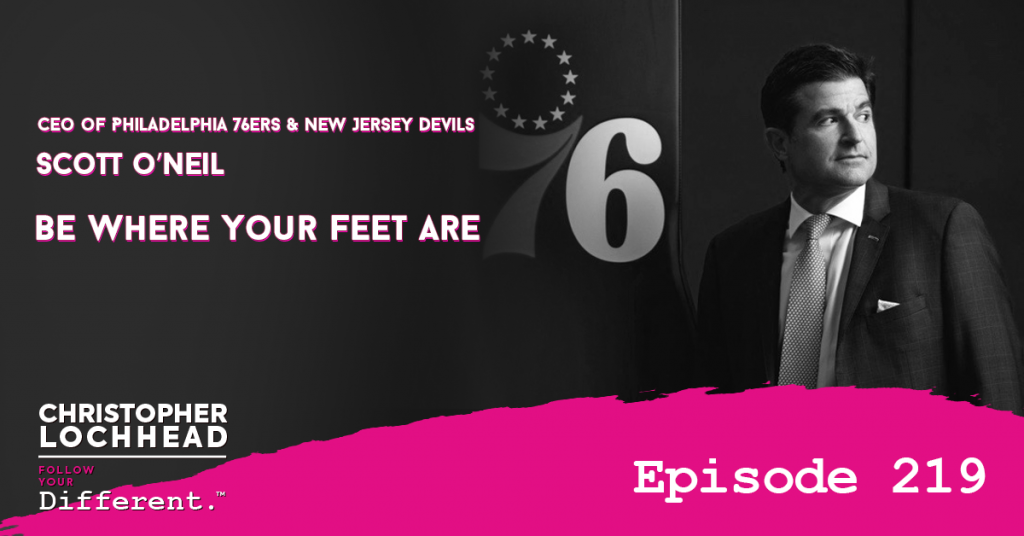 Podcast: Play in new window | Download (Duration: 1:48:46 — 74.7MB) | Embed
Subscribe: Apple Podcasts | Google Podcasts | Spotify | Pandora | Stitcher | RSS | More
In this episode of Follow Your Different, we continue our run of legendary authors with today's guest, Scott O' Neil. He is the author of a hot new book called Be Where Your Feet Are: Seven Principles to Keep You Present, Grounded, and Thriving.
Scott O'Neil is the CEO of Harris Blitzer Sports and Entertainment. Which makes Scott the CEO of:
The Philadelphia 76ers of the NBA
The New Jersey Devils of the NHL
The Prudential Center in Newark, New Jersey
Dignitas, a pioneer in eSports
A number of minor league teams
A Venture Fund
Real Estate developer / investor
An Innovation Lab
Today, we get to hear what it takes to manage not one, but two of North America's elite professional sports teams, and how they have dealt with COVID and its effect on the category. We also dig in to Scott's view on what sports role is in society, and how leaders should deal with social change and justice.
Of course, we'll have Scott pop the hood on how they turned the 76ers around and make them a winning team again. So if you love taking the long term in business and trying to figure out how business can make a difference as well as be successful, you're going to love everything about this episode.
The Role of Sports in Society
Scott talks about his enthusiasm on work, and being able to do so in areas that could use the work generated by his businesses. Though at the end of the day, he says that he is more of a "run to work, run home" type of guy.
He also shares his thoughts on the role of sports in a society. While there are some that argue that it shouldn't have that much of an impact and influence, it is undeniable that it's there. The question now is, how do you use that influence to make the world a bit better than before.
"The argument is, sports shouldn't have this kind of influence and impact. And I say, great, it does. I actually have an opportunity to help people and drive change in communities and bring people together and create community.

Coming off a pandemic, where we've had a year of being isolated, I don't think there's a better platform to build and deliver what we need more than anything else in the world right now, which is connection, and a bit of escapism, and community. And to do that where I get to do it every day is quite a blessing." – Scott O'Neil
The New Roaring 20's
When asked about how some companies are already gearing up for the end of the pandemic, Scott thinks that we are on the verge of a new Roaring 20s, much like what happened in the 1900s.
He is not far off the mark on this. Wall Street Journal has reported that companies today have more cash on hand than at any point in history, and the US consumer is wealthier now than at any point in US history. Which sounds so insane in the heels of this pandemic.
As the desire of people to reconnect and the mental health strain of being isolated escalates, there will be a huge demand for the category that builds up community and togetherness in the future, as everything opens up again.
"So you can imagine to watch an NBA game and be the only fan which I was at the game. I had this incredible boost of mental health, which I think is going to be the next great challenge over the decade. I think all this isolation and separation and anxiety that that we are feeling is going to put quite a bit of strain on us as leaders, as dads and moms, and people in the community.

As we've set out to define what that new normal is, I just felt the boost of of kind of happiness and energy and connection. I will say that I think these roaring 20s are going to be coming at us just like they were in the 1900s." – Scott O'Neil
Being Role Models
Scott then shares his insights on players and executives as role models for the future. While he thinks that our Frontliners make for better role models, players should not disparage themselves in this regard.
Being in a sport that has a massive reach, whether you are an NBA player or an eSport star, means that you have an audience that you can influence one way or another. So be a great role model for them, so that they in turn can be role models for their community.
"The reality is the world has changed. Those of my peers who scoff at TikTok influencers, or YouTube stars, or Instagram famous people, I got to tell you: you guys are missing the boat. The reality is, they have as much or more impact and influence, then the athletes that were playing that they're playing on our courts and skating on our ice. And the reality is, is it's about scale and audience and messaging, and in our players having to do a phenomenal job." – Scott O'Neil
To hear more from Scott O'Neil and his insights on business and the Roaring 20s, download and listen to this episode.
Bio
Scott O'Neil is the Chief Executive Officer of Harris Blitzer Sports & Entertainment, an organization with the mission of building passionate, high-performing teams that inspire people to enhance the communities where its teams live, work, play and win.
O'Neil is responsible for the organization's leadership, strategic vision, operations and global ambitions, including the pursuit and acquisition of sports, entertainment and consumer-facing properties.
He is the acting Chief Executive Officer over all properties within the organization's portfolio and under the ownership of Managing Partners Josh Harris and David Blitzer, including: the Philadelphia 76ers (NBA), the New Jersey Devils (NHL), Prudential Center, a top five-ranked performance venue in the U.S. located in Newark, New Jersey; Team Dignitas, an internationally renowned esports team, NBA 2K League's 76ers Gaming Club, the Sixers Innovation Lab Crafted by Kimball, the GRAMMY Museum Experience Prudential Center, the Delaware 87ers (NBA G League), and the Binghamton Devils (AHL).
Scott O'Neil is an acting Co-Managing partner for Elevate Sports Ventures, a sports and entertainment agency created in partnership between HBSE, Live Nation, the San Francisco 49ers and Oak View Group.
With more than 20 years of experience in the NBA, NHL and NFL, O'Neil has earned a reputation as a leader of leaders and is one of the most connected, dynamic and driven executives in the industry today.
Previous executives whom he has mentored and managed run many of the top organizations in sports and entertainment today; those he currently manages are poised to lead the industry into the next generation.
O'Neil's reputation for authentic leadership, unparalleled drive to innovate, and emphasis on the importance of corporate culture has placed him at the forefront of the industry vanguard. In merely six years overseeing operations for the properties in HBSE's portfolio, O'Neil led the Philadelphia 76ers to sign the first jersey patch sponsorship in "Big Four" sports history; construct the most technically advanced training complex in professional sports, the Philadelphia 76ers Training Complex; establish an industry-leading Innovation Lab, and become the first U.S. professional sports franchise to acquire a world-renowned esports team.
In that same period, under O'Neil's ambitious and aggressive leadership, Prudential Center has become a top seven and top five most-played venue in the U.S. and the world by Billboard and Pollstar, respectively, and welcomes over 1.75 million fans and event attendees through its doors annually.
Of his professional accomplishments, O'Neil considers his organizations' corporate culture and dedication to community service his greatest successes and future legacy. The Philadelphia 76ers have been named one of the "Most Innovative Companies" in the world by Fast Company magazine (2018), one of the "Top 50 Cultures" in the U.S. by Entrepreneur (2017), three-times named a "Best Place to Work in Philadelphia" by the Philadelphia Business Journal (2016, 2015, 2014), twice named a "Best Place to Work in Pennsylvania by the Central Penn Business Journal (2018, 2017) and named one of the "50 Best Companies to Sell For" by internationally-renowned Selling Power Magazine. Prudential Center was named a "Best Business" by NJBiz (2016). O'Neil's belief that those who steward iconic sports and entertainment brands have the responsibility and privilege to use those platforms to mentor the next generation of leaders and make the world a better place is the driving force behind HBSE's community engagement initiatives.
Recognizing the important role HBSE's properties play within its communities, O'Neil's employees individually volunteer 76 hours of service annually in the communities where their fans and patrons live, work and play, resulting in more than 30,000 hours of dedicated community service each year. The Philadelphia 76ers' charitable endeavor, the Sixers Youth Foundation, has additionally raised more than $1 million for Philadelphia-area youth last year alone and is leveraging sports to help children in need.
A former President of Madison Square Garden Sports, O'Neil was the key architect in some of the largest venue sponsorship deals in history while overseeing iconic sports properties including the New York Knicks (NBA) and New York Rangers (NHL). O'Neil spent seven years as the Senior Vice President of the NBA's renowned Team Marketing and Business Operations group, where he advised NBA, WNBA and NBA Gatorade League teams on all business operations, CRM Department and NBA Canada business. Earlier in his career, O'Neil served as the President of HoopsTV.com and held positions with the Philadelphia Eagles (NFL) and New Jersey Nets (NBA).
For almost a decade, O'Neil has served as an Alternate Governor for the NBA and NHL. In 2015, 2016, 2017 and 2018 the Philadelphia Business Journal named O'Neil to their "Power 100" list of the "most influential people" in the greater Philadelphia region; he additionally received Philadelphia Business Journal's "Most Admired CEO" honor in 2018. Sports and technology outlet, SportTechie, named O'Neil as 2017's "Most Innovative Executive"; in 2016, Philadelphia Magazine declared him one of the "Most Innovative Leaders" in Philadelphia. As a young executive, O'Neil was thrice recognized at Sports Business Journal's acclaimed "Forty Under 40" Awards; launching him into the publication's renowned "Hall of Fame."
He additionally received "Forty Under 40" honors from Adweek and Sporting News in 2006 and 2005 respectively.
O'Neil's influence and experience has earned him a place at the podium at some of the largest industry conferences in the world, delivering keynotes at events such as: Leaders in Sport, Beyond Sport, Sports Business Journal's World Congress of Sport, the IEG Pivot Conference, the Ivy Sports Symposium, Sport Marketing Association's Conference and more.
O'Neil's leadership practices have been chronicled and applauded in The Outward Mindset by the Arbinger Institute, publishers of The New York Times Best Seller, Leadership and Self-Deception, The Orange Revolution by Adrian Gostick and Chester Elton, and Potato Chip Ticket Sales by Kathy Burrows.
Scott O'Neil has made numerous appearances on CNN, CNBC, FOX Business Network, and has twice co-hosted Bloomberg television's Bloomberg.
He also interacts daily with his more than 18,000 and 30,000 followers on Twitter and LinkedIn, respectively.
Scott serves on the boards for the March of Dimes, Zoomi Inc., the Sixers Youth Foundation and the Sixers Innovation Lab Crafted by Kimball.
O'Neil earned his bachelor's degree in Marketing from Villanova University and his master's in Business Administration from Harvard Business School.
He currently resides in New Jersey with his wife, Lisa, and three daughters.
Links
Follow Scott O'Neil on:
LinkedIn: in/Scott-O-Neil
Twitter: @ScottONeil
Read his book: Be Where Your Feet Are: Seven Principles to Keep You Present, Grounded, and Thriving
We hope you enjoyed this episode of Follow Your Different™! Christopher loves hearing from his listeners. Feel free to email him, connect on Facebook, Twitter, Instagram, and subscribe on iTunes!