262 The $21.7T Metaverse Economy, Web 3.0, & The "Great Refactoring", with #1 Tech Analyst R. Ray Wang, Founder of Constellation Research
Wednesday 20th September 2023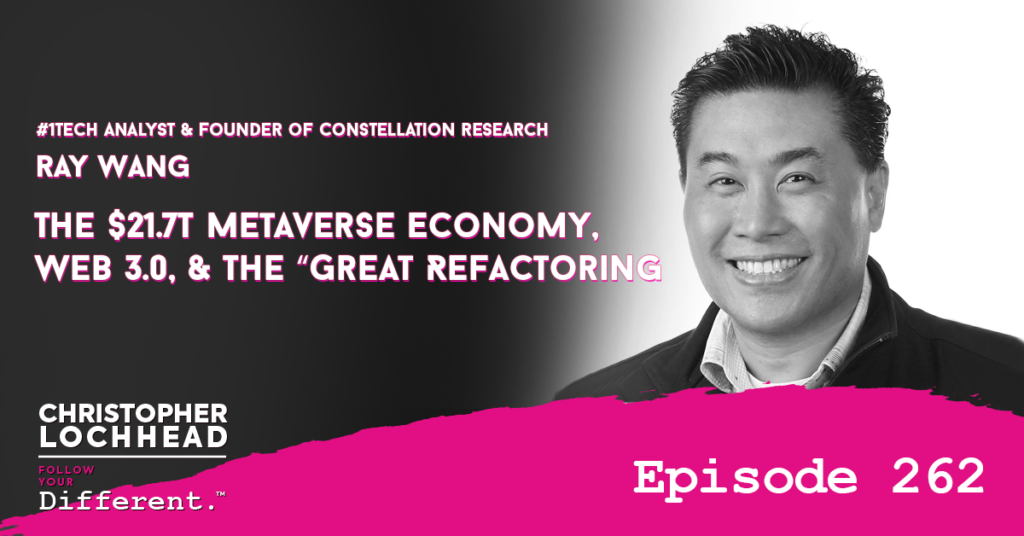 Podcast: Play in new window | Download (Duration: 1:35:51 — 65.8MB) | Embed
Subscribe: Apple Podcasts | Google Podcasts | Spotify | Pandora | Stitcher | RSS | More
On this episode of Christopher Lochhead: Follow Your Different, Ray Wang is back. Like always, we are in for a treat as we go deep into a whole bunch of topics.
Ray Wang is the world's number one Tech Analyst, and the founds of Constellation Research. He is the author of the bestselling book; Everybody Wants to Rule the World. Ray also hosts his own very popular podcast, called DisrupTV.
So sit back and join us as we have a deep dialogue about Metaverse, the current status of Web 3.0, and the recent major events that are still affecting everyone to this day.
Ray Wang on the Metaverse Economy
The conversation starts off about the Metaverse and the Metaverse Economy. Ray explains that people's concept of the Metaverse are still in the infancy stages right now. When they hear metaverse, they think AR, VR, or maybe gaming. Simply put, it's 2D becoming 3D.
Yet according to Ray, there are bigger implications, particularly in the market it will bring in the future.
"The metaverse economy is something that we're seeing as a $21.7 trillion market by 2030." – Ray Wang
That sounds like a big number, because it is. Right now, publicly traded tech companies are valued at around $24 trillion. But if you look at it closely, these companies are gradually shifting into the digital space, which is what we now call as "metaverse". Slowly but surely, the big companies have been positioning themselves in a strategic spot for when the technology catches up to the concept.
Ray Wang on Web 3.0
All of these changes have been possible by the advent of Web 3.0, which is powered by the blockchain and cryptocurrency. But what exactly is Web 3.0?
In order to explain it, you have to understand what the previous iterations were. Web 1.0 is basically a "Read" aspect of the internet. You can have access to websites, but there aren't a lot of ways to interact with them. Web 2.0 changed that, moving into the "Read/Write" era of the internet. Now there are more services and functions that we can use over the net, but it comes at the exchange of data and information about the users.
Web 3.0 aims to give the users control over their data, like how blockchains can track every step of the transaction made, or how some can limit the amount of data or even restrict outgoing data from their device and browsers, much like what Apple did to Facebook and other social media platforms.
Or at least that's the idea scenario. But according to Ray, it all depends on who's holding the reins to the operation.
"These Metaverse economies by design are hopefully going to favor privacy and anonymity of the user, right? It's gonna be about creating transparency of the seller and protecting your privacy in a transaction. That's the intent, right? But like all good technology, it's really about the people behind the intent." – Ray Wang
Transparency vs Privacy
Speaking of data control, Ray mentions the recent move by Apple to give users the option to turn off data tracking from various apps has got Facebook bothered. Likely because that's how Facebook gets most of its revenue by using said data to do targeted advertising and such. Moreover, showing that it could be done could open the floodgates to other tech companies to add such a feature in the future.
It seems Apple is taking it a step further, allowing its users to encrypt emails and essential use the iCloud as their own personal VPN when doing their business over the internet.
On the other hand, as FANG companies (Facebook, Amazon, Netflix, Google) seems to be reaching their saturation point (particularly Facebook and Netflix), Facebook moved to launch the Metaverse and rebranded the company to Meta.
Though the metaverse itself seems like a mega category waiting to happen, the issue lies on the fact that it doesn't seem to be well-defined yet as to what its goals are. People have a vague idea, and some ideas that support the concept already exist. But it all seems like a premature move by Facebook, spurred by the flagging subscriber count and to clear their bad reputation & start from scratch.
In the end, it's interesting how companies will approach both Transparency and securing the Privacy of its users in this era of Web 3.0.
Bio
R "Ray" Wang (pronounced WAHNG) is the Founder, Chairman, and Principal Analyst of Silicon Valley based Constellation Research Inc. He co-hosts DisrupTV, a weekly enterprise tech and leadership webcast that averages 50,000 views per episode and authors a business strategy and technology blog that has received millions of page views per month.  Wang also serves as a non-resident Senior Fellow at The Atlantic Council's GeoTech Center.
Since 2003, Ray has delivered thousands of live and virtual keynotes around the world that are inspiring and legendary. Wang has spoken at almost every major tech conference. His ground-breaking bestselling book on digital transformation, Disrupting Digital Business, was published by Harvard Business Review Press in 2015.  Ray's new book about Digital Giants and the future of business titled, Everybody Wants to Rule the World will be released July 2021 by Harper Collins Leadership.
Wang is well quoted and frequently interviewed in media outlets such as the Wall Street Journal, Fox Business News, CNBC, Yahoo Finance, Cheddar, CGTN America, Bloomberg, Tech Crunch, ZDNet, Forbes, and Fortune.  He is one of the top technology analysts in the world.
Links
Follow Ray Wang today!
Website | Twitter | LinkedIn | Constellation Research | DisrupTV
Check out Ray Wang's latest Book: Everybody Wants to Rule the World
We hope you enjoyed this episode of Christopher Lochhead: Follow Your Different™! Christopher loves hearing from his listeners. Feel free to email him, connect on Facebook, Twitter, Instagram, and subscribe on iTunes!