014 Pat Hiban – Real Estate Rockstar
Tuesday 26th September 2023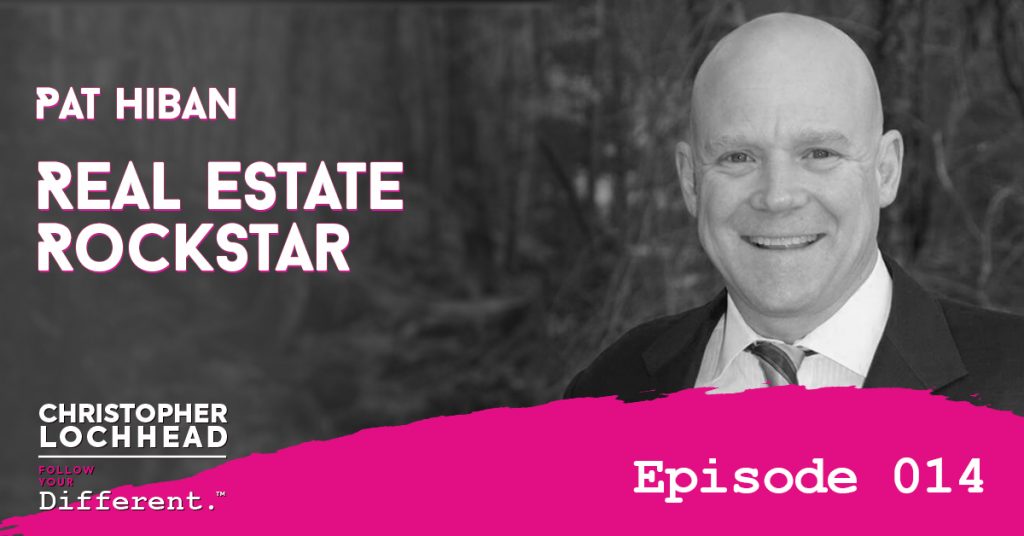 Podcast: Play in new window | Download (Duration: 46:39 — 42.8MB) | Embed
Subscribe: Apple Podcasts | Google Podcasts | Spotify | Pandora | Stitcher | RSS | More
On today's episode of Follow Your Different™, podcaster, investor and real estate rockstar Pat Hiban joins Christopher Lochhead. Learn about his means for horizontal income and his online university. How did his podcast grow to have 150,000 monthly downloads?
Pat's Many Endeavors
Pat tries to live off of passive income by being an investor. He finds that it's not much work, spending twenty minutes a day checking his investments and sending out emails.
He also built a company called Rebus University, providing online training for real estate agents. They learn to sell more houses through video courses and sell through funnels. He has also started writing a book, a manifesto of some sort, with his fellow GoBunbance members.
Achieving Podcast Success
Pat also hosts of Real Estate Rockstars podcast, which has over three million downloads. He says that it's a means to an end since it helps to promote Rebus University to prospective students. With over 700 episodes, it has become one of the most top-rated podcasts on real estate.
While Pat is practically the category king of real estate podcasts, there are people who are quitting. He gets energy by meeting people and talking to them, but this isn't enough to sustain a lot of podcasters' steam. They may not be making money or can't determine how to make it, eventually deciding to quit.
"I think that a lot of people are starting to figure the juice isn't worth the squeeze." – Pat Hiban
Different for Everyone
Of course, anybody can have whatever motivation they want in starting their podcasts. Christopher started his own not out of financial motivation, but it has produced a bunch of secondary economic outcomes.
"The podcast has had interesting financial outcomes but it's kept me in the world in a way that I didn't anticipate." – Christopher Lochhead
But podcast success may not happen fast. Anything worth having usually requires time and energy to invest. Most people, if not everyone, get out there and start with ten downloads, but this doesn't mean a thousand is too far a reach.
"I think it is an itch. I think a lot of people get into podcasts and [are] thinking, this is going to be an instant jackpot. " – Pat Hiban
To hear more from Pat why being a realtor is a great career and why real estate is a great investment, download and listen to the episode.
Bio:
Pat Hiban Interviews Real Estate Rockstars is a top-ranked, 3-day a week real estate podcast, hosted by billion-dollar agent Pat Hiban. He interviews the best of the best in and around the real estate industry.
Pat also founded Rebus University which trains real estate agents to be successful and men's mastermind group GoBundance.
He built a team of over 50 members and made millions in the Real Estate Sales World. Pat then realized he had spent over two decades being lead by mentors while growing very few mentees.
At this point, he wrote his New York Times Best Selling Book – "6 steps to 7 figures, A Real Estate Professional's Guide Building Wealth and Creating your Destiny."
Not too long after, Pat Hiban Interviews Real Estate Rockstars was born.
Links:
We hope you enjoyed Pat Hiban on this episode of Follow Your Different™! Christopher loves hearing from his listeners. Feel free to email him, connect on Facebook, Twitter, Instagram and subscribe on iTunes!