056 It's The Manager w/ Jim Harter
Wednesday 6th December 2023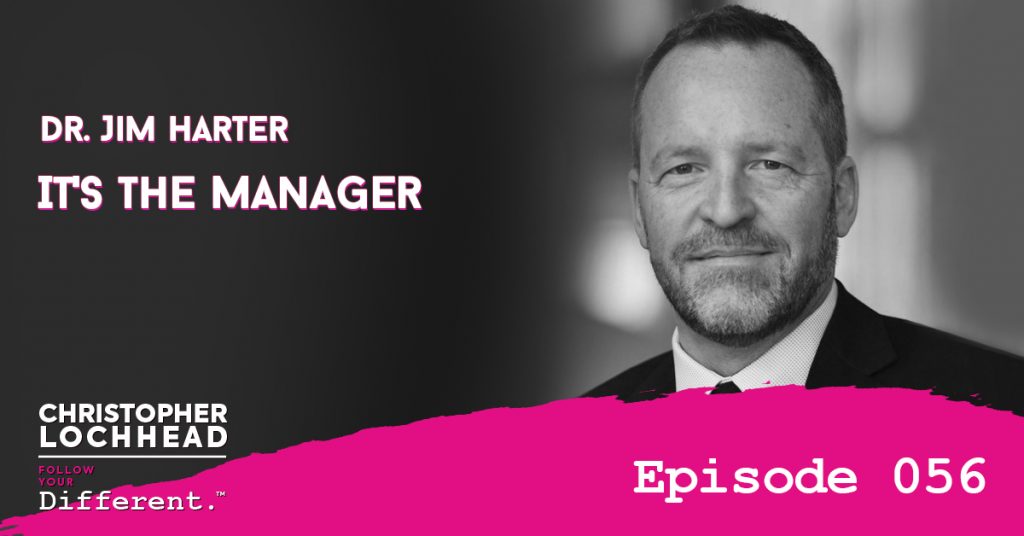 Podcast: Play in new window | Download (Duration: 1:20:33 — 74.0MB) | Embed
Subscribe: Apple Podcasts | Google Podcasts | Spotify | Pandora | RSS | More
According to Gallup's management practice Chief Scientist Jim Harter, the productivity of people at work has been increasing… but at a declining rate. More concerning is how only 34% of American workers and two-thirds of managers are engaged at work.
On this episode, he touches on the topic of bosses versus coaches, workplace engagement, people efficiency, and a lot more.
"I want my job to kind of reflect who I am, match my identity… I don't want my manager to just be an expert on my weakness, I want them to be an expert on my strengths." – Jim Harter
Changes in Workplace Productivity
The numbers Jim and his teammates have tracked for a while hint on how workplace productivity trends upward, albeit slowly. The figures clearly tell of a room for growth for most organizations.
Workplaces are changing tremendously, and this creates an even bigger burden on leaders. These changes include the massive increases in diversity, technology, remote work, among other things. Needless to say, all these factors affect productivity.
Theory and Practice of Management
There is also the dissonance between the science and practice of management. Leveraging the science is one area for improvement of working environments, and more so its application in practice.
"We've seen that the practice of management hasn't kept up with the science of management. The science of management has advanced significantly in recent decades but the practice of management hasn't." – Jim Harter
One such example is how the new workforce has evolved and now ask for a coach, not a boss. Therefore, one of the more critical things organizations need to be thinking about is moving from a culture of boss to coach. This ultimately relates to leaders asking for a change of culture to match the changing workforce.
People Efficiency is the Future
Jim says leaders need to keep up with the changes to both the workforce and the science of management. That is, they need to shift the focus from process efficiency to people efficiency.
"People efficiency is getting people into roles where they know what's expected of them, where they have clear expectations, where they're coached on an ongoing basis to do what they do best, to use their strengths." – Jim Harter
In flexible and remote working environments that are more common nowadays, it becomes even more important to be purposeful about three things. First, there is setting expectations, and then continually touching base with people. Lastly, a workplace needs to be of high trust and accountability.
To hear more about strength-based environments, extrinsic versus intrinsic motivations and more from Jim, download and listen to the episode.
Bio:
Jim Harter, Ph.D., is Chief Scientist for Gallup's workplace management practice.
He is the coauthor of the New York Times bestseller 12: The Elements of Great Managing, an exploration of the 12 crucial elements for creating and harnessing employee engagement.
Dr. Harter's book, the New York Times and Wall Street Journal bestseller, Wellbeing: The Five Essential Elements, is based on a global study of what differentiates people who are thriving from those who are not.
His research is featured in First, Break All the Rules, and he contributed the foreword to Gallup's new edition of this groundbreaking bestseller.
Dr. Harter is the primary researcher and author of the first large-scale, multi-organization study to investigate the relationships between work-unit employee engagement and business results.
Updated periodically, this study currently covers 82,000 business units and includes 1.8 million employees in 230 organizations, across 49 industries and in 73 countries.
His work has appeared in many publications, including Harvard Business Review, The New York Times, The Wall Street Journal, Fast Company and TIME Magazine, and in academic articles and book chapters.
Dr. Harter received his doctorate in psychological and cultural studies in quantitative and qualitative methods from the University of Nebraska-Lincoln (UNL).
Book Overview:
Today's decline in global productivity has every business leader scrambling to break through with one failed strategy after another.
But the real strategy is already right in front of them. It's the manager.
In fact, there is no better investment a company can make in its future growth than updating their management playbook to align with today's very different values and realities.
Based on the largest study of its kind (37.2 million people surveyed) as well as Gallup data from more than 30 years of U.S. and global workplace tracking, including interviews of employees and managers across 160 countries, IT'S THE MANAGER (Gallup Press; May 7, 2019; ISBN: 9781595622242; $34.00) by Chief Scientist for Gallup's workplace management practice, Jim Harter, Ph.D. with Chairman and CEO of Gallup, Jim Clifton, and is the definitive up-to-date guide to what really works in management today.
IT'S THE MANAGER explores 52 game-changing insights including how to:
Adapt organizations and cultures to rapid change and new workplace demands
Meet the challenges of managing remote employees, a diverse workforce, gig workers and the rise of artificial intelligence
Attract, hire, onboard and retain the best employees to make your organization one of the most desired places to work for current and future stars.
Transform your managers into coaches who inspire, communicate frequently and develop employee strengths.
The manager has been brushed aside as a middleman that is no longer needed in business today, but Gallup's data supports a radical claim: that managers should be the cornerstone of every company strategy.
When you build great managers you will experience organic revenue and profit growth, and you will give every employee what they most want today: a great job and a great life.
Links:
We hope you enjoyed Jim Harter on this episode of Follow Your Different™! Christopher loves hearing from his listeners. Feel free to email him, connect on Facebook, Twitter, Instagram and subscribe on iTunes!