101 What Motivates Entrepreneurs? w/ Jaime Masters
Monday 25th September 2023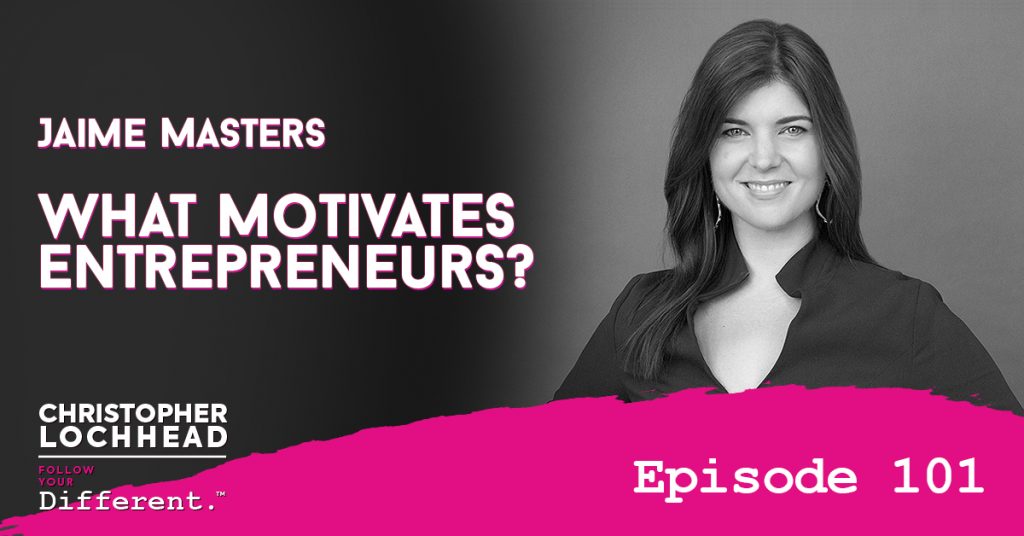 Podcast: Play in new window | Download (Duration: 1:28:48 — 81.5MB) | Embed
Subscribe: Apple Podcasts | Google Podcasts | Spotify | Pandora | Stitcher | RSS | More
Our guest today, Jaime Masters is an entrepreneurial coach and podcasting pioneer. She hosts "Eventual Millionaire" and she shares with us today some fun, practical and insightful learnings on what it takes to become a legendary entrepreneur.
She is an engaging business thinker who has her own quirks (love for costumes) and an amazing mother of two kids who are budding entrepreneurs.
From Tardy to Masters
Jaime Masters hosts the podcast Eventual Millionaire, where Christopher was once invited to promote his first book Play Bigger. She has interviewed close to 500 millionaires and she shares them through her book of the same title, Eventual Millionaire.
Jaime shares with us some funny and serious experiences she had when she started using her maiden name again. The name "Jaime Masters" is now a brand and she admits that she has no further intention of changing her name again, even when she remarries.
"It was something like, looking out when I'm 60, which person do I want to be? Which brand do I want to be building on my life?" – Jaime Masters
Her Kids Attend Entrepreneur School
It was a fun and admirable part of this episode when Jamie shared that her kids, a 12 and 10-year old, go to Entrepreneur School. The school has no homework and grades. They also do not have teachers, instead, they have guides. The school maximizes gamification for their modules.
"They're learning 2x faster also, which is another thing the school wants. They learn life skills. My son video edited for my clients and is better than the editor that has been with me for 8 years." – Jaime Masters
Part of teaching life skills, they are set to become entrepreneurs early as they are encouraged to sell products and services during their summer vacation. Jamie's son went door-to-door with his pressure washer business and her daughter went to sell rosemary to neighbors.
"To me, the best thing about the school is, it's about grit and pushing you out of your comfort zone. Teaching that at such a young age, not teaching memorization." – Jaime Masters
Concerns and Motivations of Solopreneurs
Having interviewed around 500 millionaires, Jaime shares the inability to decide whether or not to hire a team is a common concern for them. Jaime further shares her process of assessing and diagnosing her clients' concerns because sometimes, it is not a "team-problem" but an "owner-problem."
Furthermore, she acknowledges the fact that most entrepreneurs want progress in their business. She reminded, however, her personal experiences of failing due to the wrong reasons.
"Knowing yourself really, really well is the best thing in entrepreneurship, even though it's shitty. There are millions of holes that open up but thankfully, the holes to fill it are not achievement and materialism, which you'll find out if you're long enough in the game." – Jaime Masters
To hear more about what motivates entrepreneurs and more relevant information about Jamie, download and listen to the episode. Why not try Wildz Casino free? It's simple to do: follow the link to the website and you can register instantly using the bonus code that they provide. This online casino is a breath of fresh air in the world of online gambling. It is refreshing to see such a clean-cut and innovative design on an online casino website. Wildz offers players the chance to win big, with top prizes of $50k waiting to be won over and over again.
Bio:
Jaime Masters is a podcasting pioneer, host of the popular "Eventual Millionaire", a Business Coach, Keynote Speaker, and Best Selling Author.
She's been featured on:
CNNMoney, Yahoo's homepage (6x), Business Insider, Inc, CNN Newsroom, Entrepreneur, Fox Business News, Success Magazine and Christopher Lochhead Follow Your Different.
Links:
We hope you enjoyed this episode of Follow Your Different™! Christopher loves hearing from his listeners. Feel free to email him, connect on Facebook, Twitter, Instagram and subscribe on iTunes!