079 The Power of Unstructured Conversations w/ Podcaster Eric Hunley
Sunday 1st October 2023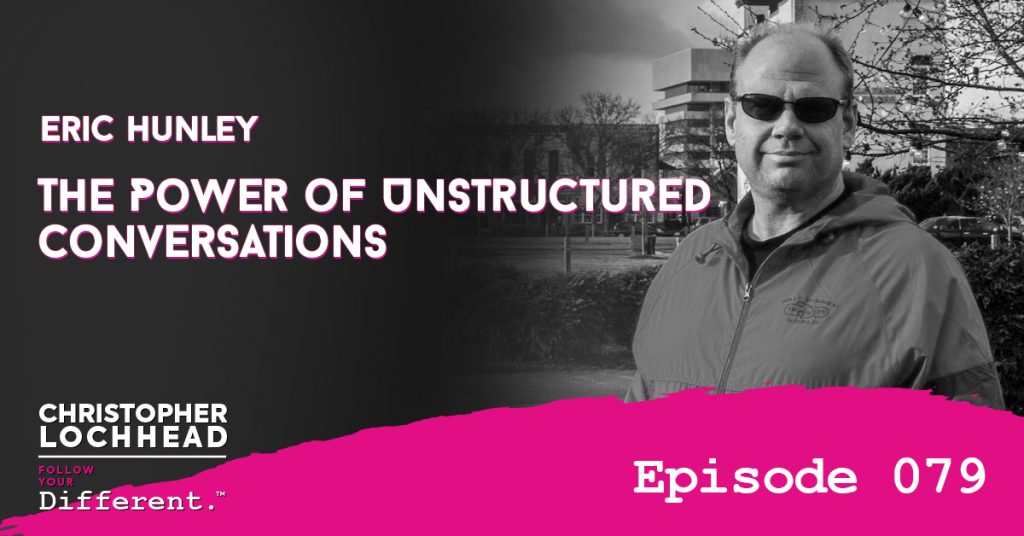 Podcast: Play in new window | Download (Duration: 1:06:20 — 60.9MB) | Embed
Subscribe: Apple Podcasts | Google Podcasts | Spotify | Pandora | Stitcher | RSS | More
This is a great episode, with a great guy Eric Hunley, a fellow podcaster and host of Unstructured. He shares his learnings and insights from his guests—whose backgrounds range from FBI, military and law enforcement to entrepreneurs, authors, and thinkers.
The Unstructured Podcast
Eric Hunley hosts the podcast Unstructured. Although he is well-known for his unstructured-style interview, he admits that he does a lot of research beforehand. Further, he leads the guest to a path by asking triggering questions.
"By triggering, it's not to get them upset per se. I wanna know what their passion is, what makes them tick, why they do certain things, I want them to be excited." – Eric Hunley
Crime and Investigation Podcast Guests
Eric shares some very interesting (and disturbing for some) stories about his guests with a background in military and law enforcement. In particular, his upcoming guest is an ex-FBI agent. He used to handle bombs but then crossed over into the behavioral analysis unit, with a focus on sex crimes.
"He's gone into a bit about repressed memories and how things can be planted, and things of that sort and cognitive biases and persuasion and influence and things like that, that fits my interests." – Eric Hunley on his guest at Unstructured
Eric and Christopher shared their common interests with crime and investigation stories. Moreover, they agreed that people have a lurid fascination with monsters—whether fictional or real-life psychopath and serial killers.
"There's a Southern Californian Daycare, where 300 children were all molested inside tunnels under the schools. Its part of a satanic worship group." Eric Hunley, as he recounts one of his guest's stories in his podcast, Unstructured
Dealing with Authors and Entrepreneurs
Eric shares his experiences conversing with authors and entrepreneurs. He admits he has a hard time closing conversations, especially when the guest has a very interesting story. Christopher shares in response to Eric, that there is a natural arc of conversations, even the sh*tty ones.
"Sh*tty conversations are probably when one or both sides have an agenda. Were not into talking points. I am probably, ironically, a little more interviewing than you are, but still conversational." -Eric Hunley
Both also exchanged their preparation in dealing with authors and entrepreneurs, which is actually reading their books.
When you actually read the book, you can get an insight into their personality or the message, that is deeper. A lot of times they get blown away by insightful questions. If I can, I do get that stuff out early. When the guest knows you care or give a shit about then, then it becomes a conversation. -Eric Hunley
To hear more about unstructured conversations and more relevant information from Eric, download and listen to the episode.
BIO:
"Eric Hunley is forging his path in unstructured interview-style podcasts, as the host of the Unstructured Podcast.
It is no surprise that fellow podcasters follow this formula in podcasting.
The unstructured podcast sources a gambit of unique podcast guests, who are based all around the globe.
Eric Hunley has created well over a hundred interview styled podcasts in less than nine months.
His unrelenting professionalism, detail orientated research, and smooth delivery as a host serves as an inspiration to many.
New podcasters and seasoned professionals often seek out his knowledge and advice when it comes to the business of podcasting.
Eric's previous experience as an instructor at the University of Arizona has helped cement his reputation as an educator.
His position opened many doors for him and has begun to lead to further speaking opportunities. He often draws on his many years of experience as an athlete, marathon runner, coach, and university lecturer.
Eric Hunley is predominantly self-taught and he understands that his students have the ability to absorb any skill with the right kind of guidance.
As such he is beginning to mentor new podcasters who are looking to get on the fast track so that they can successfully build their podcasting careers.
He has also been developing the systems and frameworks needed to deliver a fully comprehensive interview podcast and fast-tracking the guest research process.
Eric Hunley is the author of three books and is currently working on his fourth book. The book is titled "Interview Podcasting: Find Your Voice and Increase Your Authority."
You can find a list of shows that feature Eric Hunley's podcast appearances here.
Eric Hunley is married to Leslie Smail and lives in Hampton, Virginia, USA
Links:
We hope you enjoyed this episode of Follow Your Different™! Christopher loves hearing from his listeners. Feel free to email him, connect on Facebook, Twitter, Instagram and subscribe on iTunes!