013: Quit Your Corporate Job & Go Solo w/ Eddie Yoon
Monday 20th November 2023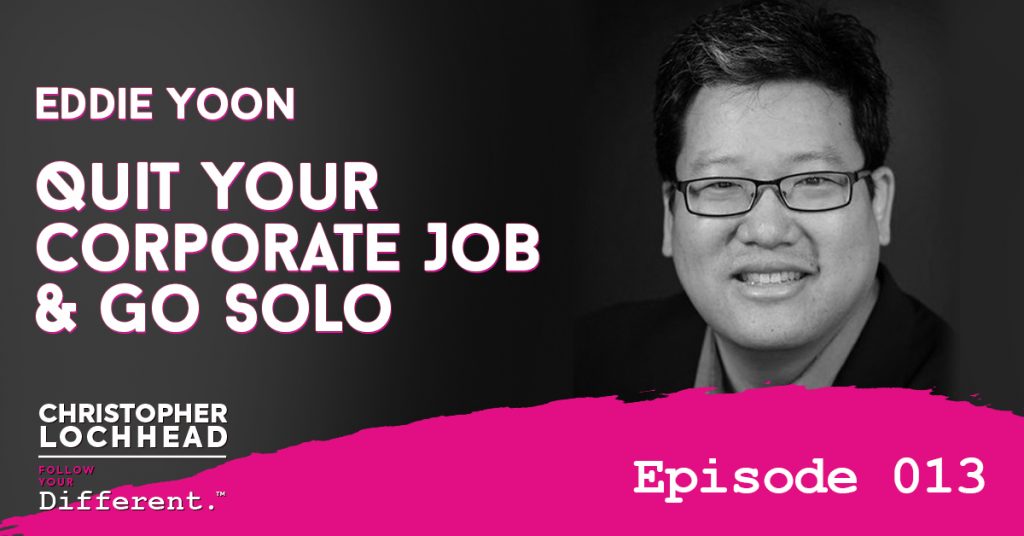 Podcast: Play in new window | Download (Duration: 1:07:41 — 62.1MB) | Embed
Subscribe: Apple Podcasts | Google Podcasts | Spotify | Pandora | RSS | More

Today, Eddie Yoon unpacks a recent Harvard Business Review article with his co-author Christopher. Together, they answer some questions, concerns, and explain further why you should quit your corporate job and go solo.
It's All in the Data
Eddie and Christopher's HBR article has been receiving a lot of attention. Some of the people amid the buzz expressed their concerns about their thesis. But the data say it all: nearly 70% of solopreneurs make $100,000-250,000 in a year.
This figure is almost twice as much as the average US household. And it is much higher than what Glassdoor reports the average US executive makes yearly—$121,500. It seems solopreneurs are doing as well, if not exceedingly better, than most executives.
"If solopreneur was an industry and a company, everyone would be flocking to this industry in the same way that people did it for Silicon Valley or investment banking or consulting." – Eddie Yoon
Importance of IPOs
Initial public offering (IPOs) have always been tech-related. But there are notable people who have done it in a non-digitized fashion. One example is Steve Hughes who launched a special purpose acquisition company and eventually skyrocketed as a solopreneur.
To go solo, a bridge needs to be crossed. You must know your investor story and who your target investors are. You must also know why they should believe that you're worthy of your multiple.
"I think that more people are figuring out that market exists and [so], 'Why not me?'" – Eddie Yoon
Breaking Out to Do Better
So many people are afraid to break out because of the corporate mothership and the financial aspect tied to the choice. But there are those who confronted their fear of not making enough and ended up earning more while working less.
The other odd benefit to going solo is that as an outsider, solopreneurs tend to be a lot smarter than those who are tied to a company.
"Maybe that's the extra value that perspective gives you." – Eddie Yoon
To hear more about the ultimate way of monetizing yourself and making an emotional business case for going solo, download and listen to the episode.
Bio:
Eddie Yoon is the founder of EddieWouldGrow, LLC a think tank and advisory firm on growth strategy.
Prior to this, he was a partner at The Cambridge Group, a strategy consulting firm that helps Fortune 500 CEOs drive growth by unlocking consumer demand. His work over the past two decades has driven over $5 billion dollar of annual profitable growth in consumer packaged goods, durables, robotics and energy.
Eddie is one of the world's leading experts on finding and monetizing superconsumers to grow and create new categories. He is the author of the acclaimed book, Superconsumers: A Simple, Speedy and Sustainable Path to Superior Growth (Harvard Business School Press, 2016).
He is also the author of over 40 articles, including Make Your Best Customers Even Better (Harvard Business Review magazine, March 2014) and Why It Pays to Be a Category Creator (Harvard Business Review magazine, March 2013). Additionally, he has been quoted in the Wall Street Journal, The Economist, Forbes and has been a keynote speaker in the U.S., Canada, Kenya, Australia, New Zealand, Denmark, the UK and Japan.
Eddie lives in Chicago with his wife and three children.
Links:
Harvard Business Review Article by Eddie Yoon & Christopher Lochhead:
Glassdoor – Executive Salaries
We hope you enjoyed Eddie Yoon on this episode of Follow Your Different™! Christopher loves hearing from his listeners. Feel free to email him, connect on Facebook, Twitter, Instagram and subscribe on iTunes!