037 How to Make Your Place in the World w/ "The Three Foot Giant" Dr. Sean Stephenson
Wednesday 20th September 2023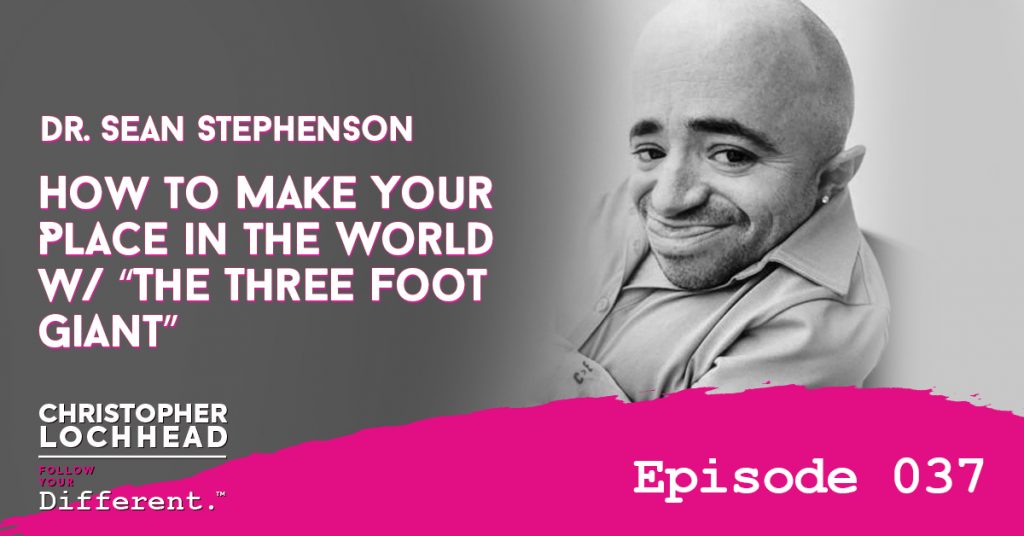 Podcast: Play in new window | Download (Duration: 1:16:19 — 70.1MB) | Embed
Subscribe: Apple Podcasts | Google Podcasts | Spotify | Pandora | Stitcher | RSS | More
Is it possible to live multiple lives in this lifetime? Today, the three-foot giant Dr. Sean Stephenson joins us for a wonderful conversation on growth, purpose, and a lot more.
Continuing to Grow
Even after achieving his stature as a public speaker, Sean admits that he's still growing. He was in business with his father for 22 years and didn't leave home until he was 31. Perhaps owing to his severe physical disability, he was very close to his family.
His home life was wonderful, but as he got older, it got more difficult. Being in the same roof with his family, he always had a group thinking and felt like he was curbing himself. So he decided to go through a very painful business breakup and step out into the world.
Learning to Walk
We can't read the label inside the jar. Sean didn't know how much he was holding back his own opinions or how much he was fully being himself. But when he moved and broke away, he started seeing how there were new levels and layers to him.
The stark differences between his and other people's experiences growing up shocked him. After all, he was used to a culture where not doing what the family wants equals being a renegade.
"I have decades and decades of education where I help people through their pains and their problems. But in some ways, I'm still learning to walk myself, learning to navigate this world, and I'm loving the experience of making mistakes." – Dr. Sean Stephenson
Breaking the Mold
It personally sickens him to think that some people would want to live the same life a hundred times over. To continue his self-discovery, he would reorganize his life every five years or so. He wants to look back on the past five years with a stack of embarrassing mistakes to learn from.
Sean confesses that he wouldn't hang out with his younger versions with interests that wouldn't necessarily appeal to him now. He loves himself all the more for it. And he can only wish the version of himself five or ten years down the road would feel the same way with the present.
"Maybe there's a wrongful belief out there that the version of you will always be the same as you get older but I don't agree with that. I'm constantly breaking the mold and starting over and trying new things and figuring out what do I believe in." – Dr. Sean Stephenson
To hear about why purpose is sexy and how Sean turned his "disability" into a competitive advantage, download and listen to the episode.
Bio:
Dr. Sean Stephenson was predicted not to survive at birth because of a rare bone disorder that stunted his growth and caused his bones to be extremely fragile (fracturing over 200 times by the age of 18).
Despite his challenges, he took a stand for a quality of life that has inspired millions of people around the world.
Since 1994, his powerful message has been heard at live events in nearly all 50 states and in 16 countries.
Sean has presented at hospitals, universities, prisons, and to companies such as Nike, Whole Foods, Zappos, Walmart, and Sharp Healthcare. He has shared the stage with U.S. Presidents, billionaire business moguls, celebrities, and his Holiness the 14th Dalai Lama.
Sean has appeared on everything from The Oprah Show to Jimmy Kimmel, in addition to online videos with tens of millions of views.
The Biography Channel produced an hour-long feature on his life called, Three Foot Giant.
Mindie Kniss & Sean Stephenson his international best-selling book, Get Off Your "But", has been translated into over a dozen different languages.
As a board-certified therapist, and doctor of Clinical Hypnosis, Dr. Stephenson sees clients in a unique 12-hour session that gets to the root of their fears, excuses, and insecurities.
Each year Sean hosts live events and group coaching programs to mentor individuals in the art and business of public speaking.
When Sean isn't working he can be found in the gym, playing NBA 2K with his friends, or watching NBA basketball with his wife and business partner, Mindie Kniss.
Both Chicago-natives, Sean and Mindie have traveled the world, but now call Scottsdale, Arizona, home.
Link:
We hope you enjoyed Dr. Sean Stephenson on this episode of Follow Your Different™! Christopher loves hearing from his listeners. Feel free to email him, connect on Facebook, Twitter, Instagram and subscribe on iTunes!