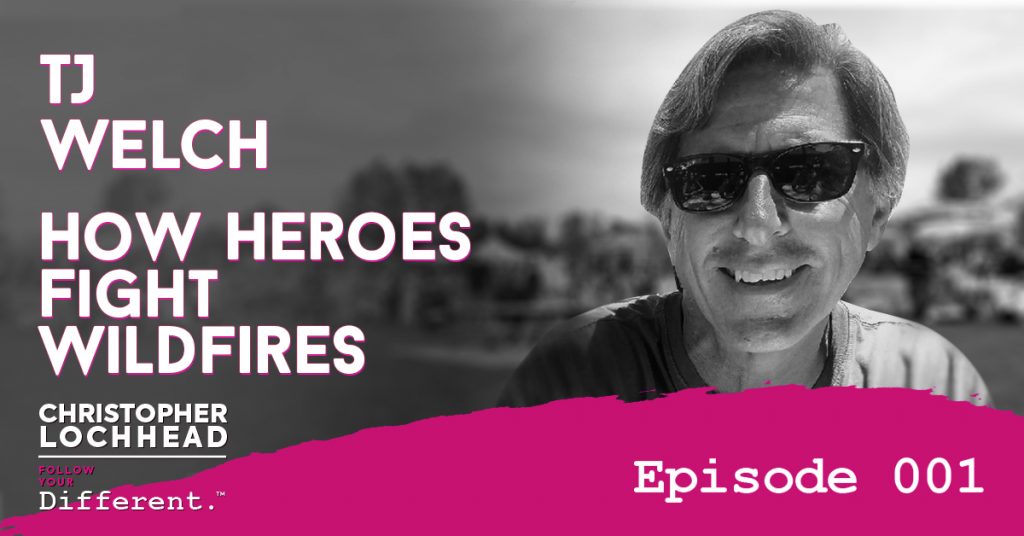 Podcast: Play in new window | Download (Duration: 1:06:10 — 60.6MB) | Embed
Subscribe: Apple Podcasts | Android | Google Podcasts | Stitcher | TuneIn | Spotify | RSS | More
How do you mobilize thousands of firefighters to tame a terror that could ravage lives and billions? On this episode of Follow Your Different™, Retired Battalion Chief TJ Welch tells us how. He shares a riveting story of leadership applicable to real life, how preparation is key to saving thousands, and so much more.
TJ Welch – Starting Out in the City
TJ spent the first years of his career dealing with brush fires and structural fires. He also had his fair share of wildland fires as a chief officer. But he and other city firefighters pretty much only stood guard in front of the houses.
It wasn't until the late '90s when they made full use of city firefighters. They went to timber and brush areas to stop fires and perform other operations.
"This was my moment where it kind of changed my perspective of my role as a chief officer." – TJ Welch
Wildland Fire in Numbers
Back in the day, the biggest of wildland fires reached up to 160 thousand acres, which is equal to the same number of football fields. This number has been expanding in recent years, reaching up to 200 thousand acres of wildland catching fire.
The terrifying numbers make sense when taken in the context of the number of residences, the timber that is involved, how exposed the wood is, and how quickly it burns. These wildland fires burn a couple of football fields per second. They are impossible to outrun and risk many lives.
There's a lot of reasons as to why wildland fires catch so quickly. On the other hand, timber could take a while to dry and get moisture back. With the drought that has gone on for so many years along with other forest products left out in the open, the wildland fires have become more gigantic.
A Turning Point
There was one fire that forever changed TJ. This gave way to a collective effort to train firefighters in the art of effective mobilization when tempering these massive fires.
"When I left that fire, I said I'm not gonna be so ignorant when I come to another wildland fire." – TJ Welch
To hear more about how California firefighters move as a unit and how TJ dealt with the massive responsibility of being a leader, download and listen to the episode.
Bio:
TJ Welch is a 32 year veteran of the fire service. Throughout the course of his career he served in volunteer, industrial and municipal fire departments.
TJ was a member of CAL Fire ICT 3 from 1997-2005 and a founding member of CICCS. He was a qualified Type OSC2, OPBD, DIVS and STEN.
TJ retired in 2014 as Battalion Chief with Alameda County Fire Department. He currently teaches and writes Officer courses for OSFM, and is an Firefighter Safety Specialist for California Department of Public Health and NIOSH where he investigates firefighter line of duty deaths.
Links:
How to donate to victims of the Butte/Camp Fires in California:
Northern California fire victims
Survivors of Butte County's Camp Fire
Background on the Butte aka the "camp fire":
The deadliest, most destructive wildfire in California's history has finally been contained
Paradise lost: the town incinerated by California's deadliest wildfire – video
After a Wildfire, Rebuilding Life Can Be Hardest for the Oldest
We hope you enjoyed TJ Welch on this episode of Follow Your Different™! Christopher loves hearing from his listeners. Feel free to email him, connect on Facebook, Twitter, Instagram and subscribe on iTunes!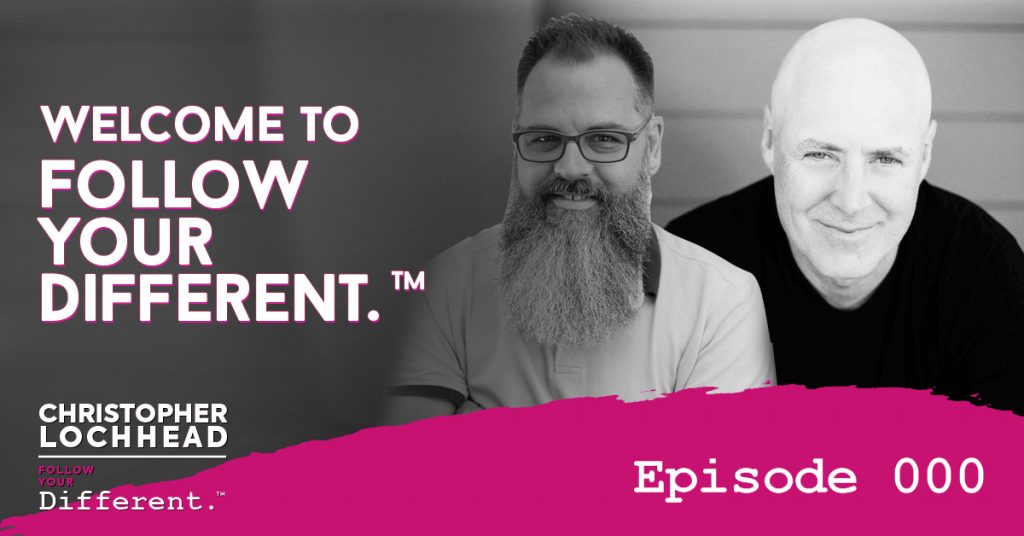 Podcast: Play in new window | Download (Duration: 19:49 — 18.2MB) | Embed
Subscribe: Apple Podcasts | Android | Google Podcasts | Stitcher | TuneIn | Spotify | RSS | More
From unfolding legends and losery, Christopher Lochhead moves on to unpack stories of how people embrace what makes them different. On this episode, he sits with his dear friend Jaime Jay to share the story behind the show and what people should expect from Follow Your Different™.
"The number one question that I have for myself is why would you change something that isn't broken?" – Christopher Lochhead
Product of Evolution
Starting a new show is both exciting and scary. But according to Christopher, Follow Your Different™ is a representation of what Legends and Losers, his previous podcast, has become.
For a long time, Christopher stuck to the theme he started with when he first launched Legends and Losers. But he also began to feel a little straitjacketed by how people viewed the show as a life and business podcast.
"When I took a hard look at it, the theme that really seemed to run through the podcast was the… celebration of different, if you will." – Christopher Lochhead
Celebrating Different
People readily embrace the mantra of following your different. According to Jaime, when Christopher first talked about the idea of the podcast, he didn't know what to expect.
Legends and Losers requires some explanation, and that is something that Christopher hopes to do away with in Follow Your Different™. The new podcast itself actually has a double meaning. The diversity of Legends and Losers inspired this.
Firstly, the podcast is a celebration of different things, of people and companies with different ideas that may not be exposed in mainstream media. These make for very gripping stories for this very reason. Secondly, every episode is different.
"We've been called the Internet's box full of chocolates." – Christopher Lochhead
Different in a Lot of Ways
With the theme so deeply embedded in Legends and Losers, you never know what you're going to get. Sometimes it's a top-tier venture capitalist, sometimes a CEO, sometimes a doctor who's designing a legendary death. Other times, a convicted killer turned motivational speaker.
These two kinds of different should resonate with the audience of the brand new podcast. To hear more about how Christopher turns over a new leaf and launches Follow Your Different™, download and listen to the episode.
We hope you enjoyed this episode of Follow Your Different™! Christopher loves hearing from his listeners. Feel free to email him, connect on Facebook, Twitter, Instagram and subscribe on iTunes!