Posts by Christopher Lochhead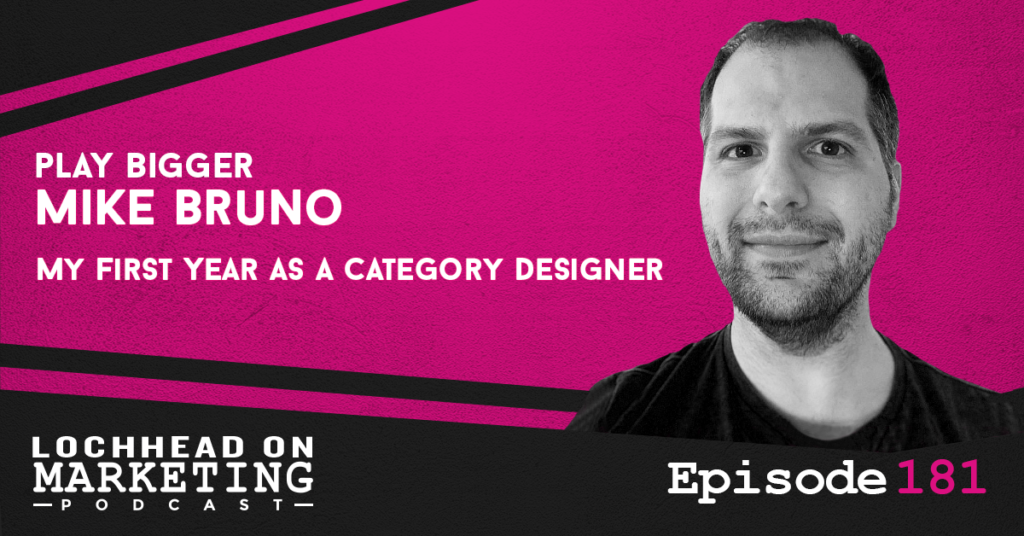 Podcast (lochheadonmarketing): Play in new window | Download (Duration: 1:07:43 — 46.5MB) | Embed
Subscribe: Apple Podcasts | Google Podcasts | Spotify | RSS | More
On this episode, we welcome Mike Bruno, Senior Category Designer at Play Bigger. Today, we dig into what it takes to make Category Design your career, and how incredible it is working with some of the most advanced technology companies in the world on category design.
Welcome to Lochhead on Marketing. The number one charting marketing podcast for marketers, category designers, and entrepreneurs with a different mind.
Mike Bruno and his first year as a Category Designer
Mike, who has been a category designer for about a year and a half, started his career working in agencies and social advertising. Transitioning into category design was a return to a beginner mindset for him, which he found interesting. In his previous role, he helped people solve problems and develop strategies based on business objectives and existing products. This experience translated well to category design, where the front door is identifying the problem that the category solves uniquely.
Mike also mentioned that category design involves many new concepts and a broader aperture, as it requires structuring not only the client's business but also influencing the entire market. While it was a humbling experience trying to figure it all out, he also had a sense of familiarity, knowing how to approach problems and strategize effectively.
Overall, his first year as a category designer was challenging and exciting, with a mix of the familiar and the new, which kept him engaged and interested in the field.
The way people think about Category Design
Christopher and Mike discuss the challenges of transitioning from traditional marketing to category design. They emphasize that category design involves creating new markets rather than catching existing demand. Mike points out that realizing someone invented categories was a facepalm moment for him, but it made him realize the importance of solving unsolved problems.
Christopher and Mike also talked about the power of not doing anything, meaning finding a category that has already been solved, and how this is often underestimated in the business world. They use Apple's example of launching a new category called "spatial computing" instead of just a new product like most marketers do. They compare it to Magic Leap, which failed to create a category despite having inspiring visions. Mike believes Apple succeeded because they could bridge the gap between their vision and the technology needed to achieve it.
Mike Bruno on the Difference between Category Design and Product Design
Christopher and Mike discuss the difference between launching a product and category designing a market category. They use the example of Magic Leap, which had a product but failed to category design the spatial computing market. Christopher explains that category design involves framing, naming, and claiming a new problem, creating an ecosystem of partners to solve that problem, and evangelizing the solution.
Mike shares his surprise about the comprehensive nature of category design, realizing that it's not just about coming up with a new term but involves a rigorous process to make the category successful. They also mention Apple's success in category designing the spatial computing market, positioning themselves for significant market cap growth while other players who only launched products may miss out on the opportunity.
To hear more from Mike Bruno and his experiences as a Category Designer, download and listen to this episode.
Bio
Mike Bruno
Mike is a Senior Category Designer with a background in psychology and communications strategy. He finds hidden problems and unspoken truths, and connects those with companies, brands and products to drive businesses and, importantly, the people they serve.
Mike's style of Category Design is simple, straightforward and playful. His work is equally influenced by the behavioral sciences, business theory and imagination. Carl Jung on one shoulder, and Dav Pilkey on the other.
Mike's work has been featured in Advertising Age's "Book of Tens", has been awarded numerous industry accolades and has driven double digit brand growth for dozens of clients. Outside of work, Mike is a frequent guest lecturer at NYU and The New School, a hockey coach to five-year-olds, and a father of two boys. He lives in Westchester, NY with his wife, kids and backyard ice rink.
Don't forget to grab a copy (or gift!) of one of our best-selling books:
We hope you enjoyed this episode of Lochhead on Marketing™! Christopher loves hearing from his listeners. Feel free to email him, connect on Facebook, Twitter, Instagram, and subscribe on iTunes!