123 This Could Be Our Future w/ Yancey Strickler, Kickstarter Co-Founder
Monday 25th September 2023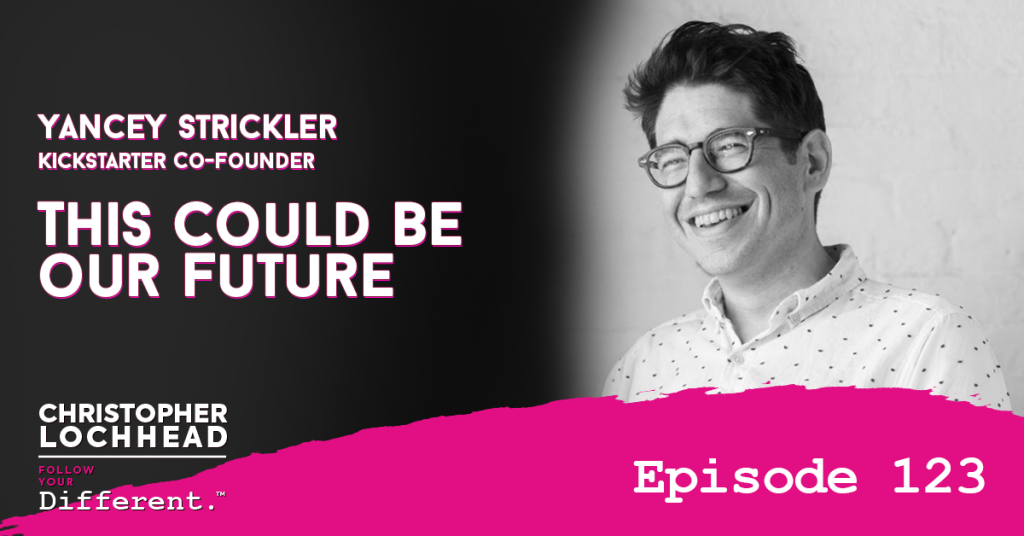 Podcast: Play in new window | Download (Duration: 1:05:28 — 90.0MB) | Embed
Subscribe: Apple Podcasts | Google Podcasts | Spotify | Pandora | Stitcher | RSS | More
Join us in another fascinating and timely discussion with Yancey Strickler, Co-Founder & former CEO of Kickstarter, one of the most important new companies in the Startup ecosystem. He is the author of the new book This Could Be Our Future: A Manifesto for a More Generous World.
Yancey is an experienced entrepreneur who shares very powerful insights that apply to your business and your life. Listen to our discussion about Bentoism. It's an intriguing way to think about life.
A Chapter From The Book
In a chapter of Yancey's new book This Could Be Our Future: A Manifesto for a More Generous World, he shares about Adele and how he found a startup company that measures loyalty and engagement. Adele faced issues with scalpers purchasing and jacking up prices of her concert tickets.
"Currently, we imagine that economics is how everything should be distributed and here, Adele, found some other value through which to make herself available." – Yancey Strickler
Through the algorithm, Adele chose Top 30 per area of her most loyal fans. These people got access to tickets at their original prices. According to reports, fans were able to save 6 to 10 million pounds.
A New Lens in Doing Business
Yancey considers the Adele example as a powerful and pervasive lens in doing business. Adele found a could-have-been a post-economic way to distribute goods, placed a halt to that and ultimately, provided more value to her loyal fans.
"To me, that is a new kind of choice, a very new kind of decision. It is suggestive of what, of how capitalism evolves, of how we evolve as a society. Basically, where we all recognize the importance of financial value. We can also recognize the limitations of financial value being so dominant, as it is right now." – Yancey Strickler
Social Entrepreneurship and Bentoism
Christopher and Yancey exchanged stories about social entrepreneurship and how it has become an emerging conversation right now. Yancey believes that social entrepreneurship will succeed when it becomes a dominant point of view of everyone.
"Right now, marrying a financial purpose for a nonfinancial purpose is like the cute indie thing to do. But we should root for this to be like mainstream arena rock. I want this, headlining stadiums." – Yancey Strickler
Yancey also shares his idea on Bentoism or Beyond Near Term Orientation. He came up with this idea when he was doodling and creating graphs while evaluating what he wants at the moment and what he would want to achieve in the future.
To hear more about This Could Be Our Future and more information about Yancey Strickler, Kickstarter Co-Founder, download and listen to the episode.
Bio:
Yancey Strickler is a writer and entrepreneur. He is the cofounder and former CEO of Kickstarter, author of This Could Be Our Future: A Manifesto for a More Generous World, and the creator of Bentoism.
Yancey has been recognized as a Young Global Leader by the World Economic Forum and one of Fast Company's Most Creative People.
He's spoken at the Museum of Modern Art, Sundance and Tribeca Film Festivals, Web Summit, and events around the globe.
He cofounded the artist resource The Creative Independent and the record label eMusic Selects. Yancey grew up in Clover Hollow, Virginia, and began his career as a music critic in New York City.
Links:
Book: This Could Be Our Future: A Manifesto for a More Generous World.
We hope you enjoyed this episode of Follow Your Different™! Christopher loves hearing from his listeners. Feel free to email him, connect on Facebook, Twitter, Instagram and subscribe on iTunes! Get amazing, different stories on business, marketing, and life. Subscribe to our newsletter The Difference.