256 Mission Driven: Saving Lives in Afghanistan with Valerie Edmondson Bolaños
Monday 25th September 2023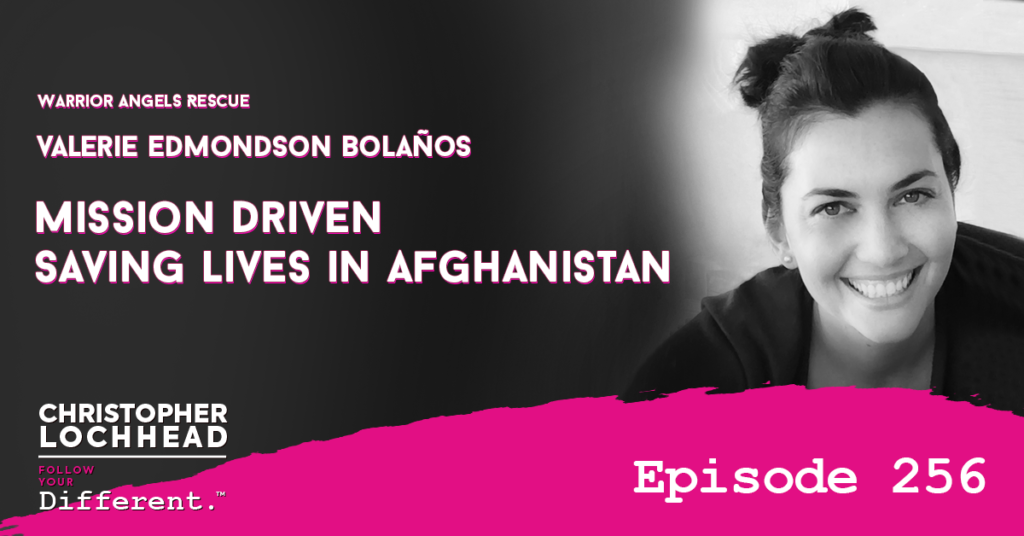 Podcast: Play in new window | Download (Duration: 1:02:55 — 43.2MB) | Embed
Subscribe: Apple Podcasts | Google Podcasts | Spotify | Pandora | Stitcher | RSS | More
In this episode of Christopher Lochhead: Follow Your Different, you will hear one of the most inspiring, horrifying, and yet deeply moving conversations from our guest, Valerie Edmondson Bolaños.
Valerie Edmondson Bolaños is the founder of an extraordinary NGO called Warrior Angels Rescue. She started her own NGO in the way of Hurricane Maria. It was a Category Five storm that devastated her home island of Puerto Rico back in 2017. What started off as an effort to rescue her own family grew into a much larger scale over time.
Since August of 2021, Valerie and the Warrior Angels Rescue has been evacuating girls, women, and their families from the humanitarian crisis that is escalating in Afghanistan after the United States left. What you're about to hear is really one of the most inspiring mission-driven founders you can listen to. We hope that it moves you as well.
Valerie Edmondson Bolaños on the Afghanistan Situation
The conversation starts as Valerie gives a perspective of what the situation is in Afghanistan at this moment after the United States withdrawal last August of 2021.
"It's pretty horrific, which should come as no surprise. We've noticed (that) just in the three months that we've been working there. It just descended from an absolutely apocalyptic situation into the depths of hell. The messages and videos that we're receiving directly from the families that we're helping that are in our evacuation lists are just horrifying. I've had nightmares, and I'm not even living through it firsthand." – Valerie Edmondson Bolaños
These horrors stem from the local terrorist organizations who are trying to root out those who have worked with the US forces when they were still on the ground. They torture and beat them publicly, while abducting and interrogating those who they think had close ties or worked directly with the US forces.
This was on top of the different terrorist organizations jockeying for power amongst themselves, which adds another layer of suffering for those on the ground.
The Taliban Taking Away the Power
Valerie shares that are a lot of shortages on the ground. The economy has all but shut down entirely because people are in hiding. People who had decent homes and careers had to leave almost everything to stay with families that are less conspicuous.
"The Taliban is literally trying to take away power from the people who have even the slightest bit of power. And so much power comes from being educated and being having a profession. So they want to quash any potential viable resistance to their takeover by not only literally taking away power and electricity and connectivity from everyone, but they're targeting middle class families and upper class families. So everyone's gone into hiding, which means that most of the mechanisms that keep society going and keep the economy going are completely shut down." – Valerie Edmondson Bolaños
While the medical care is not completely gone, it's can still be hard to get in the current circumstances. There are simply too much people that are now relying on volunteer medical professionals who are scared but also want to save as many lives as they can.
How the Pandemic Factors In
On the topic of medical care, Valerie was asked about the COVID spread and deaths in Afghanistan. She shares that there isn't really any visible evidence of any data being collected at this point. Not to mention any effort for vaccination programs to speak of.
"There's no data being collected. People aren't going to hospitals for the most part, because then they're afraid they'll be killed. So yeah, I don't I don't think any data is really coming out, or being collected. I mean, that would require a functioning government, which is not what the Taliban has created." – Valerie Edmondson Bolaños
The pandemic really added a few levels of complication of how volunteer NGOs like the Warrior Angels Rescue can operate on the ground, as not only are you worried about getting shot, the idea of a virus ravaging the neighborhood just scares both the locals and volunteers alike. The Taliban are definitely not doing anything to alleviate it. For them, it's just another way of keeping people in check and not banding together to take back the country.
To hear more from Valerie Edmondson Bolaños and how she and the Warrior Angels Rescue help those in dire need, download and listen to this episode. If you wish to help them in their efforts, check out the links at the end of this article.
Bio
Valerie Edmondson Bolaños
Valerie Edmondson Bolaños founded Warrior Angels Rescue in the wake of Hurricane Maria, a category 5 storm that devastated her home island of Puerto Rico in 2017.
What started out as an effort to rescue her own family quickly grew into a large-scale effort to evacuate hundreds of medical patients, pregnant mamas, and elderly people who could not survive days (let alone months) without electricity. Since then, our 100% volunteer team has responded to 5 disasters: a mudslide, an earthquake swarm, a tornado, a global pandemic, and the international border shutdowns due to COVID.
Since August of 2021, Warrior Angels Rescue has been evacuating girls, women, and their families from the humanitarian crisis unfolding in Afghanistan.
Warrior Angels Rescue has saved hundreds of lives by securing safe harbor in Ecuador and routing our evacuees through Pakistan to Canada and other countries willing to step up and help.
With a resettlement strategy founded on the principles of empowerment and synergy, Warrior Angels Rescue has developed a win/win/win solution that protects the freedom of our refugee families, benefits the local communities from our host countries, and costs the American taxpayer $0.
Links
Follow Valerie today!
Website: WarriorAngelsRescue.org | News Page: WarriorAngelsRescue.org/news
GoFundMe: Evacuate School Girls to Safety
LinkedIn: in/Valerie-Edmondson-Bolanos
More on Valerie Edmondson Bolaños and the Warrior Angels Rescue
We hope you enjoyed this episode of Follow Your Different™! Christopher loves hearing from his listeners. Feel free to email him, connect on Facebook, Twitter, Instagram, and subscribe on iTunes!