299 Ukraine: How 3 Entrepreneurs Make A Massive Difference with Denys Gurak of A.D.A.M., Iryna Savytska of Bank of Memories, Dr Amarjot Singh of Skylark Labs
Monday 20th November 2023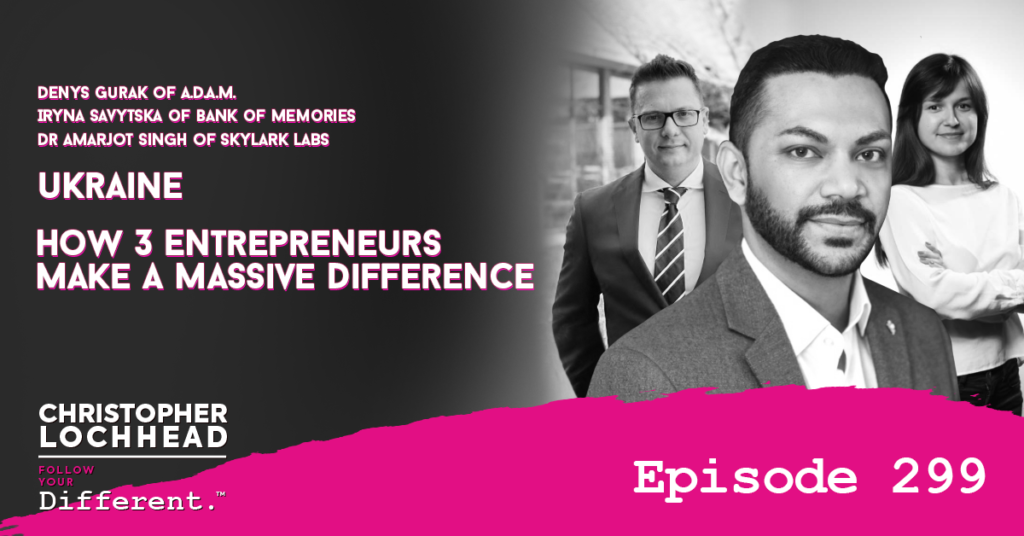 Podcast: Play in new window | Download (Duration: 1:06:41 — 45.8MB) | Embed
Subscribe: Apple Podcasts | Google Podcasts | Spotify | Pandora | RSS | More
On this episode of Christopher Lochhead: Follow Your Different, we have a much-needed conversation with Denys Gurak of A.D.A.M., Iryna Savytska of Bank of Memories, and Dr. Amarjot Singh of Skylark Labs about the commitment to make a difference and standing up for what you believe in. We also get into how entrepreneurs and startups in Ukraine are answering the call to help their homeland from within and beyond.
Denys Gurak and his company A.D.A.M. is a pioneering 3D bio printing company whose primary focus is 3D-printing bones, with the hopes of using the technology to assist medical professionals in helping injured soldiers.
Iryna Savytska is the CEO of Bank of Memories, which is a blockchain startup focused on allowing families to protect the memories of all their loved ones, as well as key documents and assets for the next generation.
Dr Amarjot Singh is the founder and CEO of Skylark Labs, a company that is designing a new category of next gen AI powered security products that can detect and save people from drone attacks and other threats.
These three entrepreneurs and category designers prove the axiom, "Everything is the way that it is because somebody changed the way that it was." And they are changing the way that it is.
All startups on this episode are mentored by the
Global Ukraine Foundation
. The Global Ukraine Foundation is a community of VCs and Founders who support Ukraine and other tech founders around the world.
A Snapshot of life in Ukraine
The conversation begins with a question about the current conditions inside of Ukraine, and what are the immediate concerns that the public needs to know and help with if they can.
Iryna shares the news of the recent rocket barrage by Russia, which was quite a dangerous yet almost routine for them nowadays. One of the things that hit the most is the current conditions in Ukraine, where they are forced to rely on generators to get electricity and water, things that people in the 21st century shouldn't be worrying about anymore.
She also describes the situation in some areas outside Kyiv, where looting and robbing houses have been happening. Most are being done by Russian soldiers, but there have also been other unscrupulous people taking advantage of the confusion around them to loot and steal.
Physically away, mentally in Ukraine
Denys Gurak talks about his experience living outside of Ukraine and seeing what is happening on the ground from the outside looking in. He shares that a lot of Ukrainians he knows who are also living in the US feels a certain guilt that they're not there and physically support their families and countrymen.
But he says that rather than wallow in guilt, it's better to convert it into somethings productive and helpful for their countrymen, and do whatever they can even from a distance.
When asked if it was a fucked-up thing for a young entrepreneur like themselves to be thinking about war and what to do about it, Denys has this to say:
"Actually, it gives you experience and makes you stronger. I mean, you have to try to switch any situation from a problem to an opportunity. Otherwise, you can just sit at home on the couch and do nothing. And for many of us, that's not an option now, is it?" – Denys Gurak
Dealing with Drones
Dr Amarjot Singh talks about drones, particularly on what they are developing at Skylark Labs. Their aim is to use drones on the side of Ukraine to help guiding systems and give a pre-emptive warning to people that Russian drones have been sighted in the vicinity.
One of the issues with the usual procedures is that drones usually flight high and are hard to find using conventional means. Skylark aims to counter this with drones of their own, but focus on counteroffensive rather than escalation.
That said, this technology can eventually help in surveillance and exploration of certain areas, especially once it has been developed to withstand different weather and abrasive conditions. Dr. Singh and his team are hopeful that it can be very helpful in maintaining a clear airspace in Ukraine and monitoring towns and other areas for national security.
To hear more from these amazing people, their startups and how they are helping in the Ukraine effort, download and listen to this episode.
Bio
Denys Gurak
Denys Gurak is an experienced C-level manager and serial entrepreneur. He is a CEO and Co-Founder at A.D.A.M., a 3d bioprinting company with a primary focus on 3D-printed bones. Denys's ultimate vision is to build an on-demand personalized tissue manufacturing platform that would be a one-stop shop for transplanted tissues and organs; and, hence, to cut barriers to medical treatment for millions.
Denys's passion for biotech can be traced back to 2010, when he was leading the international relations and certification, along with EU legislation adaptation at the Ukrainian medicinal products regulatory authority (official position – director of the «GMP/GDP Center» of the State Administration of Ukraine on Medicinal Products (SAUMP).
In 2014 Denys joined the Ukrainian Defense Industry (a state defense conglomerate) in 2014 as the Deputy Director-General for foreign economic activity. During his time at the company, he managed the export-import operations that amounted to USD 1 billion yearly turnover.
Furthermore, Denys represented Ukraine as the Head of Ukraine's delegation to the NATO Industrial Advisory Group (NAG), and led the industry transformation initiatives, including innovations development and technology JVs, as well international relations.
Denys is a Venture Partner at ff Venture Capital a high-performing early-stage venture firm based in NYC and Warsaw, Poland, focusing on disruptive IT, biotechnology, aerospace and security projects in CEE region.
His passion for strategic modeling and technological disruption, as well as his outstanding networking skills and analytical mindset define Denys's active role in expert society. Besides business matters, Denys is the key member in a number of think tanks and NGOs.
Iryna Savytska
Iryna Savytska has 12 years in Business Development, MBA, 3 years in web3.
She's a Tim Draper and Erasmus Scholar, been named TOP 20 Women in ICT 2021 Women Tech Network (Silicon Valley), named a TOP 20 Women in Tech Entrepreneurship 2020 Ukraine according to USAID
She's raised 15 million USD in investments, and lived in 4 countries, and speaks 4 languages.
Iryna is founder and CEO of Bank of Memories, a service that helps to keep memories and assets and pass them on to new generations. The technology behind is blockchain and decentralization. This way the data will be stored permanently, safely, and available even for future generations.
Key features include:
Family tree
Smart storage with 3D memories – image, voice, background
Time Capsules
Digital will
Backed by Angel investors, blockchain protocol, advised by Paul Allen, founder of Ancestry.
Dr Amarjot Singh
Dr Amarjot Singh, the founder and chief executive officer (CEO) of Skylark Labs Inc. (https://skylarklabs.ai/), develops next-gen AI-powered security products to identify and continuously learn new known threats.
These systems can revolutionize reconnaissance operations across the land, sea, and air by proactively alerting for known and unanticipated threats beyond visual line-of-sight (BVLOS).
Their proprietary systems analyze cameras and radars on land, drones, helicopters, missiles, and satellites, with primary National Security and Public Safety applications.
Before launching Skylark, Dr Singh worked as a research fellow at Stanford University, USA, as part of the DARPA's Life Long Learning (L2M) program (2019-2021). Dr Singh developed a framework for Artificial General Intelligence (AGI) at DARPA, allowing models to identify and learn new threats continuously. Before DARPA, Singh received his doctorate in Artificial Intelligence (Deep Learning) from the University of Cambridge, the UK in 2018.
He has also been associated with several other institutions, including Massachusetts Institute of Technology (MIT), Harvard University, National University of Singapore (NUS), INRIA Sophia Antipolis, France, University of Bonn, Germany, Simon Fraser University, Canada, Indian Institute of Science (IISc), Bangalore, India, Innovation for Defense Excellence (Indian Defense) etc.
Singh has made several practical and academic breakthroughs using his breakthrough AI technology in artificial intelligence and computer vision with over 50 international journal and conference publications, along with four provisional patents.
His age-invariant face recognition app for non-profits led to the rescue of 13 trafficked children from brothels in India, placing him on the prestigious MIT 35 under 35 list.
His research on 'Disguised Face Recognition' and 'Violent Activity Detection from Drones' gained international attention and was covered by several media houses, including the BBC World News, London, NBC, USA, ABC Radio, Australia, Telegraph, UK, Discovery Channel, Canada, New Scientist, The cover of the Economist, Vice, Inc. etc.
Links
Connect with Denys Gurak
A.D.A.M. Bio Printing | LinkedIn | Twitter
Connect with Iryna Savytska
Bank of Memories | LinkedIn | Twitter
Connect with Dr Amarjot Singh
Skylark Labs | LiinkedIn | Twitter
We hope you enjoyed this episode of Follow Your Different™! Christopher loves hearing from his listeners. Feel free to email him, connect on Facebook, Twitter, Instagram, and subscribe on iTunes!