109 Build A Tribe of Millionaires w/ David Osborn & Pat Hiban
Monday 25th September 2023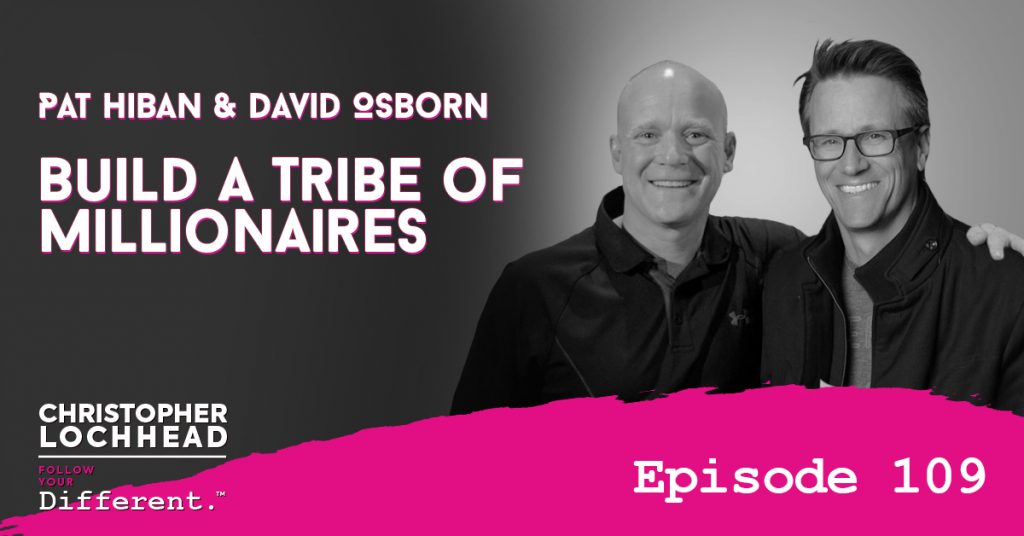 Podcast: Play in new window | Download (Duration: 1:04:14 — 59.1MB) | Embed
Subscribe: Apple Podcasts | Google Podcasts | Spotify | Pandora | Stitcher | RSS | More
Best selling authors of Tribe of Millionaires, David Osborn and Pat Hiban, joins us to share the story behind their new book. We also have a no BS conversation on making money and why its an important fuel to your life.
Beyond money, we also talk about the power of building a tribe of like-minded people — who will support you in your dreams, goals and a lot more.
Tribe of Millionaires
Entrepreneurs, real estate investors, and authors David Osborn and Pat Hiban talk about their new book and the story behind it. Pat candidly shares that Dan Clements helped them put together this book.
"Dan Clements flew to Japan with 27 billbros, members of our mastermind. He listened to each of these members talk. During that time, we masterminded on how to make money and he heard personal stories that we shared." – Pat Hiban
Dan created Ethan Martinez, the protagonist in the book, from listening to the stories of GoBundance members. GoBundance is a mastermind group for businessmen, who are millionaires. These men get together and share ideas to improve their net worth, health and/or their marriages.
Ethan Martinez
The book Tribe of Millionaires is a fable about Ethan Martinez. He receives a mysterious invitation after the death of his father. He then embarks on an adventure not only to save his struggling business but to discover his past.
"Basically, what happens was, his father dies and he goes to his Dad's funeral to settle the estate. He hasn't talked to his father in over 20 years. When he gets there, his father's pallbearers are all millionaires and multi-billionaires." – Pat Hiban
Ethan needed to spend a week with these pallbearers on an island before he could inherit the Estate. He then discovers what makes these men successful. Ultimately, he figures out how he can apply these learnings to his life.
Money Fuels Life
David shares how people are more receptive to stories, rather than hard facts. He also adds the importance of spending time with like-minded people who share the same dreams and aspirations.
"You can choose it yourself and put yourself around a lot of people who are on the same journey. That will remind you on a perpetual basis of the greatness you're choosing. It's way easier to be great when everyone around you is great." – David Osborn
Furthermore, he laments how the whole system does not teach kids and adults about making and keeping money. He stresses that money is not everything. However, it allows an individual to create a life that he or she desires.
"Some people think you are a jerk because you talk about money. If you're doing it with your financial planner, they've got an agenda. Me and Pat just have that ability to talk about that wide range of topics including money and being genuinely interested in each other's well-being. That's what we've created in the tribe too." – David Osborn
To hear more about how to Build A Tribe of Millionaires and more relevant information about David Osborn and Pat Hiban, download and listen to the episode.
Bio:
David Osbourne
After sticking out his thumb and traveling the world, David returned home to Austin, Texas broke and unemployed, at the age of 26. Though his travels may not have yielded wealth, they instilled the key motivation that he brings to every part of his life to create it — freedom.
Because to have everything you ever wanted takes the opportunity to design your life and believe it can happen.
Through this intention, David began to test his entrepreneurial merits alongside his business-partner mom in the world of real estate. The results were nothing short of remarkable. In less than 10 years, David built one of the top real estate brokerages in the world and he founded over 50 companies.
Yet, more than anything else, the inherent freedom derived from his success awards him the time to focus on the importance on what matters most: being a proud father of two beloved daughters, a son, and husband to the wonderful and talented Traci Osborn.
Today, David continues to travel the world not only to be enlightened by new experiences but to share his insight and expertise with others so they, too, can truly be free.
Pat Hiban
Pat Hiban Interviews Real Estate Rockstars is a top-ranked, 3-day a week real estate podcast. He interviews the best of the best in and around the real estate industry.
He is also the founder of REBUS UNIVERSITY which trains real estate agents to be successful and men's mastermind group GoBunbance.
After building a team of over 50 members and making millions in the Real Estate Sales World, Pat realized he had spent over two decades being lead by mentors while growing very few mentees.
It was at this point that he wrote his New York Times Best Selling Book -"6 steps to 7 figures, A Real Estate Professional's Guide Building Wealth and Creating your Destiny."
Not too long after, Pat Hiban Interviews Real Estate Rockstars was born.
Pat has not always been a semi-retired, New York Times International Best Selling Author, podcast host, entrepreneur, and billion-dollar real estate agent.
After throwing his graduation cap at Frostburg State University in the summer of 1987 (A long time ago), Pat set out to find that necessary three-letter word…..JOB.
While trying to get his Real Estate license Pat substitute taught in Maryland, where he has lived his entire life.
His first year in Real Estate was…. decent. Selling 10 homes, and taking home $13,700 in commissions Pat knew that he needed more.
At the beginning of his third year in the industry, attending a Floyd Wickman Sweathog Course changed his life, and allowed him to realize that being a listing agent was the way to go. He made a commitment and switched to prospecting regularly for listings by calling up and down every street in town looking for future sellers. BOOM business for him tripled. From there, the sky was the limit.
After spending a few years at Long and Foster Realty, he made a switch to RE/MAX where he spent the next 15 years.
In 2004, he became the #1 RE/MAX agent in the world.
Links:
We hope you enjoyed this episode of Follow Your Different™! Christopher loves hearing from his listeners. Feel free to email him, connect on Facebook, Twitter, Instagram and subscribe on iTunes! Get amazing, different stories on business, marketing, and life. Subscribe to our newsletter The Difference.