140 Built, Not Born w/ Self-Made Billionaire Tom Golisano, Founder Paychex
Monday 20th November 2023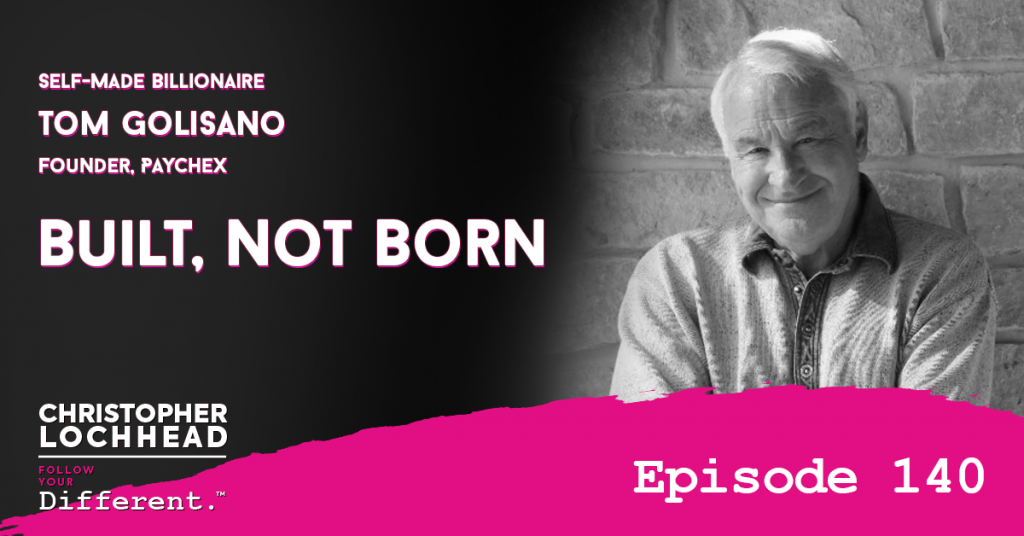 Podcast: Play in new window | Download (Duration: 38:09 — 17.5MB) | Embed
Subscribe: Apple Podcasts | Google Podcasts | Spotify | Pandora | RSS | More
Today, we speak with self-made Billionaire, Founder of $30B market cap, Paychex. You're gonna love this guy! He has a new book: Built, Not Born: A Self-Made Billionaire's No-Nonsense Guide for Entrepreneurs.
We dig into the book and his insights on why and when you start a company. He also talks about how to build a long-term, successful business and what important steps to take before marriage.
Encourager of Entrepreneurs
Tom found himself as an encourager of entrepreneurs. He understood why people evaluate whether they want to become an entrepreneur or not. He knew that there are a lot of things to take into account, such as risk and hardships exclusive to entrepreneurship.
As risks would be evident in any career, Tom shares that sometimes it is even riskier to work for somebody than it is to be your own entrepreneur. Besides, a business can serve as an heirloom or an asset that one can resell.
"If your business concept is well thought off, and you are very well qualified to run your little company, your medium-sized company, whatever. then I think that's the best of both worlds." – Tom Golisano
Wise Words For Entrepreneurs
Aside from a winning concept for an enterprise, Tom shares entrepreneurs must have industry knowledge. Before launching Paychex, he used to sell accounting machines while working for a payroll processing company that caters to large corporations. He believes this industry knowledge affected his success.
"Anybody who is considering being an entrepreneur, the first thing that I would ask is 'what's your industry knowledge?' You know about this industry, you're getting into that you could absolutely make a difference or are you gonna end up getting a very serious or costly education because you got into something you really did understand?" – Tom Golisano
Sales Management is a Must
For Tom, Sales management is one of the biggest issues with entrepreneurs. Most entrepreneurs mask the issue, saying its a "cashflow problem" but in reality, the company is not making enough sales.
Tom advises entrepreneurs to start making calls and to immerse themselves as much to learn about the sales process.
"You're not gonna be able to develop a good sales team unless you have that knowledge yourself. You might as well dig right into it. start making sales presentations and sales calls, and if you still don't think you're the right person to be doing that, at least you'll be in the position to train somebody you hire to perform that function." – Tom Golisano
To hear more about Tom's stories about what it's like being married to Tennis Legend, Monica Seles, philanthropy, investment strategy and many more, download and listen to this episode.
Bio:
Thomas Golisano — entrepreneur, philanthropist, and civic leader — is the founder and chairman of the Board of Paychex, Inc., headquartered in Rochester, New York.
With more than 12,000 employees and 100 office locations nationwide, Paychex is a leading national provider of payroll, human resource, and benefit outsourcing solutions for more than a half-million small and medium-sized businesses.
Tom Golisano served as Paychex's president and chief executive officer from 1971, when he founded the company, until October 2004.
Mr. Golisano and Paychex have consistently been recognized by the business, financial and national media.
Mr. Golisano was listed among the FORBES top 10 bosses in the U.S. for three consecutive years, beginning in 2002; the annual ranking is based on chief executives who provide the best balance between their compensation and shareholder return.
In February 2020, his first book, Built, Not Born was launched, providing Tom Golisano's trademark direct and often humorous style, and no-nonsense advice across all phases of business ownership.
Mr. Golisano has demonstrated an ongoing dedication and commitment to a variety of civic issues and organizations. In 1985 he launched his first philanthropic endeavor by establishing the Golisano Foundation, which awards grants to organizations providing opportunities for those with intellectual disabilities.
His philanthropic contributions, both personal and through the Golisano Foundation, have totaled approximately $300 million helping hospitals, educational institutions and many other organizations.
In recognition of his achievements and endeavors, Golisano has received numerous awards and holds honorary doctorate degrees from five different colleges and universities.
Mr. Golisano is a member of the board of directors of several private companies and institutions.
He is the former owner the Buffalo Sabres of the National Hockey League, which he purchased on March 14, 2003, demonstrating his commitment to Western New York and the region's economic climate.
Mr. Golisano said that it was important to keep the team in Buffalo because it is an economic and community asset.
Mr. Golisano sold the team in 2011 with the stipulation that the team remain in Western NY.
Born in Irondequoit, New York, Mr. Golisano graduated from Alfred State College in 1962 with a degree in general business management.
He was presented an honorary doctorate of humane letters, at his alma mater's commencement ceremony, on May 17, 2009.
Mr. Golisano is married to Monica Seles, professional tennis player and member of the International Tennis Hall of Fame. He has two children and several grandchildren.
Links:
We hope you enjoyed this episode of Follow Your Different™! Christopher loves hearing from his listeners. Feel free to email him, connect on Facebook, Twitter, Instagram and subscribe on iTunes!