309 Ancient Wisdom For A Modern America with Simran Jeet Singh, Bestselling Author of "The Light We Give" & Aspen Institute Religion & Society Executive Director
Wednesday 6th December 2023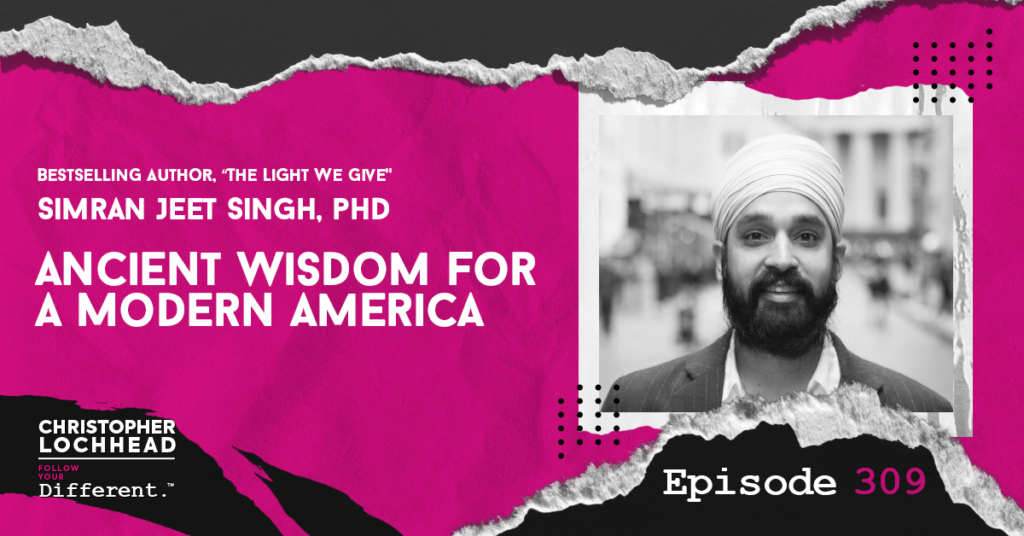 Podcast: Play in new window | Download (Duration: 1:02:57 — 43.2MB) | Embed
Subscribe: Apple Podcasts | Google Podcasts | Spotify | Pandora | RSS | More
Have you ever had a conversation with someone where you feel very lucky to have been able to meet and talk to that person? My conversation with our guest, Dr. Simran Jeet Singh, felt like just that.
Simran Jeet Singh, PhD is the Executive Director of the Religion and Society Program at the world-famous Aspen Institute. He's also the author of a new national bestseller, called The Light We Give: How Sikh wisdom can transform your life.
You're listening to Christopher Lochhead: Follow Your Different. We are the real dialogue podcast for people with a different mind. So get your mind in a different place, and hey ho, let's go.
Dr. Simran Jeet Singh on Sikh Wisdom
The conversation starts with one of the major proponents that Dr. Simran shares to everyone, which is Sikh wisdom. He defines it as such:
"I think Sikh wisdom is these experiences and insights that people before us have developed and we have access to if we want. And one of our choices is do we want to learn all the lessons the hard way, or do we want to step into these treasures that are already available to us. It is the Sikh philosophy and traditions that I didn't really learn to appreciate until I got older and started meeting real challenges in my life."

–  Dr. Simran Jeet Singh
Dr. Simran used these Sikh wisdom in moments of his life where he felt huge struggles and difficulties to guide himself into the person that he wants to be.
The Challenges of being Different
On such moment was when the events during 9/11 occurred, and the whole country was, in many ways, suffering a collective sense of trauma. It was a vulnerable feeling that people of the United States did not think they would feel. But the feeling of vulnerability was even more so for Dr. Simran and his community.
"In this moment of extreme difficulty for our country, of extreme anger and violence, all of a sudden, I and people belonging to my community fell into the stereotype of how Americans saw their enemy. And so that, I think, is partly what felt so difficult in this moment: on the one hand, I felt like I was an American and belonged here and was going through the same trauma as everyone else. Yet at the same time, so many people around me, my fellow Americans would look at me and be like, "no, no, you're not one of us here.""

–  Dr. Simran Jeet Singh
It hurts doubly for Dr. Simran, as he understands the pain and vulnerability that they are experiencing, as someone who has lived in the US for quite some time. But at the same time, the hate created by the almost-kneejerk reaction that some had afterwards was something that his community and others did not deserve, simply because they were different.
Dr. Simran Jeet Singh on educating the masses
Dr. Simran believes that this reaction is fear born from ignorance, and is something that could be remedied by educating the people on what the Sikh ideologies and culture really stand for.
Sometimes, he would be surprised that an average American doesn't know where Punjab is, let alone what a Sikh was. That gave Dr. Simran a sense of where he needed to start. Even before educating about the different cultures and ideologies, they might not even have an idea of where you came from, and they have been making assumptions about your culture based on the wrong information.
To hear more from Dr. Simran Jeet Singh and Sikh wisdom, download and listen to this episode.
Bio
Simran Jeet Singh PhD is Executive Director for the Aspen Institute's Religion & Society Program and author of The Light We Give: How Sikh Wisdom Can Transform Your Life.
He is a visiting professor of history and religion at Union Theological Seminary and a Soros Equality Fellow with the Open Society Foundations, and in 2020 TIME Magazine recognized him among sixteen people fighting for a more equal America.
His work has appeared in The New York Times, The Washington Post, and CNN, and he is a columnist for Religion News Service.
Author of the award-winning children's book Fauja Singh Keeps Going: The True Story of the Oldest Person to Ever Run a Marathon, Simran is an engaging guest speaker who delivers keynotes and facilitates workshops.
His message has been described as "critical and essential" and he's noted for his "unwavering and empathetic approach to anti-racist work." Simran lives in New York City with his family.
Links
Connect with Dr. Simran Jeet Singh!
Website | The Light We Give | The Sikh Coalition
We hope you enjoyed this episode of Christopher Lochhead: Follow Your Different™! Christopher loves hearing from his listeners. Feel free to email him, connect on Facebook, Twitter, Instagram, and subscribe on iTunes!